Facebook still is one of the most popular social media websites in 2021. Even with the rise of TikTok, Instagram, Snapchat, and other social media platforms, Facebook has a wider reach and more users as compared to other platforms. Like the saying with power comes responsibility, Facebook is handling billions of user's personal data and leverages that to run advertisements based on that. That's what makes Facebook advertising so successful. Like many others, I've always wondered how to make my Facebook private? I have been using Facebook since 2009 and have seen the platform evolve and bring in new privacy control features that do help if you want to make Facebook private.
This Facebook privacy settings guide is my journey on making my Facebook private and provides you with some actionable procedures that you can apply to your Facebook account to make your Facebook private.
Why To Make Your Facebook Private
It's very crucial to have a sound understanding of how these social media websites are so profitable even though the users are not paying anything to sign up or use the platform. Of course, there are some social media platforms that require you to pay a certain monthly fee, but the majority of them don't.
Ads, that's how they generate the majority if not, all of their revenue. But why would advertisers spend so much money and why Facebook?
What you need to understand is the more user data a company has, the more targeted and profitable ad campaigns an advertiser can run.
Every time you use a social media platform, the platform learns your behavior, your interests, passion, profession, and depending on your privacy settings, much more. Advertisers use these data points to run ads against it.
If you are interested in skateboarding, follow a bunch of pages and watch content related to skateboarding, how difficult would it be to convince you to purchase a product related to skateboard? On the other hand, if I see an ad for skateboards there is no way I will even tap on the ad.
READ: Open Facebook Desktop Version Site On Mobile
How To Make Facebook Private With Facebook Privacy Settings
Let me guide you on how I have tried my best to make my Facebook private and see if you would want to do similar changes to make Facebook private for yourself too.
1. What Does Your Public Facebook Profile Look Like
This is where you should start. Knowing what other strangers can currently see if they stumble upon your Facebook account will make things easier.
Go to your Facebook profile and click on the three dots > View as.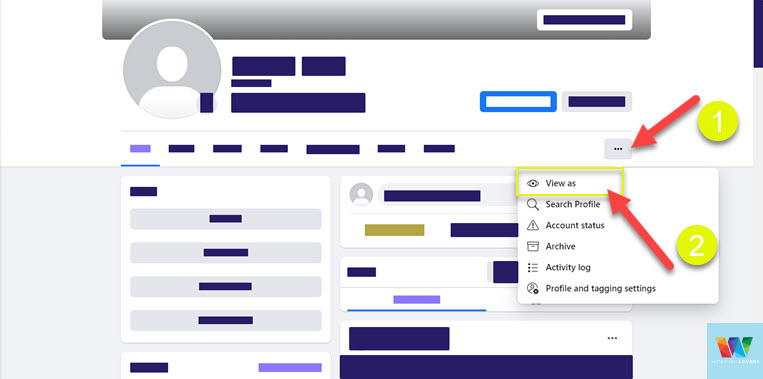 This will show you what information and things are available for any other use that is not friends with you see when they open your profile.
Make note of things that they see and things you would like to remove from the public accounts.
2. Facebook Privacy Settings To Limit Your Personal Info
Now, even though it is impossible to completely disappear from Facebook and use it. Even though you can search Facebook without an account, but to actively use its services, you have to have an active Facebook account.
To get to Facebook privacy settings, click on the arrow pointing down on the top right corner of the screen.
Arrow > Settings & privacy > Privacy shortcuts 

Under Privacy, click on "Review a few important privacy settings.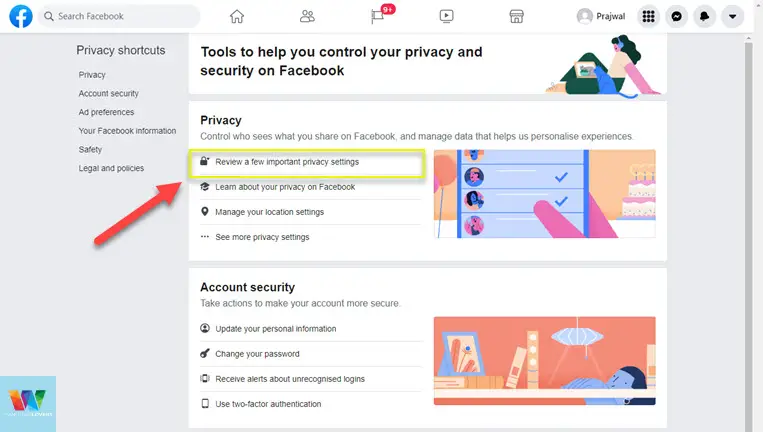 This is the first step to making your Facebook private, limiting who can see your current, future, or past Facebook posts.
Click on "Who can see what you share" > Continue.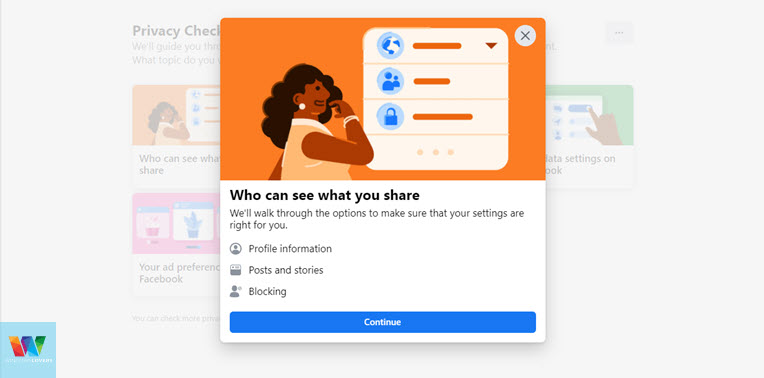 On the next page, you can control who gets to see your personal information and details.
Changing visibility for this information to "Only Me" will result in the following things:
Noone will know when is you birthday, so no more responding to birthday wishes that you don't want to, haha.
Like any page, people or lists without anyone knowing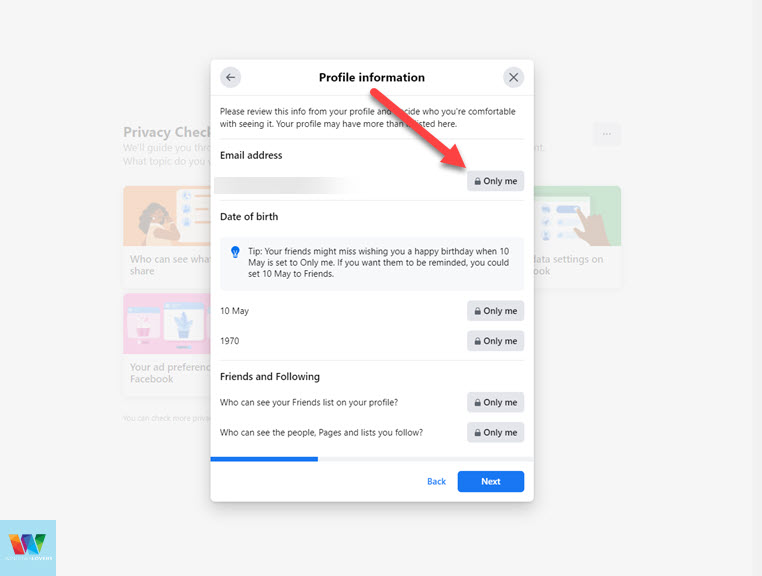 Click on "Next" once you've made these changes and on the next page, we will change who can see our Facebook posts.
Future Posts – Change this to "Only me" and next time you need to posts something that you would like everyone to see, just change the Facebook privacy settings for that post individually.
Stories – I would not worry about this much as if you don't post stories there is no need to change it. But if you want you can apply limitations to who can see your stories or react with them.
Limit past posts – This one is really important as this will change the visibility of your previous public posts that you would not want anyone to see moving forward. Whatever options you've chosen under "Future posts" the same will be applied to all the previous posts. If someone else is tagged in that post or photo, they and their friends might still be able to see these posts.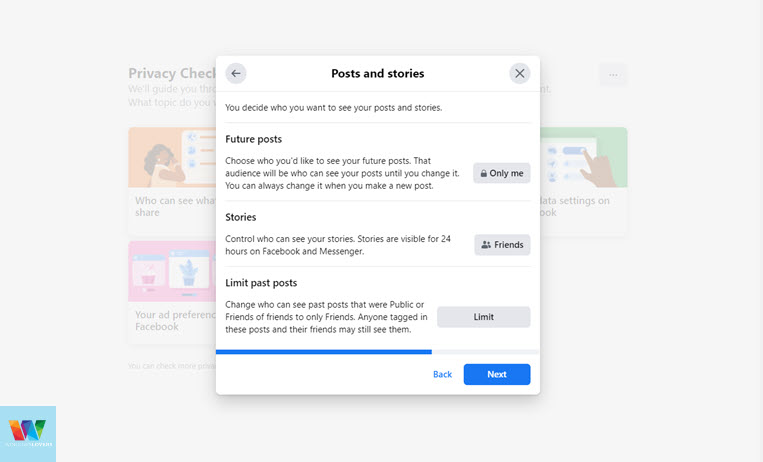 Next is reviewing your block list and see if someone deserves to be unblocked.
This should already make your Facebook profile very private.
3. Hide Your Facebook Profile Completely
Facebook has a really smart algorithm that suggests other users that might be related to you or your friends in one way or another.
Remember last time a Facebook account popped up of a person that you met once when you were in a different country having breakfast? Yup, Facebook's suggestions algorithm is top-notch.
You can stop your account from appearing under Facebook friends suggestions, Facebook search or even prevent any search engines from listing your profile. Even though they might have your correct profile name or even your URL, it won't appear when they search for it. Also, why would you even search for a Facebook account if you have the URL right?
Click on "Know people can find you on Facebook" > Continue.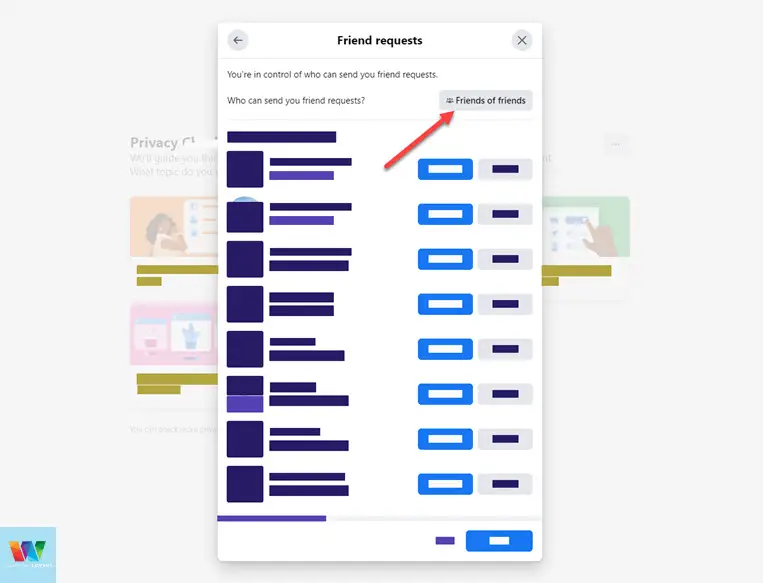 Unfortunately, there is no way to completely disable Facebook friends requests. You can only limit the friend requests to "Friends of Friends" meaning if a person viewing your profile has a mutual friend, they can send you a friend request.
On the next page, change the phone number and the email address visibility to "Only Me". Facebook won't list your profile if anyone has your email address or the mobile number that you might have used to create your Facebook profile.
Finally, make sure you have the "Do you want search engines outside Facebook to link to your profile?" option turned off. Look at the below screenshot and compare it with your settings.
I have tested this with Google and Bing search, my Facebook account is not listed on the search.
4. Limiting Third party app
If you are really serious about making your Facebook private, you should stop logging in to other websites and services using your Facebook profile. You know that every time you log in to a website or an app it might access your email address, phone number, and other personal information.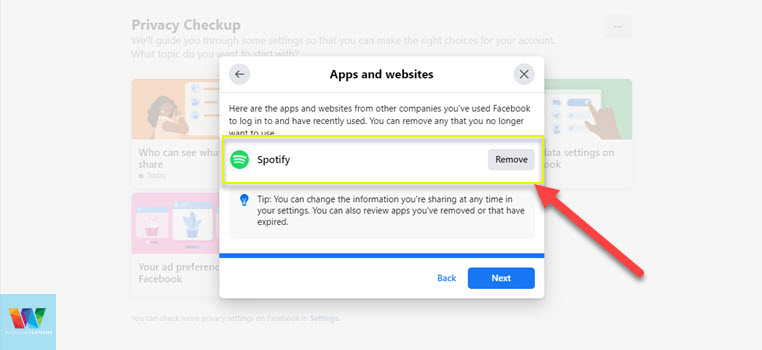 Unless there are options to control and change these like the Facebook privacy settings on that app, I suggest you not to login with your Facebook account on any of these apps and services.
To see any apps and services that you have logged in to in the past, click on "Your data settings on Facebook".
Go through the list and remove any application or service that you no longer use or recognize.
READ: Best Facebook Proxy To Unblock Facebook Login
5. Take Control On Facebook Ads You See
I am not sure how much control Facebook actually gives us or changes things around after altering these Facebook Ads preferences but I make sure they are in place too.
Everyone has their personal preference when it comes to seeing ads on a website and interacting with them. Some ads are well crafted and might actually be helpful to you while some not much.
Since you've decided to make Facebook private, you should change your Facebook AD preference settings as well.
Open "Your ad preferences on Facebook" > Continue.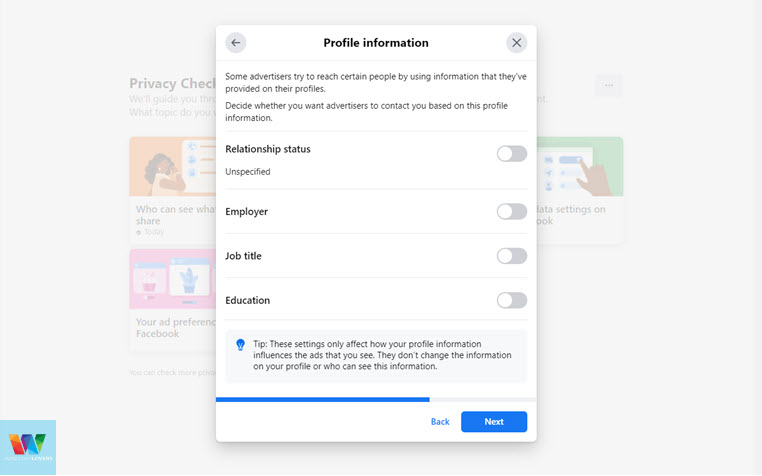 Turn off all the options that an advertiser might use to target you in their Facebook Ads campaign and click "Next".
Under "Who can see your social interaction alongside ads?", change that to "Only me".
I do wish there was a way to completely opt-out of this but Facebook has to make money right.
How To Make Your Facebook Private For Real
Look, there is no easy way to keep everything you have or use on Facebook completely private. One of the main reasons behind this is that no matter what, once you use the platform your data and information will be used for the benefit of the platform.
If you are looking for a messaging app that is solely built for privacy and security purposes, check out Signal.