Do you know what is ProtonMail and why it is considered the secure way of sending an Email? ProtonMail might be a new word for many people, and they have no idea about its functionality, uses, and importance. This guide is to help you understand Proton Mail, Protonmail Login, and signup.
ProtonMail is the largest secure email service in the world from switzerland. It is a private email service that puts security and privacy first. You can use the service to transmit encrypted communications that only the intended recipient should be able to read. Depending on the security or email service used by the receiver, there are a few options. Nobody except you, not a dishonest employee, nor a hacker, can access your data as ProtonMail uses zero-access encryption.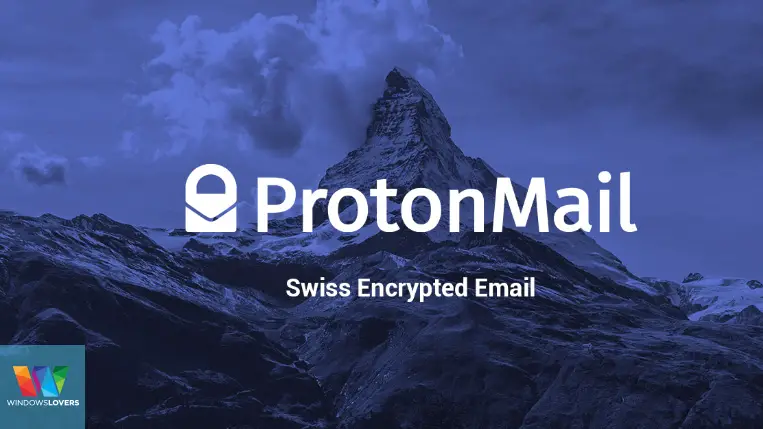 If you don't know about ProtonMail, we will learn and understand many things about ProtonMail. We will discuss the pricing, its uses, importance, and how to send mail using ProtonMail. So, make sure to read the complete article to understand more about ProtonMail.
What is ProtonMail?
ProtonMail is an email service that is quick, secure, and easy to use. It is the outcome of outstanding specialists from various racial and professional backgrounds coordinating and collaborating. With the help of this, your data remains safe, and no third parties can access your email.
When both the sender and the recipient utilize ProtonMail, end-to-end encryption is achieved. Email is encrypted on the sender's device using the recipient's public encryption key before being sent to a ProtonMail server and the recipient in this scenario. As a result, the message is already encrypted before it reaches the server, and the sender and receiver can only decrypt the email.
Read: Yes, You Can Recall An Email In Gmail Within 30 Seconds
ProtonMail also includes two-factor authentication as an additional degree of security. This means that even if someone gets their hands on your password, they won't be able to access your account unless they also have access to your phone. As a result, before deciding to add this in, be sure you'll always have access to your mobile phone anytime you wish to connect to your email account.
How Much Does ProtonMail Cost?
You can use both the paid and the free version of the ProtonMail. If you are a new user, we recommend starting with the free edition to discover how it works. In the free version of the ProtonMail you will get various features like a storage capacity of up to 500 MB for a single email address. You will also get allowed to send 150 messages per day.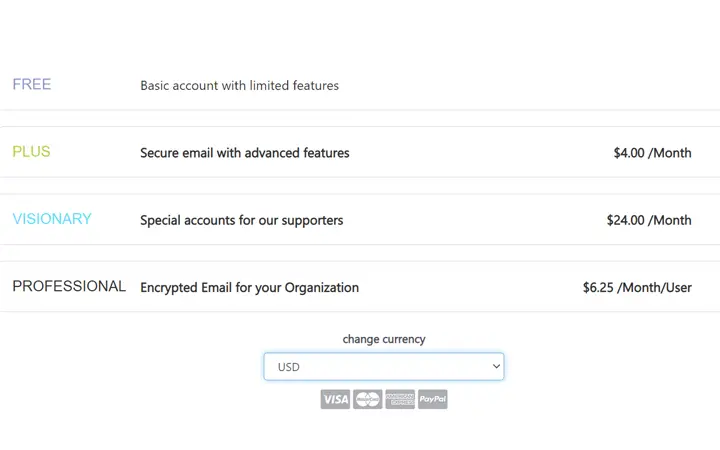 If you want more features, then you have to spend few dollars on the premium version. The premium version starts from USD 5 to USD 30 per month. In the premium version, you will get features like a storage capacity of up to 5GB and a message capacity of 1000 per day. It also allows external users to send encrypted messages, and the user can also use custom filters, folders, and labels.
Protonmail Sign Up and Protonmail Login
To use ProtonMail first, you need to register an account. You can use both Android and iOS devices or simply your PC to log in and access the ProtonMail. Following are the steps that will guide you through the signup and the login process of ProtonMail.
Open your web browser and go to https://protonmail.com/.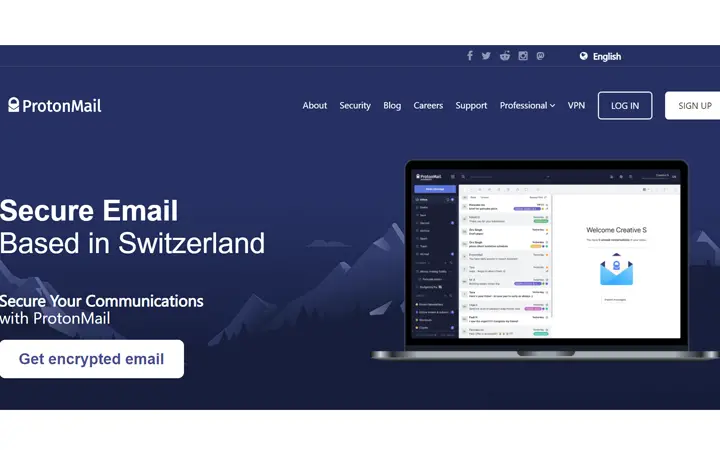 In the ProtonMail dashboard, click on the signup button.
After clicking on the signup, a signup dashboard will open. There you can see the various pricing option. Let's signup for the free version.
Read: Learn How To Scan Documents Using Your Phone
Click on the free version and click on the 'Select free plan' option. Unless you are looking to purchase a plan for yourself.
The free version provides you with the following features:
500 MB storage
150 Emails per day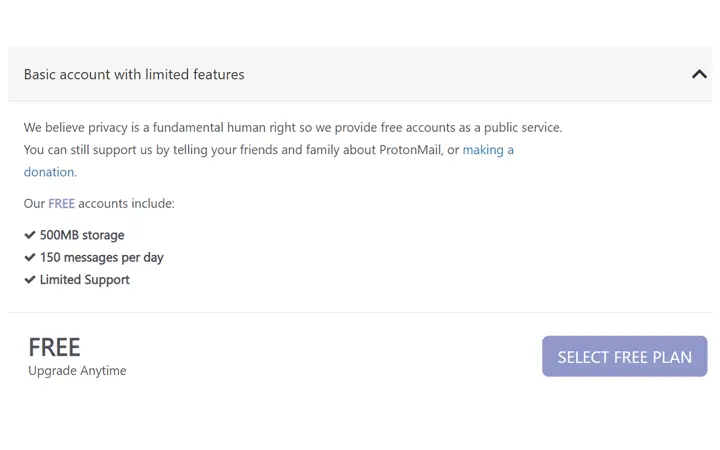 Then, provide your username and password. After that, you will be ready to use the ProtonMail. Now you can log in to your ProtonMail using the username and password.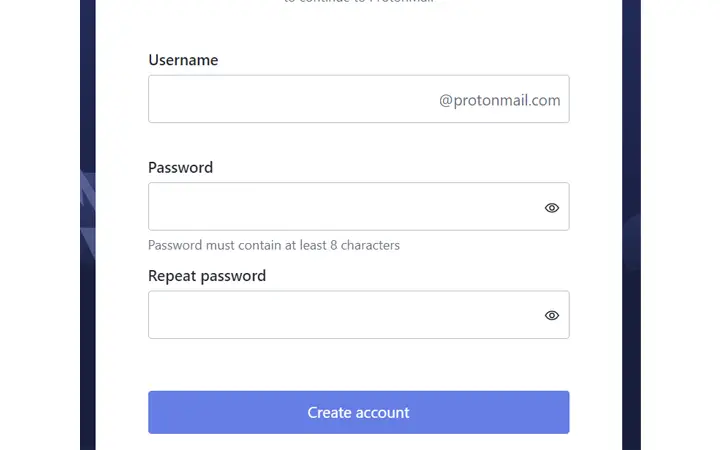 After you've entered to signup credentials, you are taken to the next window. Enter either an email or a phone number to recover your protonmail login credentials if you forget it.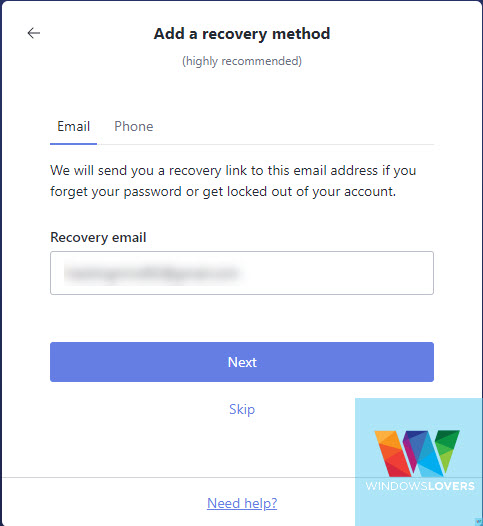 In this guide, I am creating a free protonmail account so I am gonna select the free plan.
After you've selected the plan you are going with, it will now confirm if you are a human. Click on "Get verification code".
Depending on the backup recovery method you choose earlier, enter the code and your Protonmail account is created and you are taken to the welcome dashboard.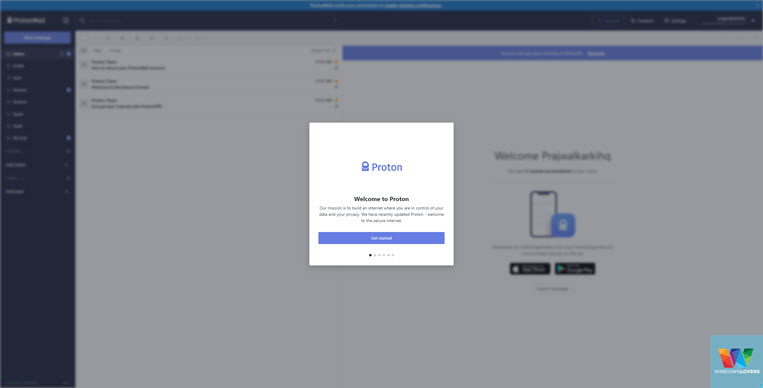 When you first log in to your new account, you'll notice that you've already received a few welcome and explanation letters from ProtonMail. Feel free to investigate them or simply begin utilizing the service. You already know how to use ProtonMail if you've used Gmail or any other webmail system.
Like in Gmail, you will get various options like sent, draft, inbox, spam, trash, starred, etc. The design and interface of ProtonMail are very easy to use and understand.
Read: Recall Feature An Email In Outlook Is Better Than Gmail
You may also customize your contacts by adding folders and labels. Changes made on one platform are carried across to the others, including the web, iOS, and Android. On mobile, you may add signatures and alter message swipe actions for further personalization. Swiping left to the right sends an email to trash while swiping right to the left sends it to spam.
Is ProtonMail More Secure Than Gmail?
Gmail is the leading mail service and still the best choice for so many users. To protect your data Gmail uses a secure HTTPS connection and standard SSL. You might know this or not, but Gmail sometimes can give the mail reading permission to various third parties.
ProtonMail also uses the secure HTTPS connection and standard SSL, but the ProtonMail offers many more security features. No one can read your messages except you and the intended recipient, even ProtonMail employees, and it's all thanks to end-to-end encryption.
Having said that, Gmail does have certain advantages. For starters, because Google owns it, its app and desktop version are extremely user-friendly, and it provides far more in the way of customer assistance. Although Gmail and its services have specific security measures, ProtonMail goes above and above and is a safer option.
Conclusion
Nowadays, the complaint about data breaches is increasing day by day, making everyone worried about finding the safe path to stay away from such breaches. When it comes to sending confidential emails over the internet, you can't risk your business and that's why we also like to recommend you ProtonMail. I hope from this article you have gained all the necessary information regarding ProtonMail sign up or the login process. If you have any confusion, then let us know in the comment section.