Facebook desktop version can do lots sorts of things that or the mobile application cannot yet perform. Facebook PC version site can only be accessed from a desktop browser or a tablet. But what if one wants to open a Facebook desktop version site from a mobile phone browser. Is there any workaround to open Facebook desktop version site on a mobile phone browser? Yes, there is. Keep reading to find out how it's done.
Please bear in mind that using Facebook's full desktop site on a mobile phone will not be as productive as using it on a PC, but still, you will be able to use most of the Facebook desktop version feature on your mobile phone (If you have a high-end android / iOS phone).
You will be able to chat from Facebook's website.
Depending on the mobile phone that you have, you will be able to use different applications.
And much more…
READ: Facebook Search Without Account Easily
Open Facebook Desktop Version On iPhone/Android
I do not see a clear idea behind trying to use the Facebook desktop site on a mobile phone, but different ways to open a Facebook full site have been mentioned below. Please try all of it until you find the method that works on your phone/ tablet.
If you are trying to use a third-party application to access the Facebook pc version on your phone or tablet, the chances of your account getting hacked are very high.
That's the main reason I don't recommend any kinds of these third-party applications in this tutorial. Also even though the application might be genuine, facebook can lock your account for misuse or granting access to these third-party applications that look suspicious.
After trying different browsers and tricks mentioned on forums and blogs (that were outdated and not working), I have finally found a way to use facebook's desktop version on iPhone and Android phones.
First, let's see how to use it on iPhone and then android. The process is the same, we are using Opera Mobile browser to access the Facebook pc version on both the OS.
1. Open Facebook Desktop Version On iPhone 2021[Working]
Opera is a free web browser and can be downloaded from the AppStore for free. All you gotta make sure of is that you have your Apple ID login if you are not already logged into.
You will need to log in to the apple app store to download free applications too.
Let me guide you on how to download the Opera browser on your iPhone.
Open AppStore and search for Opera Browser.
Look for the application named "Opera Browser: Fast & Private"
Tap on "Get" and install it on your iPhone.
Open the Opera browser that you just downloaded.
On the home screen, tap on the Facebook icon. Alternatively, go to "www.facebook.com"
Login into your Facebook account and once it's loaded, tap on the icon with "three bars" in the bottom right corner of the screen.
Slide the "Desktop Site" slider to its right.
That Facebook page will reload automatically and now you will see the Facebook desktop version on iPhone.
READ: How to make your Facebook profile private
Open Facebook Desktop Version on Phone -Video Guide
Note: If you don't see any video here, please turn off the adblocker as it sometimes blocks the video as well.
2. Open Facebook Full Site On Android Phones
The process to access the Facebook full site on android phones is exactly the same as the iPhones.
Find and open the "Play store".
Search for "Opera Browser" on the top search bar and download it.
It should only take a couple of minutes to do so.
Once the download is completed, open the browser.
Tap on the "Facebook" icon on the homepage. If you cannot find it, simply type "www.facebook.com" on the top address bar.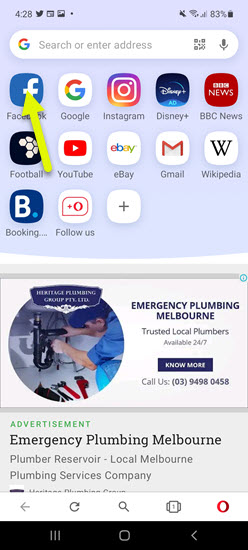 It takes you to the "m.facebook.com" page which is the mobile version of Facebook's website.
Now, tap on the top right corner settings icon. It looks like three dots.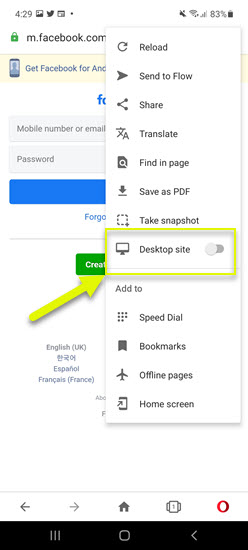 A sliding menu opens up, look for "Desktop site" and tap on the slider to enable it.
Once enabled, the page reloads automatically.
You should now see the Facebook desktop version login page.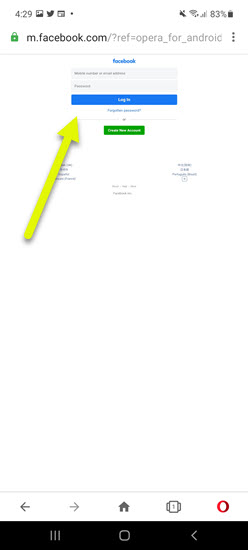 Log in with your credentials and voila! Enjoy using the full version desktop site on your android phone.
Did it work? Were you able to open the Facebook desktop version site, please let me know in the comments below? If you also know other ways to load Facebook full site on a mobile phone, let us know.