Many people are migrating from WhatsApp to Signal Private Messenger App because of the security concern. Recently, Facebook started to implement harsh rules concerning WhatsApp(which was in Facebook's favor), which doesn't go according to the plan. This incident turned out to be a boost for alternate applications like Signal and Telegram. This article helps you understand what is signal, what are some of the best features of signal and finally, how to use signal private messaging app.
Just like WhatsApp, Signal is also a messaging platform that offers end-to-end encryption features and better security. It is a free app available for different platforms like Android, iPhone, Mac, and Linux. Security-wise it is very secure and offers various features like two-way authentication, screen security, incognito keyboard, and many. This is the main reason why people are moving towards the Signal app.
So, in this article, let us understand more about the Signal messenger app and its features.
Signal App – Backgoround
Signal Private Messenger is a free app that offers you privacy-focused texting and voice chat. This platform is designed by the Signal Foundation and Signal Messenger LLC and is a non-profit organization.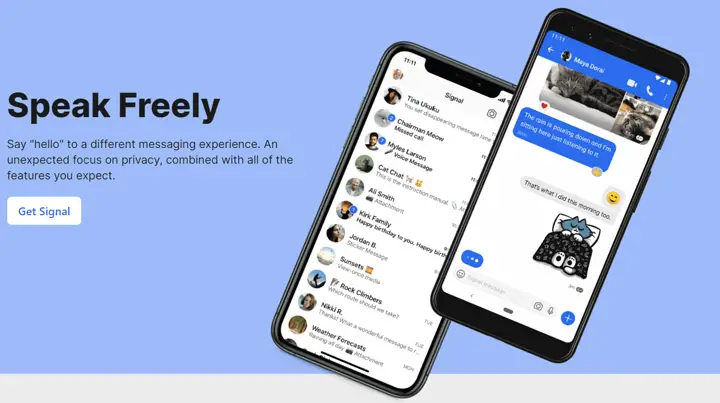 WhatsApp co-founder Brian Acton and Marlinspike formed the Signal Base back in 2018. Acton, who left WhatsApp in 2017, has spent nearly $50 million to help finance Signal.
Signal supports chats, group message and video calls, picture sharing, audio message, video sharing, and many more. It is open-source, and the technology is peer-reviewed, ensuring that independent researchers routinely check its privacy and protection.
Why choose Signal?
If you search for the best and secure messaging app, you will get the name Signal. It is so good that even Elon Musk also recommends you to use this app. Messaging and sharing information on Signal are encrypted end-to-end.
 It ensures that the content of signals can only be viewed by people involved in the conversation. The company won't view any of your conversations. You can also enable additional security functionalities like biometric authentication and second password requirement while logging into new devices.
Plus, as shown on WhatsApp, there is no functionality like Status, which can be seen while you are online. It also offers an alternative for typing indications to be switched on or off to indicate when a message is being typed.
Is Signal Really Private?
No one wants to take the risk when it comes to privacy. One of the main reasons to choose the Signal is privacy. It is so private that even if the police come calling for information on their customers at Signal, it says, truthfully, that it has no information to hand over.
In Signal, after some specific time frames, you may schedule your messages to vanish automatically. Plus, practically no data on its users is kept by Signal. It also includes the possibility of turning Read Receipts on or off. So anyone can see when their messages have been read.
To keep your account secure, there is also a protection PIN you may set up. To ensure the Signal keeps asking you for the same thing, one may set PIN reminders. Signal also has a Lock Screen feature, where you can open the app depending on fingerprint, FaceID, or the passcode of your device.
However, even when the Screen Lock is activated, incoming calls and messages can be addressed.
What Does Signal Get from Us?
There is the only thing that the Signal can collect from us, and that is the contact number. According to Signal's policies, they are not allowed to store any sensitive data of the users. All communications and calls on the app are encrypted end-to-end, ensuring any third party cannot read them, nor can Signal.
This app also stores some additional technical knowledge that is required to set up calls and send messages on its server.
Is Signal Better than WhatsApp?
Both Signal and WhatsApp offer end-to-end encryption and use the same technology. If you look from the security and privacy perspective, then Signal is ahead of WhatsApp. However, if we talk about customization features, then no messaging app can match WhatsApp.
Although the Signal offers better security, it will be hard for many users to leave WhatsApp. If you have a group circle in WhatsApp or business links, it gets even harder to adapt to a new platform. 
Which Device Supports Signal App?
Signal private messenger app is free and is available on all devices. You can install this app on android, apple, mac, iPad, Microsoft, and Linux. This app is on the top of the free app chart in both Google Playstore and Apple's App Store.
Download Signal From Here: – https://signal.org/download/
Other News Articles
How to kill and get rid of Facebook addiction??