Facebook login proxy is a way to unblock Facebook at places one's restricted from its use. Some of the exhibiting examples are schools, offices, campuses, etc. Facebook Login proxy is considered to be one of the best ways to skip through all the restrictions and browse Facebook. There are a bunch of Facebook proxy websites live nowadays and using a service completely relies on one's preferences and availability.
(Note: We do not encourage going against the restrictions for good cause, and should only use these tricks when it's really urgent. Like getting a document, or a photo, or a really important text.)
Most of the restrictions are only for the domain name i.e. Facebook.com. In most cases only the domain Facebook.com is blocked from access and not the IP address so, before getting your hands dirty we have a quick fix in that case.
READ: Search For Someone Without Creating An Account On Facebook
Facebook Login Proxy To Unblock Facebook : Using VPN
I highly recommend that you don't use the free proxies to unblock your Facebook login. You expose your computer to security and privacy risks by using these proxies that are available for everyone to see and connect to.
Using a VPN service is cost-effective, secure and protects your computer and your identity, and save you lots of headache and trouble down the road.
Note: Windowslovers.com is an affiliate for services mentioned below and gets commissions on sales made via these links. However, we would not recommend any products that is not trustworthy and safe to use, the reviews are not biased and come from using these products personally.
IPVANISH
IPVanish is one of the largest VPN service providers and is a trusted brand for online protection and anonymity. It falls under the same umbrella as the company that provides Vipre antivirus and other cybersecurity products. They have lots of recognition and certification to back their products and industry professionals with 30+ years of experience in building cybersecurity products.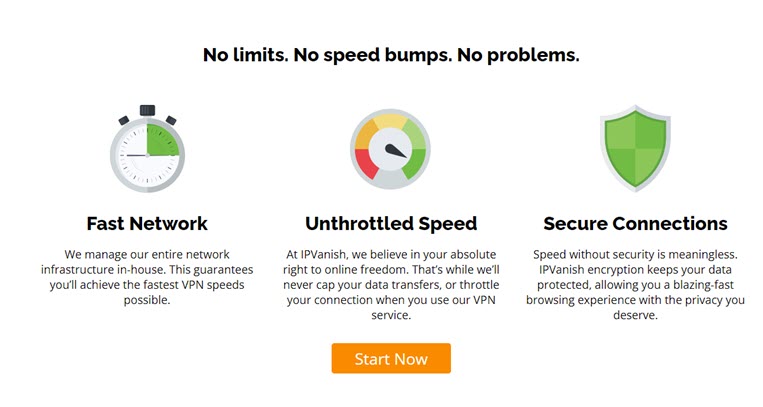 You can use this to unblock different other services too.
Netflix shows blocked in your region
Block YouTube videos
Use Public Wi-Fi with complete security and protected from any attacks
Supports multiple devices for maximum security throughout your devices
Fastest VPN
IPVanish recently did a major upgrade from which they believe has made them the fastest VPN service provider out there. And from the test, that seems to be true as of the time I am writing this article.
READ: Open Facebook desktop site on a mobile phone
Best Bang For Your Buck
 IPVanish offers a 30 Day money-back guarantee so you can get a refund within 30 days if you don't like the product. 
Limited Time Offer For Windowslovers.com Readers
Let's see how you can use IPVanish to securely access Facebook if it's blocked in your region.
Go and get IPVanish for Windows. You can choose a monthly or yearly plan whichever you prefer. (You can always cancel get a refund within 30 days if you don't wish to continue so go ahead and get a plan to test)
Install IPVanish using the installer. It only takes few seconds to install.
Login with the login credentials that you've created an account on IPVanish with.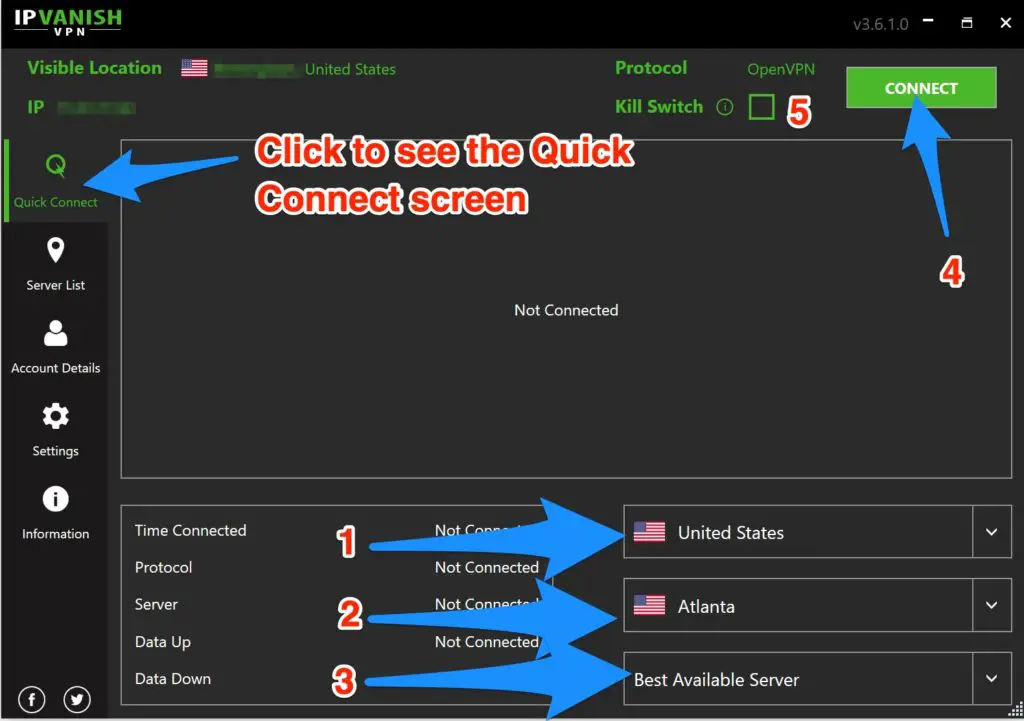 1. Select which country you would like to browse Facebook from.
2. Pick a city that you would like the VPN to reflect you are from.
3. You can leave this option to "Best Available Server" if you are not sure what you are doing.
4. Click on "CONNECT" and also make sure the "Kill Switch" is ticked. This makes sure the connection is dropped if a secure VPN cannot be established with the server or there is a risk of leakage in the connection.
5. Try and browse Facebook.com and you will be able to visit the page and login without any issue.
Unblock Facebook Login: Bonus Tips
If you are not looking to pay for any VPN service (which I cannot emphasize enough why you should), you can try these and see if they can unblock the Facebook website for you.
Bypassing "Facebook.com" URL Blockage. 
This might be very unlikely but work a check. Some places don't really have advanced website blocking mechanisms and maybe just the URL is blocked? In that case, you can just use facebook's IP address to connect to it.
First of all, find a PC where Facebook is accessible. (Your home PC will be the best in this scenario)
Connect to internet and open up CMD.
Type in, Ping Facebook.com and hit Enter.
You should see a following screen, the IP address : 173.252.110.27 or something similar
On a PC where Facebook is restricted, enter the address in the browser's address bar.
Viola!! You've unblocked Facebook without using any Facebook Login Proxy Address or other tips and tricks.
READ: Make Your Friends List Private On Facebook
Bypassing Basic URL Blocking (HTTPS://)
Well, this is something we have come across before. Most of the small organizations and institutions cannot afford to install a firewall in place that will filter the outgoing and incoming traffic that will block users from accessing certain websites or services.
Some use basic URL blocking mechanisms that will keep their users from accessing those websites. So, we would like you to try and enter the following Facebook URLs and see if that lets you bypass this restriction.
"We do not encourage usage of this work around if you are in a big corporation as they will track all your online activity and might get you in trouble."
Go to your browser and type in https://www.facebook.com or https://facebook.com
READ: How To Tell If Someone Deleted You On FB
This might let you access Facebook if they have only blocked the "HTTPS" version of the website.
In the worst scenario if this does not work, using a proxy address will be the best solution and other solutions we have mentioned below.
So, if you did not have much luck with above mentioned quick workarounds, we're going to take a different approach to see if we can actually unblock Facebook login.
Let us know how you go with this in the comments below.