Did you recently change your name on Facebook and regret it. Or you are back at your old profile and realize how stupid you were when you used the name of that Facebook account. Well, this article is all about on "how to change your name on Facebook".
Facebook takes its user's identity and personal details pretty seriously these days and wants all of its users to be authentic and makes sure that all the active accounts are an authentic representation of a real person, organization, brand, etc.
READ: Search Facebook Profiles Without An Account
So, keeping this in mind Facebook has imposed lots of reasonable limits on how a user can select their account's name. Therefore, you are only allowed to change name on Facebook "once" in every 60 days. I know, this sucks. But in a way it's good that they imposed these settings, because lots of users might try to impose as a different person and put them in different harassing situations online. And as we all know, to maintain a good online reputation is as important as to in real life these days.
In this tutorial, I will be discussing about Facebook's guidelines for naming a Facebook profile, and changing your Facebook account's name before and after the 60 days limit. So, let's get started.
But before that, some of the most important guidelines you should keep in mind and follow.
Symbols and special characters are not allowed.
It should represent your real name, as you might be asked to verify that name in the future.
Offensive language, text cannot be used.
Nicknames have different place and option on Facebook, so the primary name of the account has to be your real name.
How To Change Your Name On Facebook: Before The Limit
So, if you have never changed your profile name and have decided to change it, it's really easy and take no more than a few clicks.
Login into your Facebook account.
Navigate to the top right of the home page and click on the little arrow that looks something like this.

Click on "Settings".
You should now be taken to "General Account Settings".
Click on "edit" right next to the option that reads as "Name" and which holds your current account's name.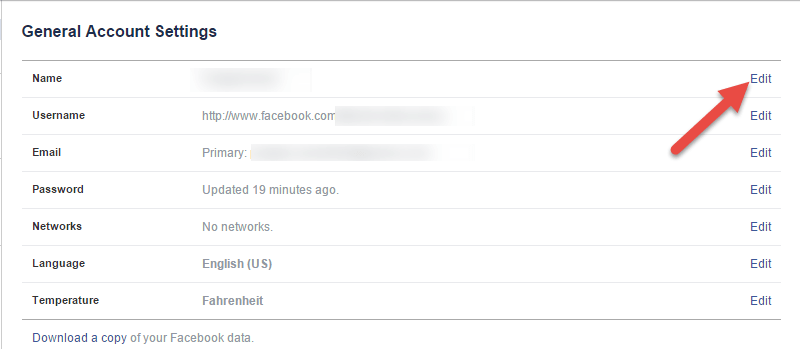 The options windows will be unlocked and you will be asked to enter your First Name, (optional) Middle Name, Last Name and also "Other Names". Other names appear in your profile, inside () just beside your profile's Name.
After you enter the desired name, click on "Review Change". This allows you to see the name that will be used all over Facebook for your account and also asks you to enter your account password.
If you think everything is alright, go ahead and click "Save changes".
Give it a few moments for the changes to take effect.
Now, this was how you can change your Facebook's account name if you are doing it for the first time.
What if you made a typo error in your name and misspelled it, it definitely does not feel right to use the account with a wrong or a misspelled name that does not make any sense. And with the 60 days limit by Facebook, it makes the matter even worse.
So, let's look at some of the ways that you can try to Change Name on Facebook within 60 days limit.
READ: Load Facebook's Desktop Version On A Mobile Phone Browser
How To Change Name On Facebook Within 60 Days Limitation
To change your Facebook name more than once within 60 days in 2015, there are two ways you can try to change it.
The First case is, you recently changed your Account name and you just want to change it back to other names that you have used for the account.
Second case might be a typo error, or similar kinds of problems and you want to update that to your real name.
First Case:
In this case, you might want to report to Facebook as if your account recently went through unauthorized access and this leads you to confirm some changes that were made to your account that might have taken place while it was accessed by someone else without your consent.
And this mostly includes a recent name change, so all you need to do is select a name that you want to use for the account from the drop down list.
Go to this link: http://facebook.com/hacked.
You will be asked to enter your account's password.
Enter your password and you will be redirected to a bunch of different security procedures.
You might also have to enter a new password.
At the end you might find a dialog box that asks you to confirm if the most recent name change was done by you.
From the drop down list, just select the name that you want to use for your account and click continue.
After going through other required procedures (if any) your name should be successfully changed.
Second Case:
So, if you misspelled your name, or your friend pranked you and entered a really hilarious name. Well, there is still a way that will allow you to change your Facebook account's name despite the 60 days barrier.
But to do this you will need to have following resources ready with you before you get into the procedure.
A scanned. JPG, .png or any supported image format file of your Identity card with your photo that resembles with the photos on the Facebook account and your name. All these credentials should be easily readable by anyone from the image file.
After you've got hold of the scanned copy of your Identity card, you are all good to move further.
First, go to this link: .
On the page, enter the desired New first name and last name.
Under "Reason for this change", select the best suitable reason. We recommend "Legal Name Change" if your name change is legit.
Under "Your ID (s)", click on "choose file "and select the scanned copy of your Identity card's scanned copy.
After everything is done, click on send.
On reviewing your request, if Facebook thinks everything is legit and your request to change your name on Facebook sounds reasonable, it will approve your request and change the account's name according to the one you requested in the name change request form.