Facebook is the second largest social media platform out there. Even though it has and does constantly face backlash for not handling the users data on the platform properly, it is still growing at a rapid pace. There are lots of Facebook privacy settings that are in place for you to control who can see and access your personal information such as your photos, emails, and even friends list. This is a step-by-step guide on how to make your friends list private on Facebook using the available privacy settings.
If you would like to make your Facebook private, hiding your Facebook friends list is a great way to keep your anonymity. There are a couple of ways to do so, please follow along and look at the screenshots for reference on how to get this done.
How To Make Friends Private On Facebook From Your Page
One way you can hide your friends list on Facebook is from your profile's page itself.
Open your profile page and click on "See all friends" on the Friends tab.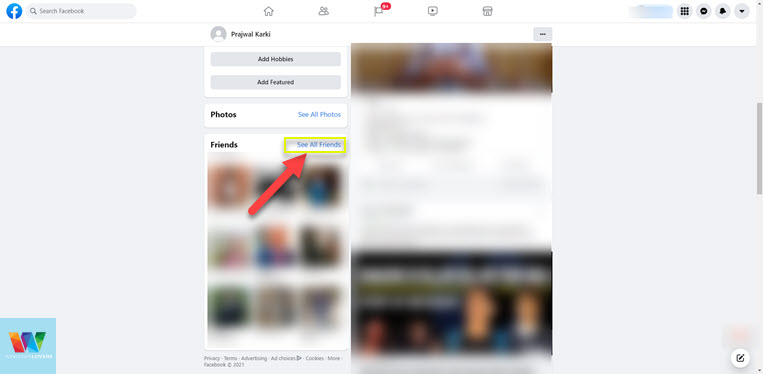 Once your friends list loads, open the options by clicking on the three dots next to the "Find Friends" and click "Edit Privacy".
In the next window that pops up, you can change the privacy settings for three activities.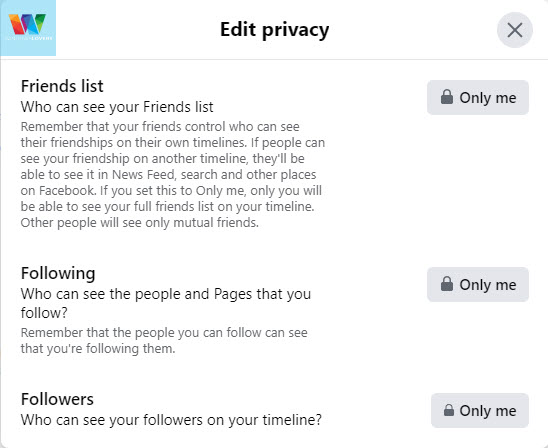 Friends list – Change this privacy setting to "Only me". This will ensure that only you can see the friends listed when you visit your profile. Just to confirm that this hides your Facebook friends lists and makes your friends private, you can view your profile as public after changing all these options.
Following – You know you can follow people and pages on the Facebook right, changing this setting will prevent other users even your friends from seeing the people or the pages you follow on Facebook.
Followers – If you have enabled the option for people to follow you, others can see who follows you. Change that to "Only me" as well.
READ: Facebook Search Without Account Easily
Finally, to see what kinds of changes did this make to your Facebook profile, let's view it as if someone else is viewing it.
Go back to your profile and bring up the options by clicking on the three dots on the bar that has different options related to your Facebook profile and click on "View as".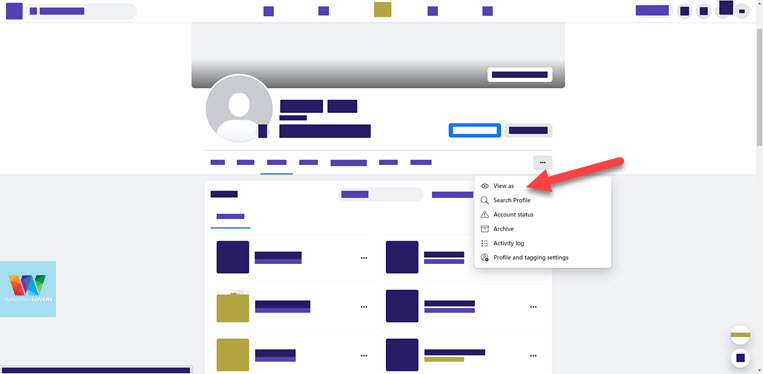 As you can see in the screenshot below, if someone who is not friends with me opens up my profile, they won't be able to see who I am friends with. It's the same case with your friends on Facebook.
If someone who is your friend goes to your profile, they won't be able to see your Facebook Freinds list as you've just made it private.
How To Hide Your Facebook Friend List From The Mobile App
The process to hide your Facebook friends list and make all your Facebook friendships private is a little different if you are trying to do this from your mobile phone.
Open the Facebook app on your android or iOS device and tap on "Menu" on the bottom right corner of the screen.
Towards the bottom of the page, tap on "Settings & Privacy" > "Privacy shortcuts".
Tap on "Review a few important privacy settings" and on the next page, open "Who can see what you share".
READ: How To Delete Your Facebook Profile Picture
Just hit "Continue" and at the bottom of the page, you should find the "Friends and Following" section.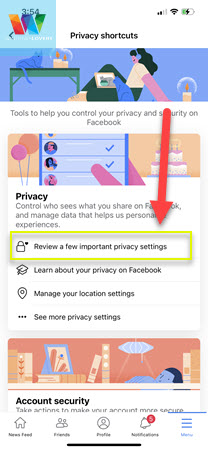 Change both of these settings to "Only me".
Making these changes will make sure all of your friends lists will be made private and no one not even your friends will be able to see who you are friends with.
Hiding Facebook Friends
If you are a private person and do not want anyone to sneak around on your profile to see who you have become friends with and also the people you've followed or liked, making these changes ensures that.
These options were there before as well but with the changes from Facebook and its UI have made it really easy to manage and control who gets to see what on your Facebook profile.