If you were previously able to create or view Reels on Instagram and suddenly Instagram Reels is not working, this guide will help you get Reels on IG back. For someone that is in a location prohibited by Instagram or Meta from using this feature, you might have to look for some other solutions.
This has personally happened to me multiple times and while doing some research online to prepare a useful guide to find the best solutions if Instagram Reels is now working, I came across hundreds of users facing this issue.
Right off the bat, I would like to get you acquainted that sometimes it's just a glitch on Instagram's end and you should get your Reels back in a few days. If it's been a few days and your Instagram reels are still not working, use the guide below to get Reels on IG back.
Best Fixes If Instagram Reels are Not Working
One of the best solutions if Instagram Reels is not working for you is to restart your phone and interact or open a REELS from Google or a direct link. If you just installed IG on a new phone, give Instagram some time to realize that your account should have access to reels and thus Instagram reels not showing issue should be resolved.
As mentioned earlier, it is a lot easier to troubleshoot this IG issue and get Reels on IG back if you know when you started facing this issue.
Another Useful Instagram Guide – Does Instagram notify when you screenshot a story?
Some users traveled to a different country and when they came back their Instagram reels stopped working.
In some cases, the users switched their phone and they do not have Reels options on the new phone but they still had access to Reels on the old phone.
The issues and the causes are far too wide to give you an exact fix for your issue as I hate to waste anyone's time asking you to do bunch of different troubleshooting steps like the other blogs that do not do much.
The fixes mentioned below are the steps that I personally follow and suggest to other people whose Instagram Reels is not working out of nowhere.
Is Instagram Down in Your Area?
Check if any or all Instagram services are affected because of an outage in your area or country.
Go to https://downdetector.com.au/status/instagram/ and see if the users around you or in your country are facing any Instagram issues. If there is a widely reported issues similar to yours maybe that is the reason why Instagram reels is not working on your end.
I use downdetector when Snapchat is not working on my phone too and it does saves a lot of headaches trying to solve a problem that does not exist on my end.
I would like to warn you about scammers that might try to contact you if you interact with the comments on that page or on the social media posts that they aggregate.
Is Instagram Reels Not showing? Wait It Out!
I know, a bummer. But see Instagram pushes out constant improvement patches and fixes for its application daily. Sometimes these updates break things and in some weird cases only for a small group of people.
One way to troubleshoot this issue is to login into another phone with your Instagram account and see if you get Reels back.
I have gone through a lot of Reddit posts and the majority of the time it is an account-level issue and the only option is to report the problem to Instagram and wait it out.
If you have two accounts and you can access Instagram Reels on one and not on the other account using the same phone and app, that confirms it might be an account-level issue.
If you can access Reels on another device but not on yours, then you can move ahead with the troubleshooting.
Report To Instagram
I always report to Instagram straightaway before I start troubleshooting on my end just in case I am unable to fix the issue.
The reasoning behind that is that support will not reach out to your straightaway. So, while you try other fixes to fix your Instagram Reels issue, you can submit a report and expedite that process.
To report that your Instagram Reels is not working, do the following:
Take a screenshot of your Instagram page where you should see the Reels option
Tap on your profile, then on the three lines icon in the top-right corner, and open "Settings".
Find an open "Help" > "Report a Problem".
You can shake your phone and report a problem as well for this guide I'll do a manual report.
Tap on "Report problem without shaking".
Give a brief, to-the-point explanation of your issue and tap on "Upload" and upload the screenshot that you took.
Tap on "Next", and read what information is shared with Instagram automatically when you report the problem.
If you are happy, tap on the "Send report" button at the bottom of the page.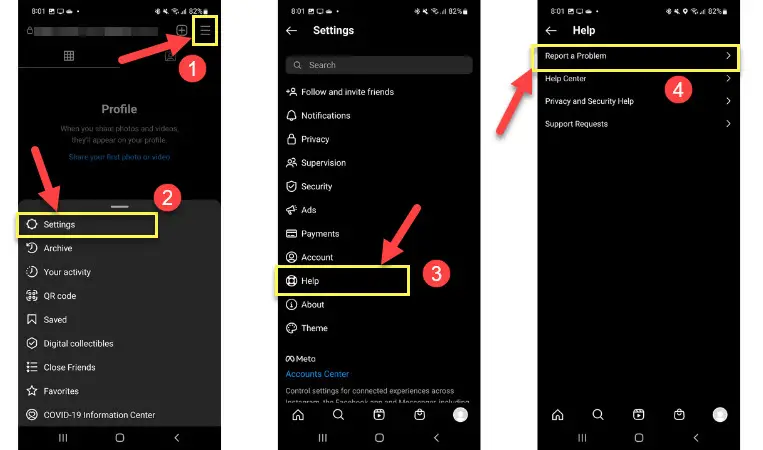 Once reported, you can either wait it out or try the fixes mentioned below.
Check All The Places First
Make sure you check all the places that you can access or create a Reel from first before pulling your hair out. Instagram's help center has an in-depth article on Reels so that's a good place to start.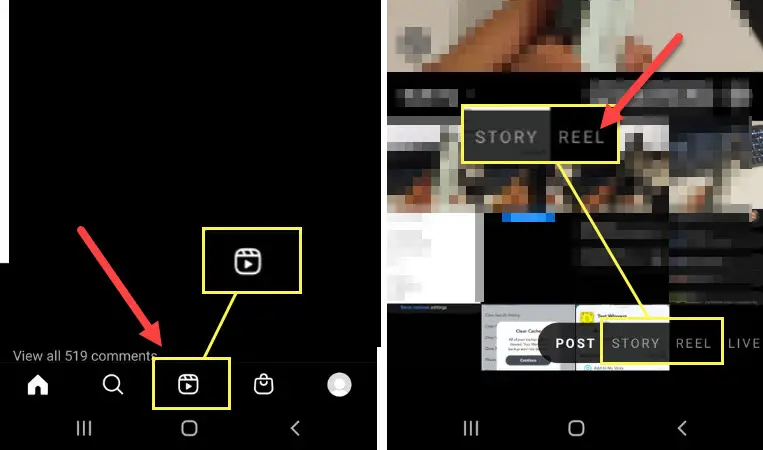 Sometimes, when you move to another location or the app auto-updates, you might have to trigger the Reels from your end first. Instagram then understands and sees that your account should have access to viewing or creating reels. Thus, when you open and close the app, your Instagram reels not working problem should be resolved.
Close the app or Restart your Phone
I don't use Instagram all the time and usually don't have it installed on my phone either. When I need to use it and I install it, half of the time I don't get Reels on IG.
In that case, I close the app completely (from the background too) and re-open it or restart the phone a few times. In about 10-15 minutes Instagram reels start showing up again.
Clear your Instagram Cache and Reinstall The App
I know when you reinstall the app, it should also clear the cache. Just to make sure the cache is refreshed with the latest content, I always clear the cache and reinstall the app so that all the files are new.
You can clear the cache on iPhone without deleting the app as well which was not the case in the past.
If you do not remember your Instagram login credentials, please do not clear app data or cache since this will log you out of your Instagram account.
For Android users to clear Instagram cache, do the following:
Go to your phone's Settings, scroll toward the bottom, and open "Apps".
Find and open Instagram.
Under "Usage" open "Storage".
Tap on "Clear data" which clears the application's data including all the cache.
Open Instagram and log in with your login details.
Check if you've got your Reels back on Instagram.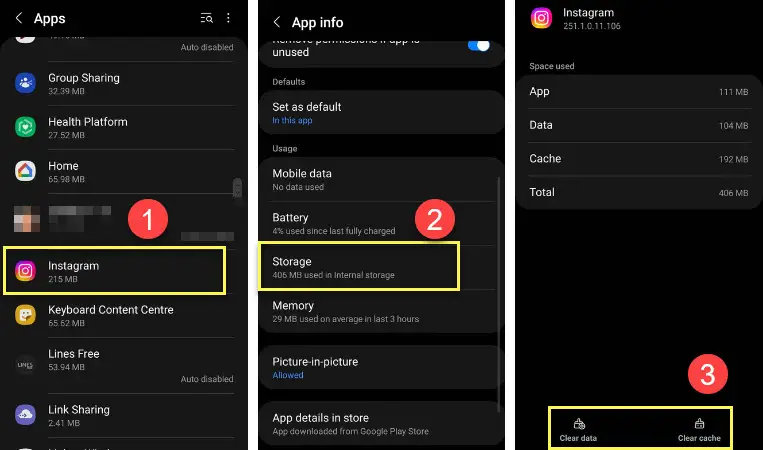 If Instagram reels is still now working, please clear the app data and reinstall the application from the Play store for Android and App store for iPhone users.
Complete Your Profile
This a weird one for me as well but few users have claimed to get their IG Reels back once they completed their profiles. When I say completed their profile, if you have created your IG account with your mobile number and have not filled out other information, please complete the rest.
I can kind of see why this can cause some discrepancies when Instagram pushes out critical or regular app updates to its users. If they don't have the proper information, they might think that you might not be a real or active account. Thus, you might be further down on the list of servicing from Instagram.
These discrepancies might affect other features too including Instagram Reels, thus resulting in Reels completely disappearing from your Instagram app.
I can go on and on with other not-so-helpful ways to try and get IG reels back or solve your Instagram reels not working problem, but these were my go-to and should help you too.
If you have some questions or queries, please go through the FAQ section down below. For other issues or queries, please leave them in the comment section below.
Instagram Reels Not Showing – FAQs
Why can't I see Reels on Instagram?
Either you are in a prohibited location or your Insta App needs to be updated or refreshed. As long as there is no internet connection issue, logging out of your IG account and logging back in also might help.
Where do I find Reels on IG?
The Reels button can be found on the bottom center of your IG app. Other places are your profile page, your friend's profile page or even the explore page.
How do I enable Instagram Reels?
If your account is eligible for Instagram Reels, log out and log back in. You can also update the app and restart the phone if they don't enable it automatically.