Psiphon VPN is a tool that combines a secure combination of VPN, SSH, and HTTP proxies to provide its users complete anonymity while browsing the internet. On top of providing anonymity, it also leaps over any restriction the ISP or the government might have imposed on its users. Psiphon 3 for PC and Psiphon Pro for android phones are available for free to use.
Psiphon VPN: A Bit Of Background
Psiphon 3 VPN is an open-source VPN software developed by Psiphon, Inc located in Toronto, Ontario Canada. It operates systems and smart technologies that bypass the content filtering systems imposed by the government for censorship on the internet. By no means we are evoking the illegal use of the internet or going against any government rules. It's safe to say that Psiphon 3 is VPN technology on steroids.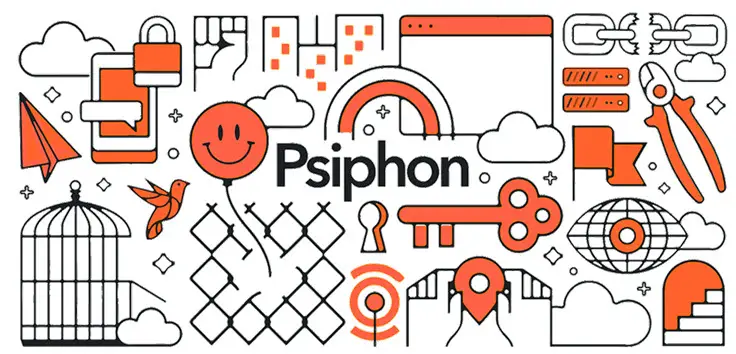 We respect the government-imposed censorship on certain content as much as the right of a user to access the internet without any filters and restrictions. Internet was, is, and should be free for everyone and so is the content on the internet. That is the sole meaning of the internet, so any kind of censorship on the internet would be against our rights.
Let's see how to Download Psiphon 3 For PC and Psiphon VPN for your android devices.
Download Psiphon 3 For Windows PC(10,7,8,XP)
Psiphon 3 is available to download for free and has no limitations whatsoever. So, unlike other VPN applications, you don't have to pay a subscription fee and it uses advanced VPN technologies as compared to its competitors. Read more about how Psiphon 3 is different from other paid VPN services.
Psiphon 3 is a directly executable file so there is no need to install the application. You can just download and run the software on the go.
Download Psiphon 3 from the Psiphon's website. It works on Windows 10, Windows 7, and even Windows 8. Even though you should upgrade to Windows 10 for free if you are using an older version of Windows.
Run the application and you will be taken to its dashboard.
The application will automatically connect to the server and will take you to its welcome page.
From this point, all your connections will be tunneled through Psiphon's secure connection server and your browsing activity will be anonymous.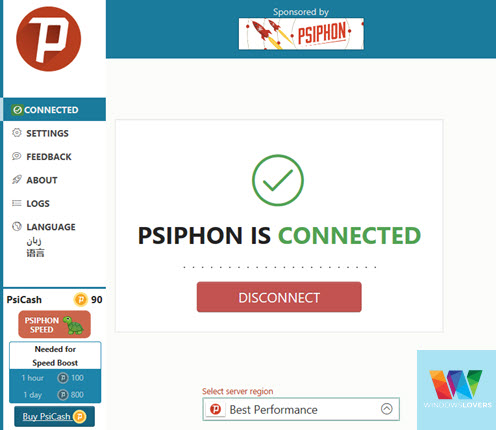 To stop the VPN service, all you need to do is close the application and it will be automatically disconnected.
The application automatically connects to the best-performing server closest to you.
If you like to set your location to somewhere else to unblock websites that are region-specific, select a different server region.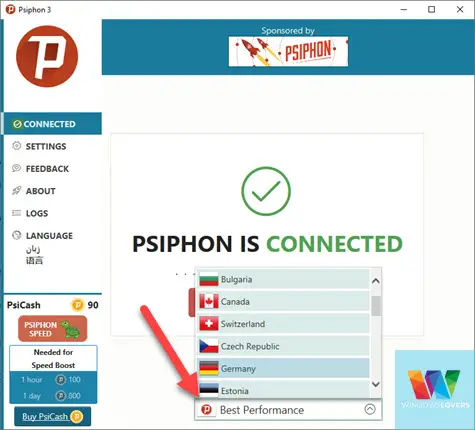 What about other applications?
Yes, all the applications will respect Psiphon's tunnel connection. If your connection breaks, try playing around with the settings. We highly do not recommend you to do so, unless you are an expert user.
But, if you end up screwing up the settings, just close the application, and Psiphon VPN will be closed and you will be back on your normal internet connection.
Dwnload Psiphon 3 VPN For Android Phone
Psiphon is available completely free for computer users but for android phone users, there are some restrictions and other benefits.
What are the restrictions?
On android phones, there are different sorts of subscription packages that you can purchase according to your own needs. There is a free version too but the maximum bandwidth allowed is 2 Mbps and that includes annoying pop-up ads.
If you are willing to buy a Psiphon's subscription there are a range of options available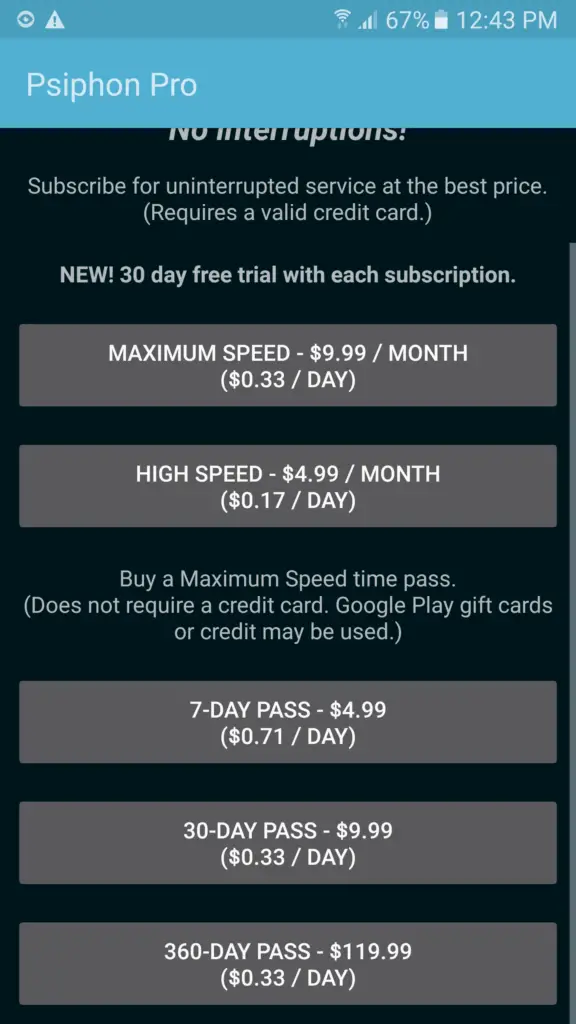 Maximum Speed – $9.99 / Month
High Speed – $4.99 / Month
7/30/365 Day Passes ($4.99/$9.99/$119.99) Respectively
What are the benefits?
The biggest benefit with Psiphon's android application is that you are able to choose between tunneling the whole device i.e. all the connections between your phone and the internet will be tunneled. Or you can use Psi's own browser and only the browser's connection will go through Psiphon VPN.
Installing Psiphon on Android phone
You can download the application from the app store. Here is the link.
If for some reason you do not have access to the app store, you can scan the bar code below and install the application.

You can also download psiphon.apk from a third-party provider and install it.
You might have to enable sideloading if you wish to install the app using the apk file. To do this,
Go to your device's settings > security
Enable installation from "Unknown Resources "
Using The application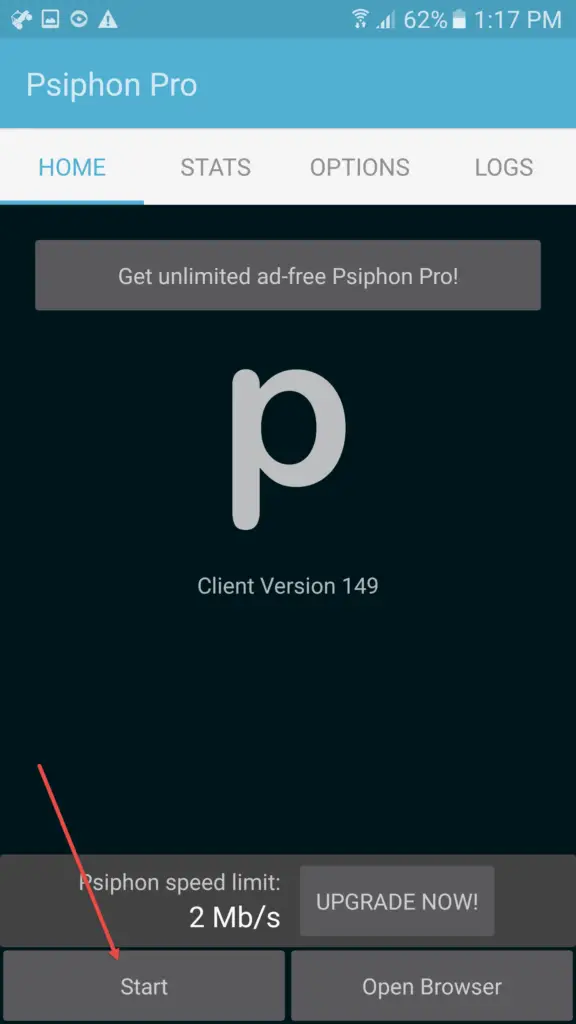 Open the application from your apps list.
On the dashboard, left bottom corner you will see a start button.
Tap on start and if your device supports full device tunneling, you will be asked to choose either full device tunneling or to just use the browser.
After you select what kind of tunneling you would like to use, let it connect.
After the connection is successful, you see a message psiphon VPN is connected.
More detailed information on Psiphon's website here.