If you've recently purchased a new Alexa Echo smart home speaker and wondering how to connect Alexa to iPhone, this is the guide for you. For someone that already has a configured and working Alexa speaker, you can skip to the part of the guide where I guide you to connect your Amazon Echo device to your phone or tablet using Bluetooth.
The initial Alexa configuration requires you to have a working WiFi connection wherever you are trying to configure this new device at. Once done, you can also connect Alexa to Bluetooth Speakers and level up your music game.
Alternatively, if you don't have a WiFi connection available for the initial Alexa Echo setup, you can use your mobile phone's mobile hotspot.
If your WiFi keeps on disconnecting and reconnecting, you might struggle with the initial configuration so please keep that in mind.
How To Connect Alexa To iPhone – New Device Setup
For the initial setup you need to install the Amazon Alexa app on your iPhone/iPad. Once the Alexa Echo speaker is setup, you can connect to Alexa from your iPhone without an App too.
For someone, looking to connect alexa to iPhone via Bluetooth, skip to the later part of this guide.
Let's install the Alexa app on your iPhone first.
1. Installing Amazon Alexa App
To install the Amazon alexa app on your iPhone/iPad, do the following:
Open the app store and search for "Amazon Alexa".
Tap on "Get" which will download and install the app on your iPhone.
Make sure you download the official app developed by AMZN Mobile LLC.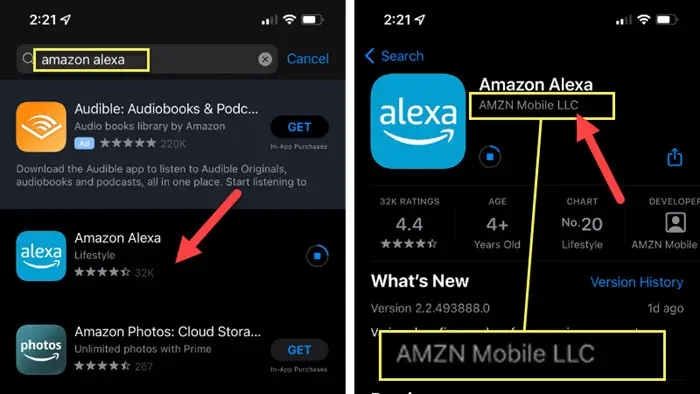 Once installation is completed, move on to the next step.
2. Configuring Amazon Echo Using Alexa App
This is the final step to get your Alexa device setup and going so that you can connect your iPhone or other devices to it.
To connect Alexa to iPhone, do the following:
Plug in the Alexa to a power source and wait for the orange light to start blinking.
Alexa will speak and let you know that your Amazon Echo is ready for setup.
Open the Alexa app you downloaded earlier and allow any connection requests you get.

Login with your Amazon account details.
If you have created other profiles, you will get a list of names to choose from or else create one.
Enter your first and last name and tap "Agree and continue".
I would suggest you setup your Voice ID for convenience, setup other additional features as you prefer.

Go to "Devices" and tap on the "+" icon on the top-right corner of the screen > "Add device".
Choose the correct device, I assume yours is also an echo. Tap on "Amazon Echo".
Tap on "Echo, Echo Dot, Echo Plus, and more".

Make sure there is an orange light on your Echo device, tap on yes to confirm.

If you see your device under "Available devices", tap on it.
Select the WiFi network that you want the Alexa Echo device to connect to and enter the WiFi password and tap "Connect".

As long as you don't have any WiFi issues or have AP isolation enabled on Wifi, you will hear "Your echo is ready".
Select your preferred language, the location of your speaker, the address, and finally you will see "Lets Go" button.

Connect Alexa to iPhone via Bluetooth Without Wifi
Once you configure your new Alexa Echo speaker using the steps below you can connect alexa to iPhone via Bluetooth without WiFi.
You can actually connect any phone or tablet with Bluetooth functionality to that Alexa Echo speaker. But if its a new device that you are looking to setup, use the instructions I gave earlier in this guide.
To Connect Alexa to iPhone via Bluetooth, do the following:
Ask your Alexa to enable pairing using the wake up word like, "Alexa, enable pairing mode".
Once Alexa lets you know that the echo speaker is searching, go to "Settings" on your iPhone.

Open "Bluetooth" and enable it if it's not enabled.
Wait for your Alexa Echo device to show up under "Other Devices".
Tap on it and your Alexa will let you know that it is now connected.

Enjoy playing your favorite tunes from Spotify directly to Alexa from your iPhone via Bluetooth.
That's how you can connect Alexa Echo Speaker to iPhone via Bluetooth in a couple of steps.
If you have any difficulties following this guide, please refer to the FAQs section down below. If there are other questions or queries you would like me to have a look at, please leave them in the comments section down below.
FAQs
How do I connect my Amazon Alexa to my iPhone?
If your Amazon Alexa is already configured and working, you can add it as a Bluetooth device from your iPhone Bluetooth settings. You will need to use the wake up word and ask Alexa to enable pairing mode first.
Why is my iPhone not connecting to my Alexa?
Make sure that your iPhone's Bluetooth is turned on. If it's a first time pairing with Alexa, you need to configure the device. And if you are not able to request Alexa to enable pairing mode, your WiFi might not be working properly.