I currently have an Amazon Echo Dot (3rd Gen) smart speaker and a Google Home nest mini. The Echo Dot speakers are not the best quality for watching movies or listening to music. If you have one too and are wondering how to connect Alexa to Bluetooth speaker and level up your audio game, this is the guide for you.
In the past, Amazon suggested its users get an Alexa compatible Bluetooth speaker to connect to Alexa. This does not seem to be the case anymore and I have been able to connect Alexa to Bluetooth speaker from JBL without any issues.
I use Echo as Bluetooth Speaker for my PC and other devices and that works great as well.
How To Connect Alexa To Bluetooth Speaker
Assuming your Alexa is already setup, to connect it to a Bluetooth Speaker, all you need to do is open Amazon Alexa app on your phone > Devices > Select your Echo Dot or Alexa > Connect a device > Pair your Bluetooth device.
Let me elaborate on the exact steps and there are screenshots if anyone gets confused about what to do next.
To connect your Alexa to a Bluetooth speaker, do the following:
First, put your Bluetooth speaker in pairing mode.
Open the Amazon Alexa app on your phone where you already have your account setup.
Tap on the "Devices" option at the bottom of the app.

Tap on "Echo & Alexa" and tap on your Alexa device name.
If you have multiple Echo devices, tap on "All Devices" and tap on your Alexa.
Under "Bluetooth Connections", tap on "Connect a device".

Your Amazon Alexa will not start scanning for your Bluetooth speaker nearby.
Once discovered, tap on the Bluetooth device that you are trying to connect Alexa to.

Alexa will notify you that the speaker has been connected.
That's how to connect alexa to Bluetooth speaker in a couple of minutes.
Once paired, you can just ask Alexa to connect to your speaker and it will automatically connect to the Bluetooth speaker as long as it's turned on and is within Alexa's range.
How To Put Your Bluetooth Speaker In Pairing Mode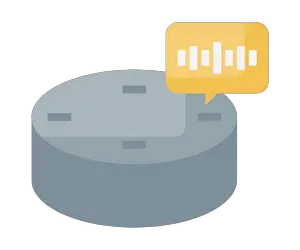 I am not able to provide you with exact steps to do so, since this varies depending on the type and the brand of Bluetooth speakers you have.
If you are facing difficulties with enabling pairing mode on your Bluetooth speakers, refer to the speaker's catalog or a quick Google search should most definitely reveal the process.
For someone really needing help, please let me know the model/brand of the speakers you have and I will try my best to guide you on connecting them to your Alexa.
How To Use Alexa As A Bluetooth Speaker Without Wifi
If it's a brand new Amazon Alexa, you will need to configure the device first. The process to configure your Alexa does require a WiFi connection at least for the initial setup.
Once Alexa is setup, you can use it as a Standalone Bluetooth speaker without WiFi and connect it to your PC/Phone or tablet.
Hopefully, that answers your question about how to connect Alexa to Bluetooth speakers. If you are facing any issues, please refer to the FAQ section down below.
If you have other questions or queries, please let me know in the comments section down below.
FAQs
How To Connect multiple Bluetooth speakers to Alexa?
To connect multiple Bluetooth speakers, open the Alexa app on your phone or tablet, go to devices and choose your Alexa device. From that page, tap on "Connect a new device" and add as many speakers as you prefer.
Will alexa connect to bluetooth without wifi?
If your Alexa has been preconfigured once, then it will connect to Bluetooth without WiFi. But if it's your first time setting up Alexa, you need WiFi connection at least to start. But you will have limited functionality without WiFi.
Amazon Alexa Echo Not Detecting your Bluetooth Speaker?
Usually when you try to pair your Alexa with a Bluetooth speaker, if the Bluetooth on your phone is not enabled it won't detect your Bluetooth speaker. Worse, it won't notify you that either.