Are you facing some problems while upgrading from Windows 7 to Windows 10? Well, it's not as hard as you think. Windows 10 is more lightweight and has more advantages than Windows 7. It is also straightforward to upgrade as well and will just take your 5 minutes. This is a step-by-step guide on how to upgrade windows 7 to windows 10 for free.
If you want to learn the steps for upgrading your Window, then make sure to read the whole article. You will indeed find some useful tips that will solve your problem in no time. This is a great time to upgrade windows 7 to windows 10 as Windows 11 release date is just around the corner as well.
How To Upgrade Windows 7 to Windows 10
Many windows users do not know how to upgrade their windows versions. They still use the old version of Windows 7 to carry out their regular tasks, even if their PC can handle the updated Windows 10. It is all because of the stability that Windows 10 provides to the PC. Nevertheless, the old version does not provide updated features.
As there is a new version in front of you, everyone will recommend using the latest new updated version. Therefore, if your PC meets every requirement of Windows 10, then it's better to use the latest version for your desktop PC.
Key things to note before you upgrade to the latest version
Before starting to update, you have to keep some key things in your mind.
Please make sure that you have a proper backup of your important files and the folders. While changing the version, it may remove all the files, folders, settings, and apps and make it new.
You can also select to keep your files and personal data, but the existing apps will raise compatibility problems in our experience. Therefore, you have to ensure that the essential apps you use regularly are easy to install after the upgrade.
The new version of Windows 10 requires at least 4 GB of RAM and 8 GB of storage for installation. So make sure that your Pc has more space to update it.
If you want to upgrade your windows version to the Windows 10 version, then follow these steps.
Firstly, you have to gather the system requirements for the installation.
System requirements
You should have-
Processor: 1-gigahertz (GHz) or a faster compatible processor or system.
RAM: 1 gigabyte (GB) for the 32-bit or 2 GB for 64 bit
Hard drive: Minimum 32 GB
Now, let us get into the steps to upgrade Windows 7 to Windows 10.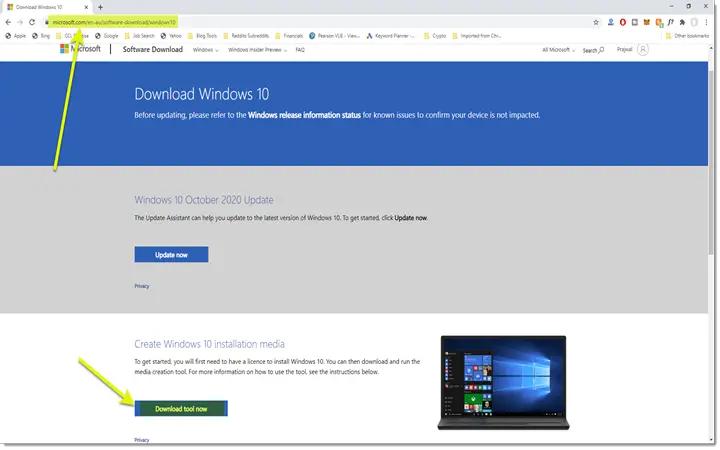 At first, you have to visit the Windows 10 system specification page: You have to visit Windows 10 system specification page to make sure that your computer windows meet the minimum computing requirements like 1GB of RAM, 1 GHz processor. All these requirements are required to upgrade to windows 10. Download the Windows 10 media creation tool from here.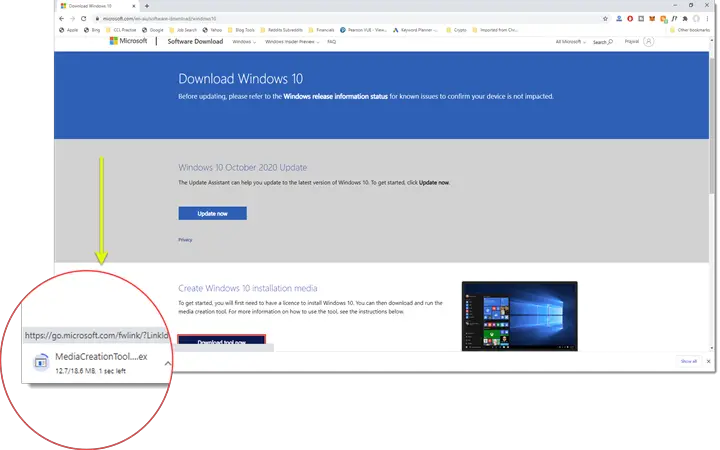 Now, move to the Windows 10 ISO Download page: This page leads you to the windows 10 media creation tool that you will need to upgrade to the Windows 10 version.
Download button: After moving to the above page, you will get a download button. Click on that button to start downloading Windows 10 media creation tool.
Now, wait until the download process is completed. After completing the download, open the file from your download folder once.
After that, you will see two options. Choose the first one i.e. Upgrade this PC now. Now, by clicking on the next button after completing the process.
Next, the setup goes ahead and checks for any updates that might be applicable to your windows system.
Once that's done, you are finally ready to upgrade your Windows 7 to Windows 10. You can either choose to keep the files and apps, or wipe out everything and install a fresh copy of Windows 10. The choice is yours.

Now, wait for its completion. After completion of the download process, it automatically restarts your PC and now finally you can have Windows 10 as a new operating system.
Some problems may occur while installing. Let us clear all the issues that may arise while upgrading Windows 10 with the possible solutions.
Windows 10 has replaced both the old version, i.e., Windows 8.1 and Windows 7. So, while upgrading, it is very common to face some of these problems. However, we have to keep the solution in front of us to solve it quickly.
Is This The Best Way To Upgrade From Windows 7 To Windows 10
I still highly recommend that you do a fresh installation of Windows 10 on your laptop or desktop system. But if you cannot afford to lose any application or have been using the system for quite a long time, this is your best way to upgrade from Windows 7 to Windows 10.
Troubleshooting Issues When You Upgrade From Windows 7 To Windows 10
Hardware incapability: It can be a big issue. This can be an issue because some users may find out that Windows 10 might require the hardware to upgrade to accommodate it. The new upgrade system might make the system slow or might not load at all.
So make sure that you have a hardware compatibility check before upgrading to the new operating system. To upgrade the new operating system from one to a new one, people might need a high-end processor with bigger memory.
Set up the process: Another problem may arise in the setup process. If the setup process fails or stops while upgrading, then the problem may arise. This is the worst thing that can happen. Because the setup process stops, then the person can go back to neither the older operating system nor he/she can be a move to the new operating system. Therefore, the main reason that this problem arises is insufficient disk space. So make sure that you have 16 GB of free space.
READ: Windows 10 Desktop Icons Spread Out Messed Up Solutions
The software validates: Software validation is the problem that may arise. If the old software is validated as non-genuine while upgrading Windows 10, this problem may trouble the user.
Application not working: After installing Windows 10, it might appear to the users that the days of the darkness are over. However, this is when the old applications might start to falter by not running with the new operating system.
Possible solution - The user can install the old operating system and can make a virtual machine. Besides, the second way is just trying to upgrade the applications to run smoothly with the new operating system.
Data loss: The problem can create a real heart breaker while the operating system is being upgraded to Windows 10.
Possible Solution - dump all the critical data in the hard disk before starting the process of upgrading to Windows 10.
Configure the new system: Most of the users that are upgrading windows 7 to Windows 10 might have become comfortable using Windows 8 and Windows 7. Suddenly Windows 10 start to look new. Also, you may feel discomfort while using this.
The solution for these problems is – try and configure the new operating system to have a semblance of the same look and feel like the same old operating system
Windows 10 is the new version and can have many more bugs that are described above. The users have to be active while upgrading Windows 10 to reach out to all the problems' solutions.
Background On Evolution Of Windows 7
Microsoft introduced the Windows 7 operating system, and it was announced as part of the Windows NT operating system family. Three years ago, Windows 7 was launched as part of the Windows NT operating system family.
Let's get into the features of windows 7
snipping
sticky notes
magnifier
sound recorder
tool
screen calibration
power efficiency report
remote assistance
problem steps
user-friendly
windows gadgets
Windows 7 is one of the most famous used versions of Microsoft Windows. Windows 7 was introduced to address some issues with Windows Vista.
Advantages Of Windows 7
Windows 7 is faster than its predecessors in terms of both installation and the boot-up time.
It has the facilities to download some eye-catching themes and background images from its own Microsoft website or the RSS feed.
It supports the advancement of touch and handwriting recognition.
It allows users to make the best and the different use of graphic cards from various vendors.
It also supports Virtual Hard Disks with the support of the improved performance of the multi-core processors.
It supports advanced touch and handwriting recognition.
Disadvantages Of Windows 7
Expensive than the other operating systems
Some of the user's system might under perform as a result of lack of enough resources
Many applications aren't able to run in Windows 7 as they ask for the online support system
Therefore, these are the disadvantages of Windows 7.
After Windows 7, Microsoft launched Windows 8 to overcome the disadvantage of Windows 7. Unfortunately, Windows 8 was not much of a success because of the interface and lack of the start menu.
Therefore, due to this, windows 10 was on the way to release. In this release, the company added the start menu, which was missing in Windows 8. So, now In Windows 10, the Start menu has a combination of both Windows 7 and Windows 8.
Why You Should Upgrade To Windows 10 from 7
Start menu returns
Cortana on desktop
Improved Multitasking
Project Spartan Browser
Universal Apps
Continuum
unified Settings/ Control Panel
Action Center
Xbox App
There are many features to list down. However, I have mentioned only a few of them.
Now, let's get into the advantages and disadvantages of Windows 10.
Advantages Of Genuine Windows 10
Windows 10 includes the extended built-in-mobile device management capabilities that help to manage the device from the cloud.
Windows 10 is best for gaming. It is bringing significant changes to PC gaming.
It includes the universal Office apps that will be touch-friendly and can be run on all devices.
A specialized new version of Windows 10 will be launched for the new upcoming smartphone.
Windows 10 has an improved version of the multitasking system.
Disadvantages Of Windows 10
Windows 10 cannot upgrade the oldest version of the operating system like Windows 2000, Windows 2001, etc.
Your system usage information might be shared with Microsoft for improving user service and the usability of the operating system. This is if you choose to use the online Microsoft account and not a local user account.
Sometimes crashes may occur while upgrading to window 10. So, if it occurs, it may take many hours to solve.
It reduced flexibility and unified development
Microsoft Windows 10 is a better version than the other older versions of Microsoft. Yes, there are disadvantages, but if you have decided to use Windows 10 then, this will be a good decision because Windows 10 is the latest version with the new generation design.  
If you have issues following this guide on how to upgrade windows 7 to Windows 10, please leave a comment down below.