"This video is not available in your country," how often does this happen to you when you want to watch videos from your favorite subscriptions. I understand this is really frustrating to not being able to watch your favorite videos because of the country restrictions set by the video's uploader. Not anymore, we are here to help you  Watch YouTube Unblocked.
I also face this issue a lot, and so in this post, I'll guide you through bypassing This video is not available in your country error and get YouTube unblocked videos the video regardless of the country you are currently based in.
[toc]
Lots of you must have heard about the term VPN, if not you might have come across this term while you were searching for the ways to Unblock YouTube.
We are also going to use VPN for this tutorial and its not necessary that you know what a VPN is or how it works.
YouTube Unblocked: Watch Blocked YouTube Videos
We will see lots of ways to get unblocked YouTube, let me know which one works for you.
Update: 3/18/2019
We've found some new ways to unblock YouTube in restricted countries. Please be advised that these tips and tricks are only for educational purposes and in no mean supports any breach that it might cause.
Using HTTPS:

Lots of places that blocks YouTube, most of the times only block the HTTP:// version of the website. What that means is they block "http://www.youtube.*", *- meaning any content on the domain "YouTube.com." So to unblock YouTube in these locations, type in "https://www.youtube.com" in the browser. If you are lucky enough, you might be able to get past the restriction.

Using YouTube's  IP address: 

Sometimes network admins only block YouTube's URL; this means YouTube's IP address might be still accessible. Let me give you more insight.
All the website has an IP address. So, if you have any website's IP address, you will still be able to connect to it. This will only work if you have YouTube Blocked in School, or YouTube Blocked in Offices. But if YouTube has been blocked in your country or region, you will have to use a VPN service. You can try using Psiphon or Hola.
Lets, find out YouTube's IP address in your region(Considering YouTube is blocked in your school/office).
Note: You will have to use a different internet connection to do this. You can also create a hotspot from your phone or just find out YouTube's  IP address using your phone itself.
Using A Laptop 
Open CMD from the start or pressing "Ctrl" + "R" on your keyboard.
Type in "ping youtube.com" and press enter.
You will see YouTube's IP address after the command has been finished executing like shown in the image below.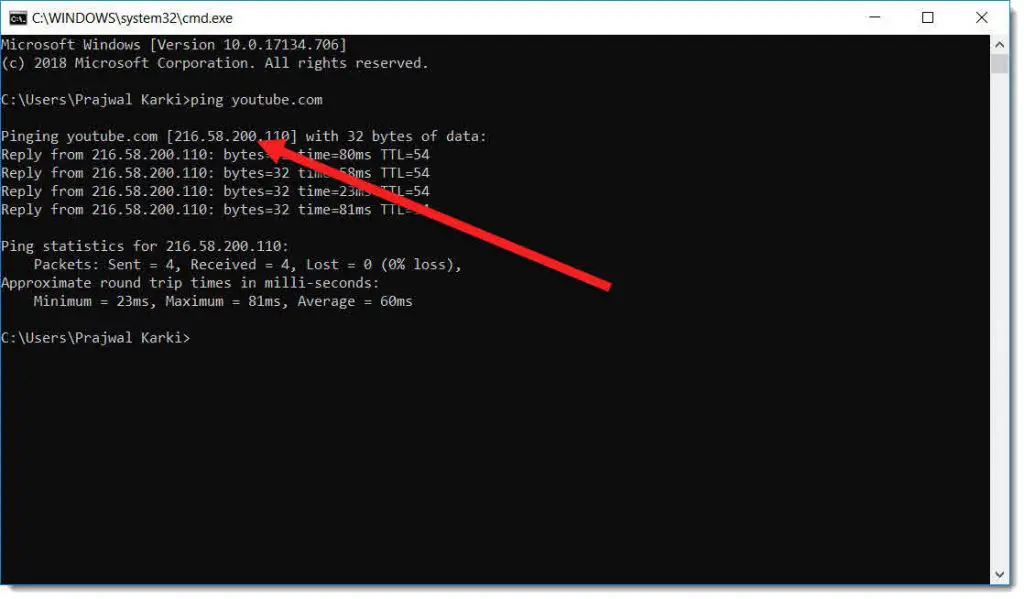 Open up any browser of your liking. Input the IP address in the following format.
https://"IP address from CMD"/
For me, it'll be, .
Hit enter, and if you are lucky enough, YouTube will load.
Using An Android Phone
Download and install "Ping Network Utilities" from the play store. 
Open the application, and under pingtools, you will find "Ping." Tap on it.
Type in "YouTube.com" and tap on "ping."
We have finally found a way to bypass country restriction on youtube videos to watch Youtube unblocked videos. You should be using a service called Psiphon for your PC and Android.
Read The Article Here.  
I've had few of our users mention that Hola for YouTube is not working for some reason. If that is the case for you too, give Psiphon for PC a go.
Psiphon is different to hola in the sense that it creates a tunnel for all your traffic. Hola on the other side tries to trick the server
[bibblio style=" bib–size-18 bib–wide bib–white-label bib–row-3 bib–font-trebuchet bib–author-show bib–title-only" query_string_params="e30=" recommendation_type="optimised"]
Hola – Free VPN To Unblock YouTube
The service that I am about to elaborate in this article is Hola. I know there are a bunch of different services that serve VPN services. But I find Hola the best among all for the following reasons :
It's free and available as an extension, plugin or an add-on for your browser. So, it saves you the trouble of installing and setting everything up.
Hola has been able to unlock all the videos for me till now on YouTube, that had country-specific restrictions.
It is available for all the platform like android, ios and major internet browser for, eg. Internet Explorer, Mozilla Firefox and Google Chrome.
So, to unblock YouTube videos, Hola is the best free service that anyone can use.
How To Get Hola
For Google Chrome Users:-
If you are a Google Chrome User follow the instructions mentioned below:-
Get into your settings tab, typing this in your browser : chrome://settings/
From the top left of the window, go to the extensions tab.
Now, scroll down to the bottom of the window and click on "Get More Extensions."
After you are redirected to the Google Chrome store, search for "Hola Better Internet."
You should see it as the first result on the search screen.
Click on the blue button that says " Free," and a small dialog box should pop up, Click "Add."
Now a new icon should be added to the top right corner of your screen that looks like this.
OR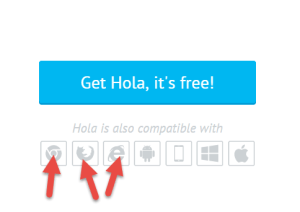 You can save yourself all this trouble and go to the website Hola.org. And select the right version you are looking for and install the addon. 😀
Hola For ios and Android Users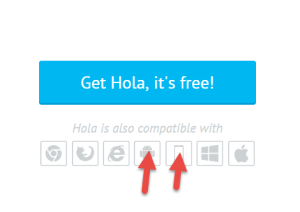 For all the mobile / tablet users you can go to your respective app store and search for "Hola better internet" and download the app and use it right away.
How To Use Hola
Hola is really easy to use, the best suggestion that I can give is to find out where the video was uploaded from. Because most of the time, the video is only made available for the users of the respective country the video was uploaded from.
If You're YouTube Video Buffering Is Slow, Read This Article.
If you were not able to find that out, you can try your luck and see which country's VPN works for you.
Using Hola on a PC/ Laptop to unblock YouTube Videos
After you've installed the extension, plugin or addon open the plugin. If you are using chrome click on the logo on the top right corner of your browser's screen and if you are using Mozilla Firefox, it should be somewhere around the same spot with the same logo.
Click on the blue face to turn it on.
After you've turned it on, go to the video page that was giving you the This video is not available in your country error.
Now click on the hola's icon, and you should be given a bunch of different option and select the country that you think the video might be made available for playback in.
After you select the country, it might take a few seconds, and your YouTube page should refresh.
Go back to the video and see if it works, if it still gives you the same error try another country and keep your fingers crossed.
The Buffering Speed Might Not Be Impressive Even Though You Were Able To Play The Video. It Is Because The Data Is Being Redirected Twice.
First, install the hola app from the app store for free.
Run the app, and on the home page, you should see something like the image below.
Since you want to watch a video that has been blocked in your country and unblock youtube, you can do two things. You can either use the YouTube app itself (if you have downloaded a YouTube app) o,r you can use the browser itself.
If you want to use the browser, from the top right side on the screen, you should see the country's flag, click on that and select another country that you think the video should be available in.
Give it a few seconds, and then the icon of the flag should change to the country that you selected in the previous step.
Type in youtube.com in the URL section and open the video that you want to watch, if it loads then congrats you've successfully unlocked that YouTube video. But, if you are still getting the same error, go back to step 4. and select another country.
If you want to use the YouTube App:-
From the home screen select apps and go to "My Apps."
From the list select the YouTube app.and select "Open."
Give it a few seconds, and the app should load, search for video and if it loads you're done. And if it does not, go back and change the country and try it again.
Using Hola On iPad /iOs To Get YouTube Unblocked
Unlike Android and windows, on an iOs device, you will need to create an account before you can use their service. It's free, no need to worry about that.
Download the app for free from the app store, search for keyword " Hola."
Open the app and click on register and register an account with your credentials.
After you're logged in you should see the following screen.
If you want to use the browser to watch the video, you should see the hola icon on the top right of your screen. Click on that and select the country that you think the video might be available for and select done.
After a few seconds, go to the video from the URL section and see This video is not available in your country restriction is gone. If not, repeat the process from step 4.
[bibblio style=" bib–row-3 bib–hover bib–white-label bib–font-Arial bib–size-18 bib–wide bib–author-show bib–recency-show" query_string_params="e30=" recommendation_type="optimised"]
So, this is how you "This video is not available in your country" and watch blocked YouTube videos, get youtube unblocked from any country.
Feel free to contact me if you come across any trouble during this tutorial. And how do you unblock YouTube Videos?
Let us know in the comments below.