YouTube's mobile app is more than sufficient for the majority of users. It's only a select few power users that prefer to use the youtube desktop site on chrome rather than the default app. There are tradeoffs for sure, but sometimes one must use the desktop site to get the most of their content consumption via YouTube.
Similar to my previous post about accessing the YouTube creator dashboard's site on your phone/tablet, this guide aims at forcing your mobile/tablet browser to load the full version YouTube website instead of the mobile.
As always, if you see any discrepancies while following the steps mentioned in this article, feel free to reach out to me in the comments section below.
1. How To Open YouTube Desktop Site On Chrome Browser
Google Chrome is one of the most popular and widely used browsers when it comes to desktop, laptop, or mobile devices. Thus, it's first on the list to open youtube desktop site on Chrome browser. It's my default browser on iPhone and iOS devices too.
1.1 Force Open youtube desktop site chrome android
To force youtube desktop mode on chrome browser for android phones or tablets, do the following:
Open Chrome on your android/iOS device and go to youtube.com. You can also just tap on the YouTube logo on the homepage if there is one available.
You are taken to the mobile version of the website. If you watch closely at the top of the URL box, it will read "m.youtube….."
Tap on the three dots on the top right corner of the screen which brings up the options window.
Look through these options and tap on the "Desktop site" option.
Give it a few seconds and you will be redirected to the desktop version of YouTube as you would see on your desktop Chrome browser.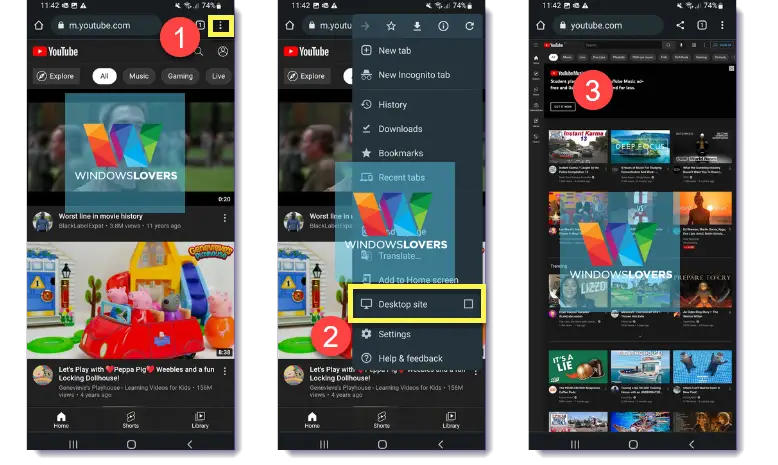 1.2 Request youtube desktop site on chrome for iPhone or ipad
Start Chrome and go to – "youtube.com" which should take you to the mobile version of YouTube by default.
Unlike Android users, you have two choices that you can use to request the desktop site in chrome.
You can either tap on the Share button on the top right corner of the screen > Tap on "Request Desktop Site".

Alternatively, tap on the three dots at the bottom-right of the screen > Tap on "Request Desktop Site".

After tapping on the request button, you should be redirected to YouTube's desktop homepage.
That's how you can force request chrome to load YouTube's desktop version site instead of the mobile.
For users that are facing issues, try this YouTube Full Version Website URL - 
"https://www.youtube.com/?app=desktop"
Open YouTube Desktop Site Chrome – Video Guide
Note: If you cannot see any video, please temporarily disable the ad blockers. 🙂
---
2. Open Youtube Desktop Site on Safari – iPhone, iPads
Loading a desktop site in the Safari browser is as simple as other browsers mentioned earlier. The major difference is the UI inside safari and iOS devices in general.
To request safari to load YouTube's desktop mode, do the following :
Fire up the safari browser on your iPhone or iPad and go to "Youtube.com". You can just do a search or manually enter the address into safari's address bar.
Once the mobile version of the site loads, tap on the "AA" option – usually on the top left corner of the screen.
Doing this, slides open a tiny menu where you should find and tap on the "Request Desktop Website".
Depending on your internet connection, you will see a full desktop mode site load inside your Safari browser as you can see in the screenshot below.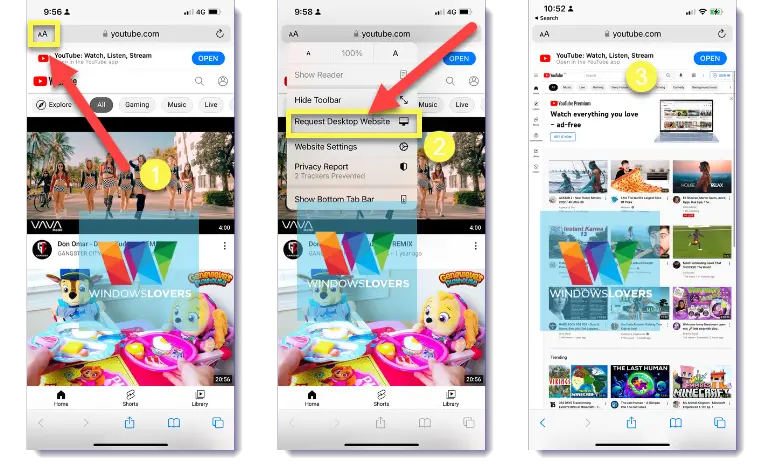 That's how it's done in the Safari browser. Please note that this applies to all Safari browsers regardless if it's an iPad or iPhone.
3. How To Load YouTube Desktop Version in Mozilla Firefox
Mozilla Firefox has been one of my favorite mobile browsers recently so I thoughts I should mention the procedure for this too. The browser is quite light and handles the resources quite well, especially when watching high-quality videos.
For loading the full version youtube desktop site inside Firefox, do the following:
Go to Youtube.com on your firefox browser and let the mobile version of the website load completely.
Depending on the initial setup you did while installing Mozilla Firefox, the address bar might be on the top or bottom of the screen. In my case, it's at the bottom since that is how I set it up initially.
Tap on the three lines icon at the corner of the address bar. As you can see in the screenshot, it's at the bottom-right corner of the screen for me.
Find the "Request Desktop Site" option among others and give it a few seconds. Please see the below screenshot for reference.

Viola! You will be redirected to the normal desktop YouTube site eventually.
That's how to get this done in Mozilla Firefox. If you are facing issues, please let me know.
4. Accessing Desktop Version On Default Android Browser
If you are familiar with browsers on android devices, they also come with their default web browser like iOS devices are shipped with Safari.
The look and feel of these browsers might differ depending on the phone you are using and the android version but this process should apply to most.
In this example, I am using the default browser "Internet" on my Samsung phone running Android version 12.
Enter the URL "youtube.com" in the address bar and hit "Go".
Once YouTube mobile completely loads, tap on the icon that looks like three lines stacked on top of each other. Usually at the bottom-right corner of the screen.
A menu slides open, where you will find a bunch of different options to choose from. Find and tap on "Desktop site".
Give your device a few seconds and depending on the type of internet connection you have, the Full version site should load.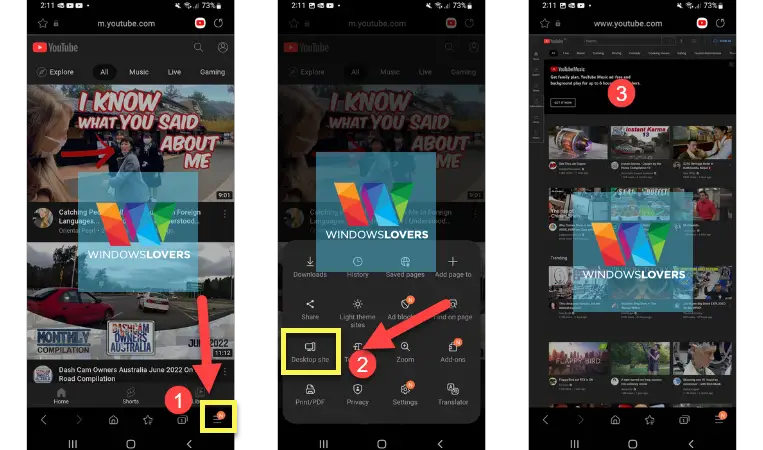 That's how I have been using the desktop version of YouTube on my mobile devices for quite a while now as I find it easier to manage for myself.
I use the youtube desktop site chrome version most of the time since I am a Google Chrome user predominantly across all my other devices.
It comes down to your personal preference for sure and I would like to know your thoughts on this in the comments section down below.
Frequently Asked Questions
How do I open YouTube on Chrome Desktop?
Open Chrome browser on your device and when you are on YouTube's mobile version site, tap on settings and request the desktop version. In few seconds YouTube's desktop mode will load on your phone or tablet.
Is there a YouTube app for Chrome?
Yes, there is, but it's basically just a browser window that opens YouTube's desktop website. There is no dedicated application like Spotify or other streaming applications.
Does YouTube have a Desktop version?
Yes, youtube has one. Depending upon the device and browser you are using, you are automatically redirected to a proper version of the site. Use the guide above to open a specific version of the site.