Youtube has been everyone's go-to place for music and video consumption these days. Its undoubtedly one of the major sources of music consumption after Spotify, pandora, etc. Since YouTube's primary purpose is not to serve the music, it lacks most of the basic functions when anyone wants to use YouTube as a music provider. In this article, I'll guide you on how to loop a YouTube video and YouTube Repeat.
YouTube has been everyone's favorite place to share and listen to music or their favorite videos. In the past, there used to be and there still are a lot of apps/tools to put a YouTube video on repeat. I was using a lot of these tools in the past before YouTube released YouTube premium and the YouTube music app. There are still limitations when you want to loop a video on YouTube when it comes to Vlogs and similar genres.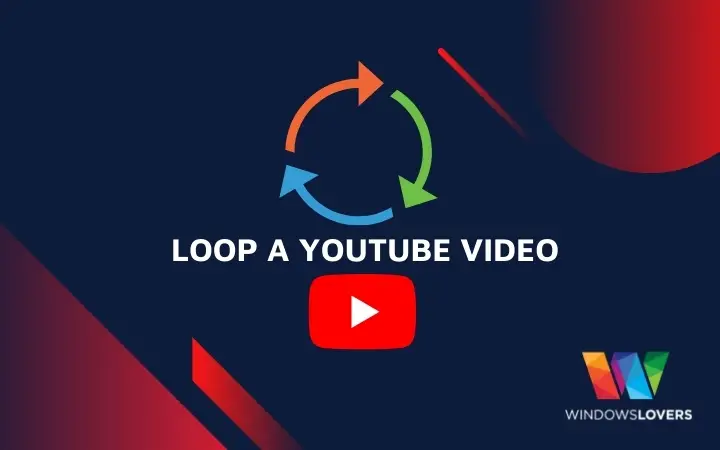 I have updated this article accordingly to demonstrate how to loop a YouTube video using the YouTube music application and other new tools that I think you guys should check out.
How To Loop A YouTube Video – YouTube Repeat
So if you have recently found a YouTube video that you are obsessed with and want to listen to it all the time. I understand the frustration of playing the video over and over again manually. How cool would it be if we could put that YouTube video on a loop, without the need of taking out your phone and manually doing that again and again? i.e. the YouTubeloop.
How To Loop A Video On YouTube PC Browser
YouTube silently launched a "loop" feature on its desktop-based players a long time ago. Nothing fancy, it just allows its uses to loop the current playing video on a YouTube Loop and plays the YouTube video on repeat without you having to do anything from your end.
YouTube Loop Option
This option is easily accessible when you right-click on any currently playing video. Further instructions are below :
Open any YouTube video that you want to play on repeat. Right-click on the video player and you should be able to see a "Loop" option. Click on the YouTube Loop option and the video will loop until you either close the tab or switch to another video.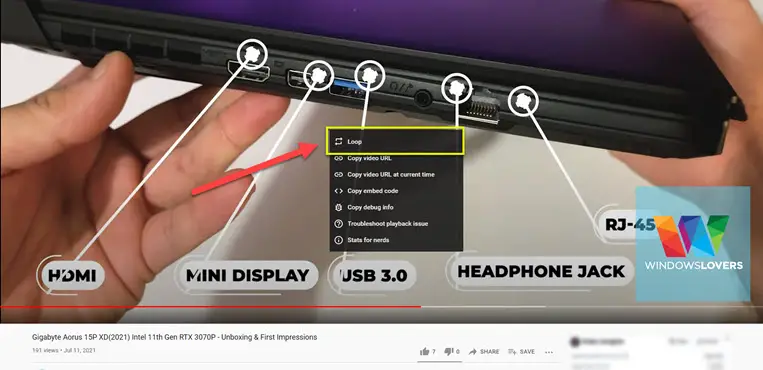 So, that's enough if you want to play a certain video on a loop. Do you see some content creators have uploaded an hour-long video of the same song or the video? Yes, that was because YouTube lacked the loop option, and the uploaders wanted their users to have a much easier way to listen to a youtube video on repeat.
Read – Ever imagine how much do YouTubers make from this platform?
That's how you can repeat a YouTube video on a PC browser. If you are like me and use YouTube to consume most of the new music from YouTube, the YouTube Music app allows you to play a YouTube music video on loop.
How To Loop A YouTube Video On A Phone
The YouTube music is pretty jam-packed with features that we always wanted with YouTube in the past. I use the YouTube premium version since allows you to minimize the app while listening to music in the background. If you are okay without the premium features such as offline listening, downloading music, or background playback, you can use the YouTube music app on your phone and play a youtube video in a loop.
YouTube music is available for the Android operating system or iOS. You can download the app for free from the App Store for iOS devices and the Play Store for Android devices.
Open the app and open the video to set on repeat or loop.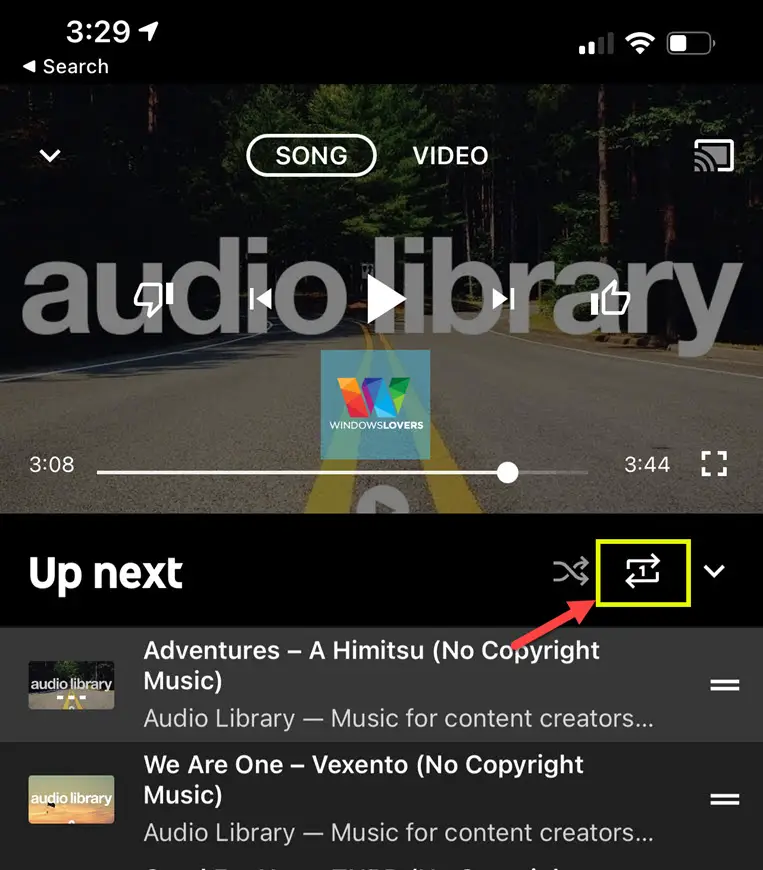 After the video starts playing, swipe up from the bottom and you will find the "Loop" option tap on it and make sure it is set to "1". This will play that single video on repeat.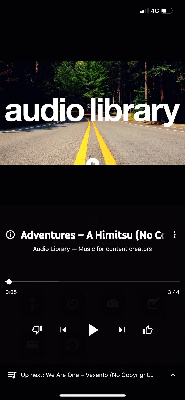 What if you want to listen to more than one video on repeat? Is it possible to loop a YouTube playlist?
Yes, you can put a playlist on repeat mode on YouTube so that it repeats all the videos on the playlist repeatedly. Let's see how it's done.
To play a YouTube playlist in a loop on your phone, just use the same option, and instead to keep it on a single loop, just put it on a loop. This will loop the whole YouTube playlist.
Playing A YouTube Playlist In Repeat On PC Browser
There are lots of ways you can create a playlist and put it on autorepeat on YouTube.
Open any video that you would want to have on the playlist that you are about to create. Once you are on YouTube's watch page, you should see an icon that says "Add to".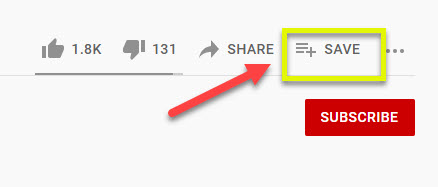 Clicking on the option brings down all the current playlists that you have(if you have) and an option to create a new one.
Create a new playlist with a meaningful full name and depending on your preference you can set the privacy of the playlist to the public, private or unlisted. It's up to you which privacy setting you prefer.
The next task is to add all the videos that you would like to repeat, just add them to the playlist you just created. Use youtube's watch page and add them to the playlist you created in the earlier step.
Go to your YouTube's homepage and on the left-hand side, you will see all the playlists created by you.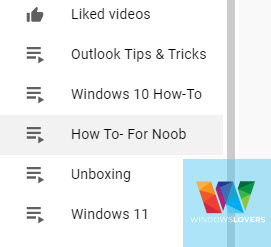 Select the playlist that you would like to put on repeat.
When the playlist is loaded, on the top right-hand side you will see two options. Repeat and Shuffle.
Click on the "Repeat" option and all the videos on the playlist will be on the YouTube loop.

Can You Loop A Section Of A YouTube Video?
Another feature that would be worth is the ability to loop a certain part of the YouTube video. There are ways to do it, but by default option from YouTube could come in real handy. These tools are very handy when you would like to loop a section of a YouTube video quickly.
Similar to an extension that allows you to watch YouTube videos that are not available in your country.
Repeat A Specific Part Of A YouTube Video
LoopTube.io is an online service that allows you to loop a certain section of a YouTube video.
The idea is simple.
You go to LoopTube's website, copy and paste the video's URL that you would like to loop.
Right under the video, you will see a seek that you can drag and adjust. Adjust the section according to the section that you would like to loop. And that's pretty much it, that section of YouTube video that you selected will repeat until you close the website.

Using And Extension To Loop A YouTube Video
Looper For YouTube is your answer if you are looking to install an extension for youtube loop facilities. If you are a Mozilla Firefox user, YouTube Video replay would be your go-to.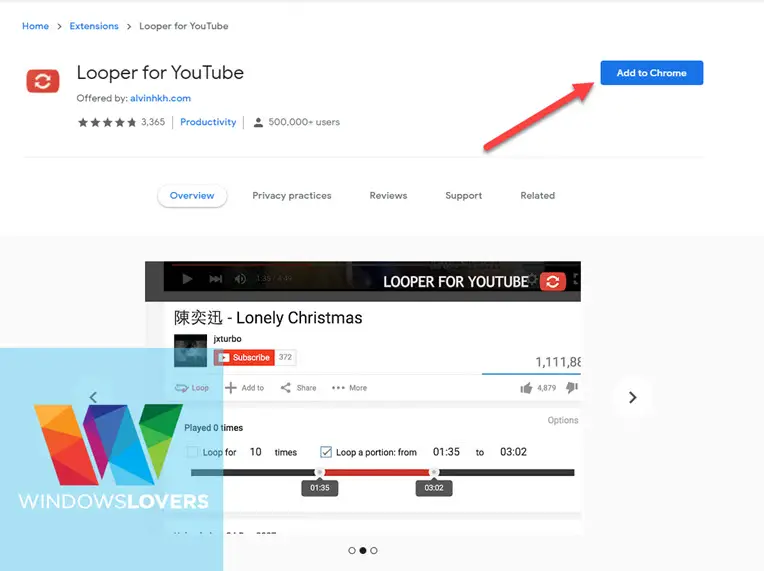 Once you open the video you would like to loop a specific section from the video.
Next to the like and dislike button, you will find a new loop button. Clicking on the button opens up a small section right under the video. You can use the slider to adjust the section of the video that you want to play on loop.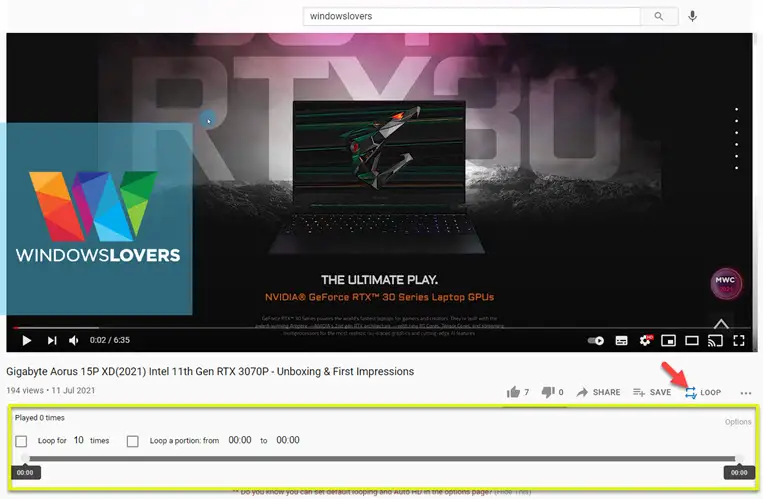 Install the extensions from their respective store. After the installation is finished, the extension adds an option under YouTube's watch page to loop the current video. You can either loop the whole video or just a certain section of the video.
Finally,
That is how to loop a YouTube video, playlist, or a specific section of a YouTube video. You can do these on your PC or on the phone as well.