If you have been a Windows operating system for a while you must be aware of the constant and regular updates and patches from Microsoft. These patches and updates are very useful and are there to make sure your PC is not vulnerable to anything. For any new user, if your PC looks like it is working overtime and you see windows modules installer worker or the process "TiWorker.exe" using too much CPU or disk resources, you should know what this process is and why it's acting that way.
Windows modules installer worker in layman's terms is the tool that makes sure your Windows 10 PC has all the latest updates that Microsoft has released for your PC type. Deepening on the version of Windows and your update rollout group, these updates can differ with someone else using the same Windows 10 operating system. However, it's important to be able to monitor if the user is out of the ordinary and what are the measures you can take to fix windows modules installer worker high CPU or Disk usage.
READ: The Application Was Unable To Start Correctly Fixes
Should You Fix Windows Modules Installer Worker High Usage ?
The straight answer is no, as it is a systematic process to make sure your Windows 10 system is up to date. You should only look into fixing this if it is out of the ordinary and the system usage never goes down over time.
If automatic updates have been turned off for a while, eventually your computer will be updated if the update is a must-have. In this case, the updater will go through the backlogs and download and installs any updates that might have been pending for your system.
To make sure the windows modules installer worker is working as it should follow the below-mentioned steps to determine that and see if it needs to be resolved.
Fix Windows Modules Installer Worker High CPU and Disk Usage
Killing The Process From Task Manager
Sometimes, the TiWorker.exe process might be stuck in a state and might needs to be restarted manually.
Go to task manager and look for windows modules installer worker.
You can right-click on the taskbar and open the task manager or alternatively hit "CTRL" + "Alt" + "Delete" keys together and open "Task Manager".
Click on any task and hit the "W" key. This will search for any task that starts with "W".
Once you find the windows modules installer process, right-click and click " Go to details".
Right-click on TiWorker.exe and "End Process Tree".
Now go back to the Processes and end the windows modules installer process as well.
Give it a few seconds and check if there are any issues or if the process starts back again.
READ: Windows Update Stuck On Getting Windows Ready
Restarting The Windows Update Service
Sometimes the Windows update service can freeze and become unresponsive. In this case, you can restart the update services.
Hit the "Windows" + "R" key together on the keyboard.
Enter "services.msc" and hit the enter key.
Find the "Windows Update" from the list. If you have automatic updates enabled, the startup type is usually set to "Manual(Trigger Start). This means any other operating system events can trigger this.
Right-click on "Windows Update" and restart the service.
Now lets, update the Windows manually and install any updates that are pending.
Go to search and search for Windows Update.
Click on "Check for Updates" to manually check for any available updates to be installed.
If the update says "You're up to date" this means the windows modules installer worker should not be using that many resources since there are no updates available.
Give it some time to complete whatever it is doing if this is the case.
Run The Windows Update Troubleshooter
If your Windows is up to date but the usage from these services is still very high, you should run the Update troubleshooter to confirm there are no issues with the update tool.
Go to Start and search for "Troubleshoot" and open Troubleshoot settings.
In the window that pops up, click on "Additional troubleshooters" and open "Windows Update".
Click on "Run the troubleshooter", the troubleshooter will look for any tasks that are pending or should not be running in the first place.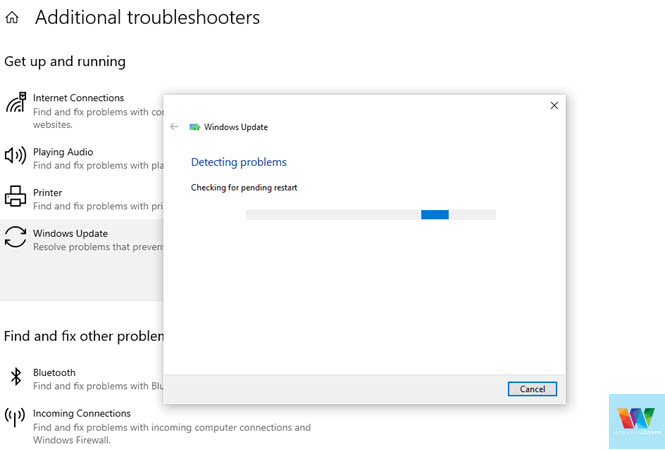 If the troubleshooter does not identify any problems, that also suggests that the updater is running as scheduled and should be left to complete its task.
Is The Windows Modules Installer Process A virus?
No, it's not a virus. As explained earlier it updates your operating system constantly unless you have manually paused it. You should only be concerned if the users do not seem to fluctuate and are constantly showing high usage.
Do not Edit Registry or Disable Windows Update
There are a lot of blogs that suggest you completely turn off automatic updates or even edit the registry. I highly suggest you not to do so, as your computer will be missing quality updates and patches that keep your computer safe offline or online.