Windows is one of the most popular operating systems widely used on personal computers and enterprises. Its flexible customization options to meet the needs of an organization or a person are what binds lots of us in this ecosystem. This means you might have to spend a lot of time troubleshooting and making sure the system is running at its optimal performance. The System Cannot Find The File Specified is a common error that I've seen personally. This guide should help you find the reason behind it and get rid of this error.
Like any operating system, Windows also has lots of components and applications that are running in the background. And Microsoft is known to constantly push updates and patches to make sure the systems are not vulnerable to anything and are performing at their best. Sometimes all of these things might contribute to the "the system cannot find the file specified error".
the system cannot find the file specified error simply means that system is unable to run a specific task because it cannot the file that is required to successfully run the task. You might get this error when you log into windows every time or whenever you do a specific task.  
First Occurence Of This System File Error?
The first step to solve any issues is to try and backtrack anything you have done on the system. For example, you might have installed an app or made some changes to any windows application. This helps you to pinpoint from which point you started receiving this error.
It might even be a Windows update, driver update, or antivirus software that removed a virus from your computer. If one of the core files were infected by the virus and the antivirus software removes it or quarantines it, windows will throw this error.
If you have been able to backtrack to a point from where you started receiving this error, it will be easier to jump onto the next step.
Either way, please follow the steps mentioned below and see if this fixes the issue for you.
Finding Out The Process Causing This Error
Windows has a fantastic tool called the Event viewer, this tracks and records each and every task and action that takes place on your Windows computer. No, you cannot turn this off like you can turn off the Google Assistant. It's just a tool that you can use to see what's failing and understand the backend of your system at a much deeper level.
This is the first tool that I use to troubleshoot any Windows issues that does not seem to be solved with a simple fix.
Open start and search for "event viewer".
After opening the app, on the left, you have different options to expand.
Expand Windows Logs and check the "Application" and "System" logs.
In the middle section of the window, you can see all the events that have been triggered and registered. There are three main kinds of events, Information, Warning and Error.
We are going to filter for errors first and expand if we can't find what we are looking for.
It is very helpful if you can remember a timeframe when you last received this error as there might be thousands of events to go through.
Either way, click on "Filter Current Log…" button on the right side of the window.
Under "Event level:" tick "Critical" and "Error" and click on "OK".
This filter out the events and gives you only the error events. Find out the even that might look like or has the "the system cannot find the file specified" message on it.
Once you've found one do some research on the error message online which will help you solve your issue quicker as I cannot provide a generic solution to your specific issue.
If you cannot find any or would like to try out other solutions that have worked for me, please find them below.
The System Cannot Find The File Specified – Solutions
1. System Restore
I always like to create system restore points on my system just in case the system gets corrupt or something goes wrong. I can always restore my computer to the point I have created which most of the time solves the issues I am facing.
If you have not created a system restore point previously, there should be one created automatically for you depending on how long you have been using the system.
Whenever you install a new application or major windows upgrade, it automatically creates a system restore point too. This allows you to not lose any data or important files in case the installation crashes or creates any issues on your computer.
Open start and search for "System Restore". A "Create a restore point" option comes up, click on it.
In the new window that pops up, click on "System Restore…", this opens up the System Restore options.
You can either go with the "Recommended restore:", just make sure you check the date and time that the recommended restore is set to. If your system was working fine during that timeframe, go ahead and click on next.
If you would like to restore to some other time in the past, click on "Choose a different restore point" and click on "Next".
Click on "Show more restore points". This lists all the restore points created on the system, either manually by you or automatically.
If you would like to see what changes will be made if you restore to that point in time, select the restore point and click on the "Scan for affected programs" on the bottom right corner of the window.
Select the point where you know that you were not receiving the "the system cannot find the file specified" error and click "Next".
Finally, click on Finish and let windows restore your system to an earlier point.
After everything is completed, check if the error has been resolved and your system is functioning normally.
Repair System Drive And Files
Repairing the system drive and the system files always fixes this issue for me. The last time when I was trying to update BIOS in Windows 10, I started receiving this error. Running a quick check and fixing the windows files did the trick for me.
Go to start and type CMD. Make sure you run the command prompt as an admin.
Enter the following command and hit the enter key.
chkdsk /r
If it gives you a prompt that the volume is in use and it will run the checks on the next restart, just hit Y.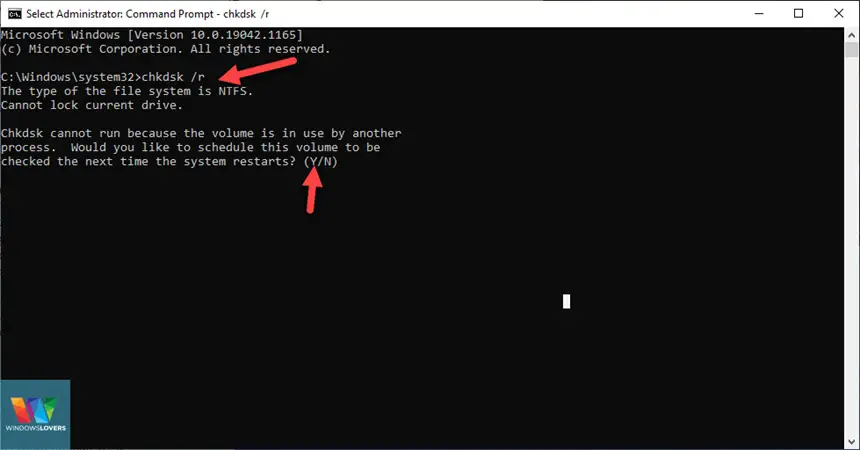 Don't restart the system just yet.
Enter another command that scans and repairs the files and the drives as necessary.
Sfc /scannow
Let it run and complete the scan and repair on your drive.
Restart the computer once this is completed and that should also run the additional scan that was scheduled earlier.
Reset Your Windows System
It's a good idea to refresh or reset your windows system every now and then. It not only clears the system cannot find the file specified error but also helps you make windows 10 faster. This option is only available on Windows 10 and if you are still using Windows 7, its time you upgrade from Windows 7 to Windows 10.
There are other tools and applications you can use to try and fix these discrepancy issues but I suggest you reinstall windows. Doing so will guarantee a much more stable system and won't have many issues that early on.
There is two option while resetting windows 10, keep personal files or remove everything.
Go to Start and search for "Reset" open "Reset this PC" from the search results.
Under "Reset this PC", click on "Get started".
Keep my files: Referring to any files and documents on the desktop or C:. (Deletes any third-party application or games installed)

Remove everything: Almost like installing a new copy of Windows. If you know I would suggest you create a bootable USB and reinstall Windows instead of selecting this.
You don't need to download Windows 10 ISO or have to have one to carry out the reset process.
Select one of the options and see if the system cannot find the file specified is resolved.
Update Windows And Drivers
Earlier in this guide, I went over the process to find out the processor tasks that are failing or causing the application to throw this error. If you were able to find out the application or the hardware name, see if you can find an updated driver that can resolve this issue. It's important as most of these windows files are hidden or in location, you cannot find.
Find suitable drivers for the hardware that is causing issues. Try alternating between the drivers installed and a different supplier driver to check if that creates any difference.
If you have a gaming laptop, your laptop manufacturer and Microsoft both have drivers for the hardware on your laptop. So sometimes alternating between them can make a huge difference.
Summing Up The System Cannot Find The File Specified Guide,
System thread exceptions not handled can happen because of a plethora of hardware or software issues. The same goes for the solutions as well, so my honest suggestion is to not waste too much time if you have tried all the solutions. Just create a backup of the files and application installer and do a fresh installation of Windows.
If you have any suggestions or queries, please leave them in the comment section below.