For many organizations, companies, and businesses, Gmail plays an important role. We send hundreds of emails regularly, but sometimes by accident, we send the wrong mail, and to correct the mistake, we should know how to recall an email on Gmail. Learn how to use Gmail effectively like a pro with the ability to unsend an email on Gmail.
Gmail allows you to share everything from papers to projects to vital data. Gmail also allows us to send and receive messages in bulk, with no restrictions. Everything may be sent over Gmail, from corporate meetings to school work.
You may also share photographs on Gmail, which has almost a billion subscribers. Gmail is the most common and most used email service, and you may have numerous accounts with it.
We often use Gmail and sometimes commit mistakes by sending unnecessary or wrong emails to the wrong receiver. You might find yourself at a terrifying sensation when you realize you sent an email at work you shouldn't have.
Similar to the process to recall an email in Outlook 365 or 2019, you can recall Gmail emails but only if you do it within a certain timeframe.
How To Recall An Email In Gmail Web?
If you are using Gmail on the web browser, by default you can unsend that email with 5 seconds.
You can increase that timeframe from the settings as it's set to 5 seconds by default. Once that window is over, as long as there is no internet interruption Gmail will send out the email.
No, there is no way to delete or unsend an email once it's been sent on Gmail.
To recall an email in Gmail web before its sent out, do the following:
Type out your email and after you send, on the bottom left corner you will see "Sending…"
You can click on the "Cancel" link next to that message and if you miss that window which is like a second, you have one more go at it.

After the email is sent out, you will be given a "Undo" link next to the "Message sent".
Click on "Undo" and the email will be canceled and you are taken to the email writing window.

If you would like to set a longer timeframe, I show you how that's done down below.
How To Increase Gmail Undo Email Time Frame
You can increase the time frame within which you can unsend an email on Gmail.
To increase this, the process if following:
Go to Gmail and signin with you Gmail account that you are looking to increase this time frame for.
Click on the gear icon (settings) and click on "See all settings".

Change the "Send cancellation period:" which is set to 5 seconds by default.

30 seconds is the max you can set it to.
Scroll towards the bottom of the page and click "Save Changes".

Try sending an email and now the "Undo" link will be visible for a bit longer depending on what you've selected inside your settings page.
READ: Is Protonmail safer than Gmail?
How To Recall An Email On Mobile Devices?
The Gmail app is a great email client for your mobile devices as well. If you are a Gmail app user, you can recall an email in Gmail app as well.
When you send an email using the Gmaill app, after its sent, on the bottom of the page you will see the "Undo" button.
Tap on the "Undo" link which will take you back to the email draft page.
You can make the changes or cancel the email from being sent completely.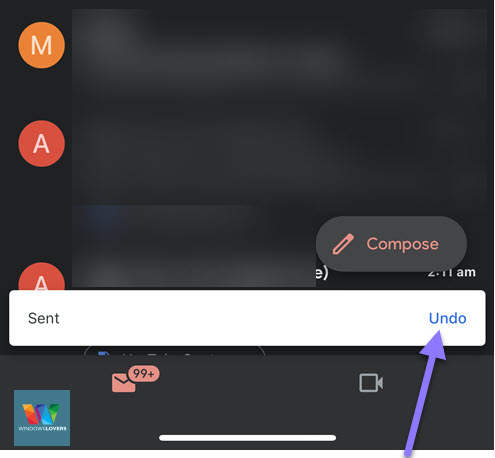 Frequently Asked Questions
Can you delete a sent email in Gmail?
No there is no way to delete an email that has been sent already. The only option you have is to recall it. But if the email was delivered and the recipient has already read it, then the undo option might fail.
How to recall Gmail message after 1 hour?
Unfortunately, it is not yet possible to recall Gmail messages after they have been sent and if you did not undo the sending operation while it's being sent. The only option you have is to either stop it straight away or undo it within the time frame.
Being Careful Beats Trying To Unsend Emails
One of the handiest tools for getting you out of a dilemma is the ability to change your mind after you've sent an email from Gmail, and it works in both mobile applications and the desktop web browser. However, since Gmail has no ideal solution to recall an email, avoiding the need to unsend email is the best solution.
I hope you have gained all the information's regarding how to recall an Email on Gmail. If you have any questions or doubts, then let us know in the comment section.