It might have occurred that you might have to start windows 7 in safe mode for troubleshooting your PC problems and issues. Before getting into safe mode, you should get acquainted with all the safe mode options and different modes that serve users to tackle with different features and issues.
Also Read

 : Downloading Windows 7 ISO Files Directly
For starting windows 7 in safe mode, all you gotta do is restart your PC and continuously press the "F8″ button on the boot screen unless you get a screen shown below. If you don't come across the following screen and your PC boots into windows, you need to restart it once again and press F8 continuously.
Starting Windows 7 In Safemode: 3 Steps
Now, that you've reached to configurations selection menu you ought to choose the mode that best suits you and your troubleshooting needs.
Before Getting Started,
You should find lots of options among which following are the options you should consider among others :
Safe Mode

Safe Mode With Networking

Safe Mode With Command Prompt

Last Known Good Configurations

Start Windows Normally
Now let me share some quick facts about these modes or options.
Safe Mode : This is the normal safe mode option that will load the by default and most necessary windows files only. Safe mode does not allow you to install/uninstall a application and you cannot make major changes to your system.
Safe Mode With Networking : This mode serves exact similar features as the normal safe mode, the difference is that it allows network connectivity. You can browse internet and enjoy networking facilities while in this mode.
Safe Mode With Command Prompt : You should have good knowledge about CMD and cmd commands to perform general tasks in command prompt before you can use this mode properly. All you get is a CMD prompt screen when you boot into this mode.
Start Windows Normally : This option will boot the default OS normally.
Booting Windows 7 In Safe Mode 
Now that you know the specific purposes of different Safe mode options, you can start windows 7 in safe mode as follows :
Restart or start your PC and continuously press the "F8″ button unless you see the following configurations window.

Now after selecting the mode that you want to boot in, press enter and the system should start loading all the needed files as shown follows.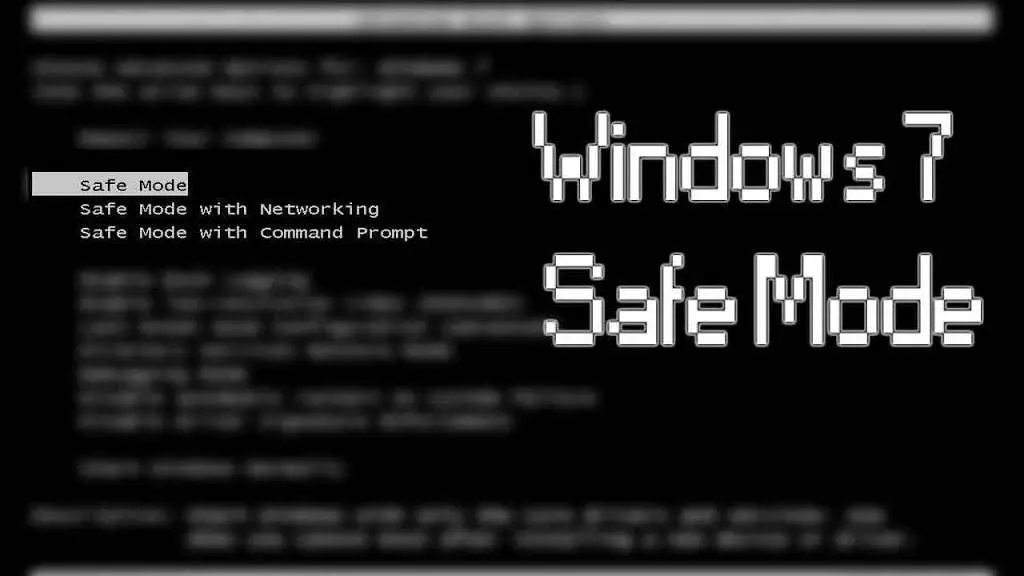 After all the files have been loaded, it loads up a desktop with no wallpaper or visual styles.
So, that's how you boot windows 7 in safe mode. Now you should be able to troubleshoot your PC without any hassle.