Apple finally listened to its users and allowed users to pick their favorite browser as the default browser on iPhone or any iOS 14 compatible devices. I am a big fan of Google Chrome and is my default browser on Windows 10 system. This is a step-by-step guide on how to make Chrome default browser on iPhone or iPad.
How To Make Chrome Your Default Browser On iPhone
Google chrome is not installed on any iOS by default. You will need to install it on your device beforehand and then you will be able to set it as your default browser.
If you already have Google Chrome installed on your phone, you can skip this part.
Installing Google Chrome From App Store
Open the App Store, tap on the search icon on the bottom-right corner of the screen.
Search for "Chrome" and install Google Chrome. It's available to download for free.
Once the download and installation have been completed, move on to the next step.
If you have previously installed Google chrome on your iPhone or iOS 14 device, you can still go to the Appstore and check to see if there is any update available.
In case there is one, tap on the "Update" button to get the latest version of Chrome installed on your device.
Setting Google Chrome As The Default Browser on iOS 14
Open the Settings app on your iPhone or iPad.
Scroll towards the bottom until you find Chrome, tap on it to open further options.
Tap on the "Default Browser App" option at the bottom of the options page.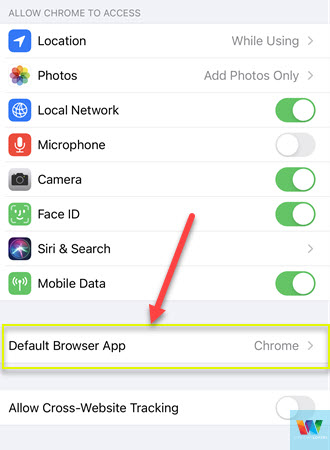 It is default set to Safari. Change that to "Chrome", you should see a blue tick next to Chrome.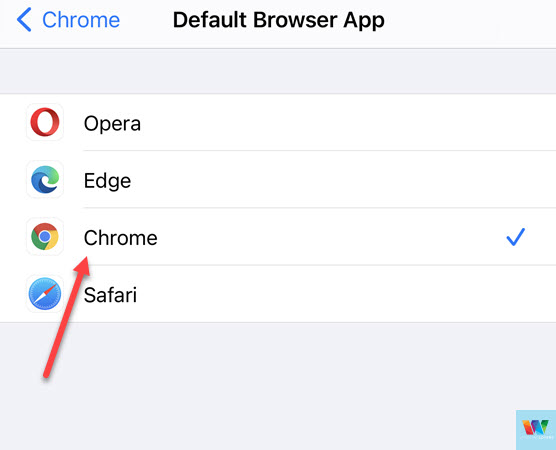 Moving forward all the applications that follow default settings will use Google Chrome to open web links.
However, I have found some exceptions with some applications having their own settings to choose the default browser to open links.
I use Outlook as my default mail client on my iPhone, I had to change that to Chrome manually from within the app.
If you use Outlook, here's how to change the default browser in outlook to Chrome.
Always Open Outlook Links In Chrome
Open the Outlook app on your iPhone or iPad and go to settings.
You can access the settings by tapping on the outlook logo on the top left corner of the screen > settings icon on the bottom of the window that slides in.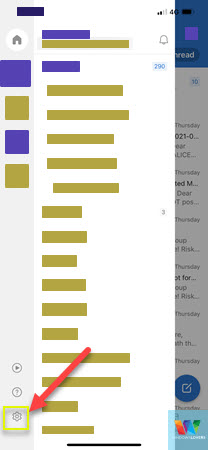 There are a couple of options to choose from. You can either enable the "Use Default Browser" option or specify what browser should Outlook use to open the links inside an email.
READ: Autocapitalize First Letter In Outlook Automatically
I just enabled the default browser which saves me the trouble of coming back to change that in the future if I decide to switch from Google Chrome.
Now all the Outlook links will open on Google Chrome moving forward.
Using Chrome on iPhone
Since I use Google Chrome on my desktop with Windows 10, it provides me better cross-device support. If you are a mac user and user safari on your systems things might differ.
But making Chrome default browser on iPhone makes sure that I have everything synced to my Google account and goes with me wherever I decide to use Chrome or log in with my Google account.