iOS 13 merged Find My Friends and Find My iPhone into a single app called Find My App. When the application fails to read the exact location of your friend or family, it says No location found or location not available. But what's the difference between them and what does no location found mean and why does this happen? After doing a lot of testing, I was able to figure out why this happens and what it might mean in your case too.
If you are using older devices running iOS 9 – 12, you will be using Find My Friends to see the most recent location of your family and friends (if you've mutually shared locations with each other). To find your apple device, you will use Find My iPhone.
On newer iPhones and iPad running iOS 13/iPad OS or higher, you will be using the Find My app.
Regardless of which application you use, the process to decode the "No location Found" message remains the same. A quick way to figure out if they have switched phones or are not connected is to see if the messages are green instead of blue when texting them.
What Does No Location Found Mean on Find My App
It just means that the Find My App is unable to retrieve the most recent location of the person or device.
Few reasons why you are seeing this error are:
Location services have been turned off or unavailable.
They've reconfigured their Find My App settings incorrectly.
Offline Finding is disabled (iOS 15 and above).
The device is switched off or on airplane mode
The message's meaning might differ slightly depending on what you are trying to track. If you are trying to track a friend or a family member, it is quite easy to diagnose the problem. But if you are trying to find a device you've lost or misplaced, the reasons will differ.
Related – Water eject iPhone shortcut removes water from speakers
Difference Between No Location Found and Location Available
Even though at its core both of the statements mean that the user or device's most recent or current location is not known or detected, there is a minor difference.
I have come to the following conclusion after testing this out on my end a couple of times since I could not find a clear answer online. If you have a different opinion or experience, I would like to hear them in the comments section down below.
As you see in the screenshot below, Mac's recent location is "No location found". I have never enabled GPS on this mac and only connected to the internet a couple of times.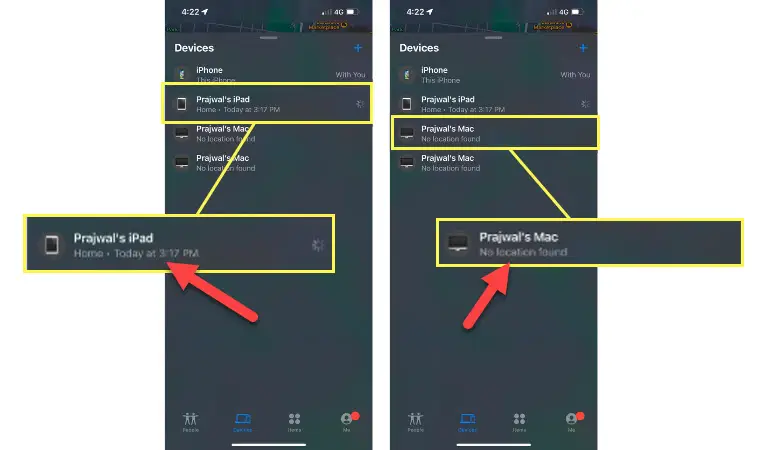 However, the iPad's last location is "Home" "Today at 3:17 PM", what I've noticed is that if I don't use the iPad for a day or two it says "No Location Found". And if it has been a few more days, that message turns into Location Not Available.
Hope you are able to apply this to your scenario and work out the differences in your case.
Does No Location Found Mean They Stopped Sharing?
It does not always mean that they have stopped sharing their location with you unless you have a reason to believe that is the case. And there is no sure way to tell if someone has stopped sharing their location or if there is some other issue with their app or the phone.
However, if you have confirmed with the user that they have not stopped sharing their location via Find My App, there can be a plethora of reasons.
Some of the reasons why Find My App is showing you this message are:
1. Outdated iOS versions
This is a common anomaly when trying to determine what is the reason behind the "Location Unavailable" message on the Find My App.
Let's assume that I use an older iPhone with iOS 12 we share out locations with each other via the Find My Friends app. Now you went out and bought a new iPhone let's say the iPhone 13 or iPhone 14.
You will now be using the Find My App, in this case, either of us might have trouble seeing each other's exact location difficult to exactly say who. I have seen quite a few posts from users on Apple's forum regarding this issue which was resolved once both parties were running the latest update version of iOS and Find My App.
2. Reconfigured Find My App Settings Incorrectly
When configuring the Find My application or reconfiguring it, you can choose which device you want to share the location from.
As you can see in the screenshot below, I am sharing the location from my iPad which is offline.
So if anyone that I have shared the location with Find My App or Find My Friends App will not be able to see my location since the iPad is not online.
Maybe the person you are trying to see the location for has configured the wrong device and thus you are not able to see their precise location and get the No location found or Location not available message in Find My App.
3. Device Offline or in Airplane Mode
The Find My App needs access to either GPS or mobile data to send or receive location information via the Find My App.
If the GPS or internet connection is not available on your friend's iPhone or your device, you won't be able to see their last or current location.
When a device is set to Airplane mode, there is no means to communicate either via the internet or the GPS device. Make sure that your friends or the device have an internet connection, GPS settings are set correctly and airplane mode is OFF.