iMessage is one of the main reasons people stick to the apple ecosystem. Before getting an iPhone, I never understood the craze behind iMessage, to be honest. After a few days of using iMessage, I would wonder at times "why are my messages green when texting another iPhone" instead of blue like they should be? If you are also wondering why this is the case and how to fix it, this guide will answer all your questions.
iMessage was introduced by apple in 2011 and is a messaging platform for its iPhone, iPad, and macOS users. It is so well incorporated into the iPhone and iPad operating systems that a majority of users think iMessage and text messages are the same. Apple has finally listened to its users and brought the ability to unsend iMessage with iOS 16.
One of the main differences that will help you differentiate between a normal text message and an iMessage is the color of the text message sent or received. They are also called speech bubbles by a majority of the users, see the screenshot below for reference.
It's very important to know these differences because that will answer your question "Why are my messages green when they should be blue?" when texting another iPhone or android user. It might come to you as a surprise that initially all the messages sent from an iPhone were green. The blue text messages were a differentiation feature for iMessage when it was released.
Why Are My Messages Green When They Should Be Blue?
Your messages are green and not blue because iMessage is not working or available for that particular contact. Since iMessage is unavailable, your messages are sent as normal text messages(SMS) displayed in green colour on your iPhone.
Some of the main obvious reasons why iPhone messages are green instead of blue are:
You are texting someone that does not use an iPhone or iOS device, thus no access to iMessage.
iMessage is probably turned off or configured incorrectly on either your end or the receiver's end.
Either of you does not have an internet connection to send iMessage, thus they are being sent as a normal SMS.
I can think of a few scenarios where your messages are green when texting another iPhone as well.
Let's look at some of the reasons why are iPhone messages green while you are texting someone else. Along with the reasons, if applicable I have mentioned the process you can follow to get back your iMessage and blue text bubbles.
1. Check Your iPhone's Internet Connection
You can think of sending iMessages as sending a snap, it requires a functional internet connection. If you are reading the thing guide on your iPhone, then your internet is functional, so the only thing I suggest you do is to reset your network settings.
Regardless, make sure the internet connection on your iPhone is of decent quality and not intermittent.
There are numerous ways to boost your current WiFi speed if you are facing coverage issues from where you are using iMessage from.
If you can access other websites and internet services without any problem, you can try to reset your network settings.
Resettings network settings will not remove or reset anything else except the WiFi password and other network profiles and settings etc that are usually in the backend.
To reset your network settings, do the following:
Head over to your iPhone's settings page, and Tap on "General".
Tap on the "Transfer or Reset iPhone" option towards the bottom of the setting page.
Tap on Reset > Reset Network Settings
Enter your passcode and confirm that you would like to reset your iPhone's network settings.
Let the device reset and check if iMessages have been restored and if messages are blue, not green.
If your iPhone messages are still green, there might be other reasons behind it which the guide below explains in detail.
2. Check Your iMessage Settings
To make sure iMessage is enabled and working on your iPhone, do the following:
Open the settings page and tap on "Messages".
See if "iMessage" is enabled, see the screenshot below for reference.
Check if you have selected the correct contact or email for "Send & Receive".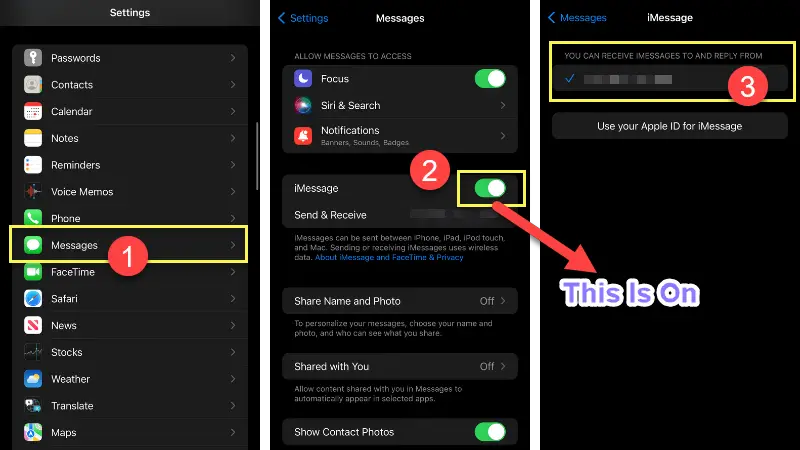 This is the first thing I recommend you check and make sure is correct. Maybe you were logged out of your apple ID or changed your password recently. Sometimes these settings do not revert back to how they should be after software updates or password changes.
Before you lose it next time and wonder why are my messages green, one more thing you should understand is that iMessage can be activated and used via an email address as well. You do not need to have a phone number to be able to receive or send iMessage – Blue text messages to your contacts that are also using iMessage.
In case the person you are trying to send a text message to has these settings incorrectly configured, your messages will be sent as normal text or green messages.
3. No More iPhone Messages In Green By Turning Off "Send as SMS"
The "Send as SMS" option will send the message as a normal text message via the sim card carrier when iMessage is not available for the contact.
So if there is any issue with iMessage either on your phone or the receiver's end, your message will be sent to that iPhone message in green.
If you must use iMessage for communication and would like to be notified if the messages are failing, do the following:
Go to Settings on your iPhone and tap "Messages".
Scroll toward the bottom until your find the "Send as SMS" option.
Tap on the slider next to it to turn that off.
Moving on, if iMessage is not available your iPhone will not send green messages instead.
These are some of the main reasons why your messages are green not blue on your iPhone. Once you check all of these settings, you should be able to figure out why you are seeing iPhone messages in green instead of blue.
Please refer to the FAQs section below for other questions you might have and if you can't find a solution for your issues, please leave a comment with a brief explanation.
FAQs
Does iMessage turn green when blocked in 2022?
No, they don't green for that reason. I have tested this myself and there is no mention from Apple that if you are blocked your iMessage turns green.
Why do iMessages suddenly turn green?
iMessages are always blue in color. If they are suddenly turning green, make sure you don't have internet connection issues. It can also be true that the receiver is facing internet connection or iMessage issues.
Does a green text mean you are blocked?
No, it does not mean you are blocked. It means the iMessage service is currently not reachable or available either on your end or the receiver's end, thus your messages are sent as normal green text messages(SMS).