All the iPhone models released by apple after iPhone 7 are water resistant to an extent, iPhone 7 included. If you have a model that is water resistant for eg, iPhone 13, iPhone 12, iPhone XR, iPhone 12 Pro Max, iPhone X, iPhone 8, etc and you got some water unexpectedly you can use the water eject shortcut to get water out of your iPhone speakers.
Please be mindful that Apple has clearly stated that any liquid damage will not be covered under warranty. The level of resistance the phone holds again liquids also deteriorates as you use the device more.
If you spilled some water or dropped your phone in water and took it out straightway, make sure you follow the guidelines from apple to make sure you don't damage your iPhone. Use the water eject shortcut as a bonus to make sure your speakers don't sound funny or muffled but not as your only go-to solution when your iPhone drowns in water.
This shortcut works even if your iPhone is in Do Not Disturb mode so there are no prerequisites really as it bypasses all of that.
Water Eject iPhone Shortcut To Get Water Out Of iPhone's Speaker
To get water out of iPhone using this shortcut, do the following:
Tap on this water eject shortcut link and tap on "Add Shortcut".
Once the shortcut is added, carefully read and allow any requests the shortcut might make.
Tap on "Water Eject" > "Begin Water Ejection".
You will hear a humming noise at full volume for few seconds, which pushes water residue on the speakers.
The shortcut will notify you that "The liquid has been successfully ejected from the iPhone"
Play your favorite Spotify tunes and your speakers should be back to normal.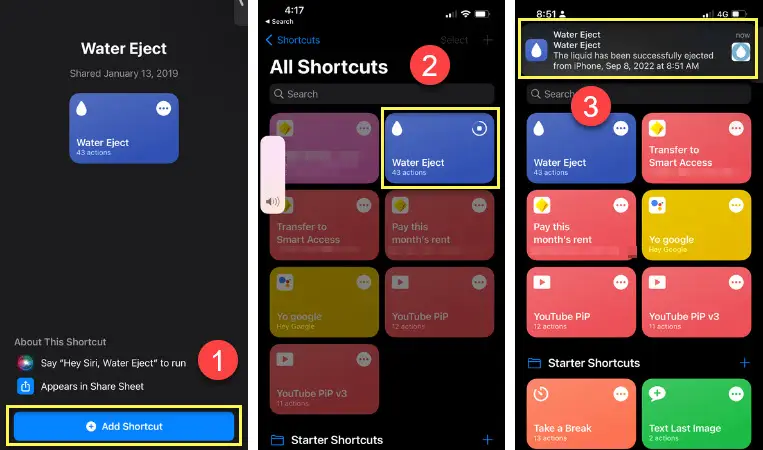 The water eject iPhone shortcut for Siri plays a low-frequency sound that pushes tiny water particles out from the speakers. This is a very important step if you are trying to dry an iPhone exposed to water because any water left in the speaker might cause greater harm in the long run.
The shortcut is not an official shortcut but is built by a third party trusted by apple. In case your iPhone is indicating other internal issues such as your FaceID not working or the iPhone battery is yellow even though the power saving mode is off, you should get it checked by a technician.
Please open and follow this guide on the iPhone you are trying to get water out from.
Using the Shortcut In The Future
There are a couple of ways you can access and use this shortcut if you need to get water out of your iPhone's speaker in the future.
You can request Siri to initiate the water eject iPhone shortcut by saying – "Hey Siri, Water Eject". Siri will initiate the shortcut and you can tap "Begin Water Ejection" on the card that slides open on the screen.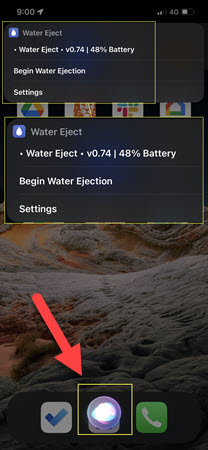 If you have Siri disabled on your iPhone, you can do the following:
From your iPhone's menu, find and tap on "Shortcuts"
Tap on the "My Shortcuts" option at the bottom left corner of the page.
Find and tap on the "Water Eject" shortcut > "Begin Water Ejection".
That's how to install and use the water eject shortcut on iPhone and get water out of the speaker grills. This should not be your only go-to solution when you spill water over your iPhone since it only pushes the water out of the speakers.
If your phone was emersed in water for longer or looks physically damaged, please adhere to proper precautions and guidelines provided by apple.
FAQs
Where is the water eject shortcut on iPhone?
You need to add the shortcut to your iPhone manually as it is not a default shortcut developed by apple for iOS devices. It is free to do so and does not harm your phone.
How do I activate water eject?
Once you add the Siri shortcut, you can activate it by requesting Siri or manually going to Shortcuts > Water Eject iPhone.
Does iPhone have water eject?
If your iPhone has the version of iOS that supports "Shortcuts" then you can add a third-party water eject iPhone shortcut. On older versions, you will have to allow untrusted shortcuts first.