Mac Address is a unique address assigned to every device that is or can be connected to the internet. For whatever reason, if you are wondering how to find the MAC address on iPhone or iPad devices, the process is very simple.
Your iPhone has a WiFi card which enables you to connect to various WiFi access points. Similar to the docking station mac address, that WiFi card also has a MAC address which is uniquely identifying. On your iPhone, the Mac address is the Wi-Fi address and vice versa, so please don't get confused while following the rest of the guide.
Someone might ask what about the mobile data that you use via your sim card provider, is there a MAC address for that?
Your Simcard is nothing more but a token or a key that is used to validate your identity with your Simcard provider.
Once your Simcard provider verifies that you have an account with them, your phone is then granted access to different features depending on the plan you are on. If you are facing mobile internet issues, check if your sim is not provisioned.
The mobile internet is a part of the features that your phone is allowed to access and use, the technology is completely different.
Coming back to this guide, let me show you step by step how to find the mac address for your iPhone. I've already mentioned in the title that this guide applies to any model or iOS version.
1. How To Find Mac Address on iPhone [Any Model]
Head over to the settings app on your iPhone.

Go to General > About > Wi-Fi Address.

That's your iPhone's default WiFi Mac Address.

Tap and hold to copy the code and use it wherever required.
That's how to find mac address on iPhone. This process applies to all iPhones such as the iPhone 12, iPhone 13, iPhone X, iPhone XR, iPhone 7, iPhone 10, iPhone 6s, iPhone 14, etc.
If you have been told that the MAC address is not the correct one, or it appears that your phone is not on the network even though it is, most probably you have the private MAC address feature turned on.
Let me explain.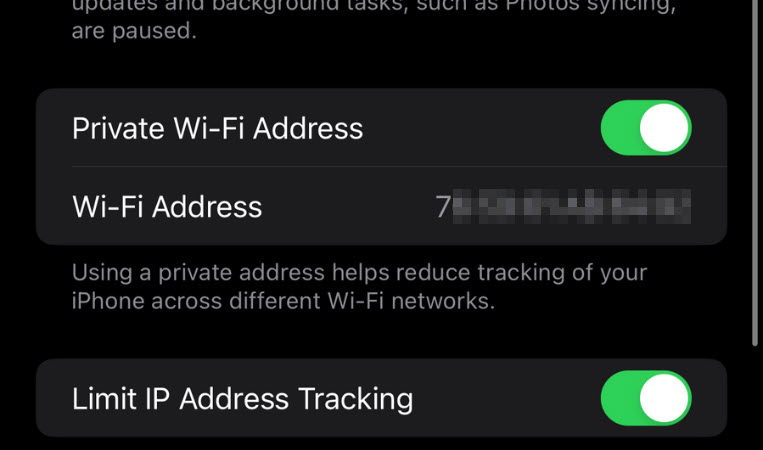 Yes, mac addresses are immutable. However, since the launch of iOS 14, Apple released a "Private Wi-Fi Address". When enabled, the iPhone connects to that particular wifi with a spoofed Wifi or Mac Address.
Sometimes you might have internet issues when using a private address. Thus your friend might see no location found on iPhone find my app when trying to look you up.
If you are looking for a private mac address or would like to check if the "Private WiFi Address" feature is enabled, continue following the guide.
2. Find Your iPhone's Private Mac Address
Open the Settings app and tap open "Wi-Fi".

Tap on the WiFi network you regularly use or trying to troubleshoot for.

You will see the "Private Wi-Fi Address" slider. If enabled, it looks like the screenshot below.

To copy the private WiFi address, tap and hold for a couple of seconds > Copy.

That's how you can find out your iPhone's private or spoofed mac address.
FAQs
Why does my iPhone have a MAC address?
All devices that connect to the internet via a router/modem requires to be uniquely identified on the network. The MAC address is a hardcoded address for every networking equipment. That is why your iPhone has a MAC address which is used while connecting to Wi-Fi networks.
Is the MAC address the same as the Wi-Fi address?
Yes, the Mac address and the Wi-Fi address are the same as long as the "Private Wi-Fi Address" option is not toggled ON on your phone.
Does an iPhone have a MAC address?
Yes, the MAC address is represented by the Wi-Fi address on all iPhones and iPad devices.
Where do I find the MAC address on my iPhone 13?
To find your iPhone 13's mac address, go to Settings > General > About >WiFi Address. Those 12 characters including the colon is your MAC address.