Google docs like all other Google products is packed with features and tools for you to get the most out of your time. A majority of users alter one setting, they turn off auto capitalization in Google docs. I usually turn it off when I need to edit PDF in google docs.
If you've found yourself in a similar situation where Google Docs is auto capitalizing your words in places not needed, this guide will help you turn the feature off. I use Google Docs on my phones as well and the process to turn off auto caps on google docs on android/iPhone is a different process.
How To Turn Off Auto Capitalization on Google Docs
You can turn off auto capitalization feature in a couple of clicks while using the Google docs web version.
You only need to turn off this feature once and this will propagate on your profile resulting in the feature automatically turned off in any document you work on in the future.
Follow the steps below to turn off auto caps on the Google docs website:
Open any Google docs document that you have access to.
From the top toolbar, click on Tools > Preferences.
Under the "General" tab, you will see that the "Automatically capitalise words" option is checked.
Uncheck that option by clicking on it, and click "OK".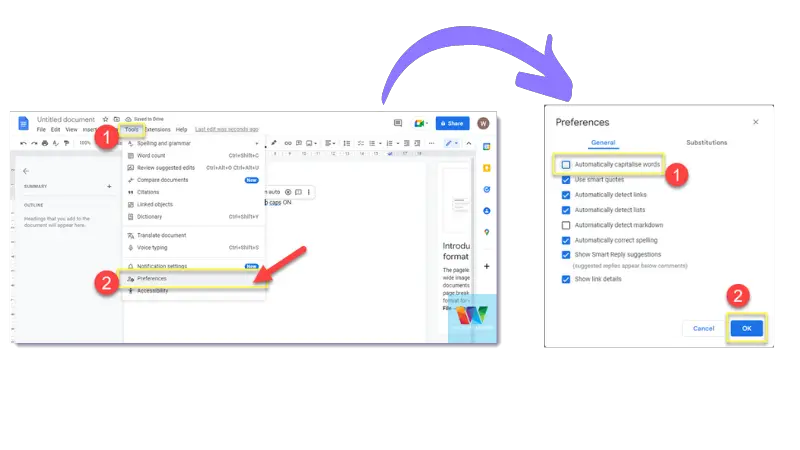 That's how to turn off auto capitalization Google Docs feature on the web version.
If you are looking to disable this on your phone, follow the guide below.
How To Turn Off Auto Caps on Google Docs App
The mobile app for Google Docs inherits the default keyboard settings you have set on your mobile phone or tablet.
Unlike the web version, you need to alter your phone's keyboard settings and turn off the auto capitalization feature to replicate what we did earlier on the web version.
On Android Phones or Tablets
To disable the auto caps feature on an android phone, do the following:
Open the Google docs app and open any doc that you have in your account.
Start typing, which brings up the keyboard. Tap on the settings icon that appears above your keyboard.
Tap on the "More typing option" and tap on the slider next to "Auto capitalise" to turn it on or off.
If you would like to re-enable this feature, please follow the same steps or go to the keyboard settings page under "Settings" on your phone
On iPhones or iPads
The following process applies to any device running iOS, whether it's an iPhone or an iPad.
To turn off auto capitalization on your iOS device, do the following:
Open the settings app on your device.
Go to "General" > "Keyboard".
Find and disable the "Auto-Capitalization" feature by tapping on the slider next to it.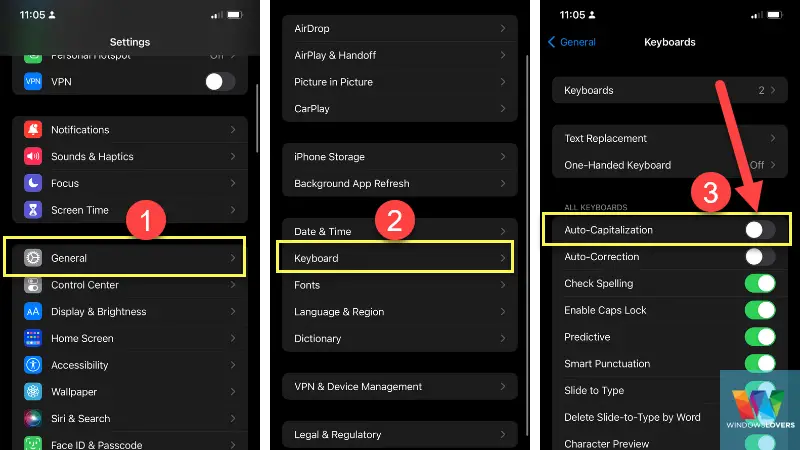 Please remember, turning off auto capitalization feature on your android/iPhone/iPads will be replicated everywhere you use the keyboard.
There is no way to turn it OFF or ON selectively on specific applications or websites like the web version of the site.
If you have any questions, queries, or issues following this Google Docs guide, please let me know in the comments section below.