Are you in search of a guide that will help you to teach how to use google drive? Many of us might have heard about google drive but still don't know how Google drive works and why it is so important.
In the era of modern technologies, you should know how to take advantage of free cloud storage offered by google drive. Having a Google account means you already have 15GB of free cloud storage where you can store your important files, photos, audio, videos, etc.
Take a peek at the following guide to figure out the various google drive features and how to use google drive for your study and business purpose?
Other Awesome Articles
What is Google Drive?
Google Drive is the most popular free cloud storage solution for your various files, documents, images, music, and videos. With just a google account, it allows the users to store and access all their files online.
The service synchronizes files, pictures, and more stored through all users' platforms, including handheld devices, tablets, and PCs. Google Drive can be used for various purposes. It can act as a backup solution or an alternative way to free up your device's capacity.
Features of Google Drive
With Google Drive features, you can access your files from anywhere in the world with tremendous benefits at any time. It comes with many features that you can use to make your life smoother with your work cycle. Some key features of google drive are listed below.
Share your files with others- Google drive allows you to share your files and documents with any user having a google account. By simply creating a drive link of the file, you can share it with many users.
Save your files: Google drive provides you 15GB of free storage. It means that you can save your files and document up to 15GB. If you want to increase the storage size, you can use the paid version.
Sync your essential documents- You can sync any folders from any device with your Google account. After synchronizing your files, you can access them from any device you like. For that, you need your google account and internet.
Use drive offline: After you enable the offline feature, you can operate offline, even if you do not have an internet connection. Means you can open and edit google slide, sheet, and docs.
How to use Google Drive?
To use google drive, you need to download the google drive app and have a google account. In the latest smartphone, google drive is pre-installed, and on PC, you can access google drive from the web. But before accessing google drive, you need to create a google account.
After having a valid google account, you will have free access to Google Drive and other Google applications, such as Gmail, Google Calendar, and Google Images.
Now after having a google account, let's see how to use various google drive features like uploading files, creating file links and sharing with people, organizing files, and adding multiples users to your drive.
How to upload files on google drive?
To upload and save your files in google drive, follow the following steps.
Open your browser and go to the drive.google.com website.
If your google account is connected, then your drive will automatically appear. If not, then you will have to sign in with your Google account.
After opening the drive dashboard, in the left-hand section, you will see a specific menu.
You will see a button with a '+ new' sign at the top of the menu. Click on that button.
After clicking on that button, a secondary pop-up menu will appear. In that menu, you will see various upload options like file upload and folder upload.
You can either choose an upload a file or folder or even create a new folder and then upload your selected files from that menu.
You can either use this method to upload your files and folder or use the second method. In this second method, you can directly select and drag your files or folder and then release it to the drive website. After uploading your files and folder, you can access it anytime on any device.
There are two different ways by which you can easily share your files and folder with multiple users. The first method is by adding people using their email addresses, and the following method is creating a link and then sharing it with others.
To share your files using the user's email address, see the following steps.
Right-click on the files or folder that you want to share.
Then click on the share option.
After that, all you have to do is enter the user's email address and then click on the done button.
If you want to let other users edit your file, you can assign various roles. After assigning the users' email addresses, you can select various roles from the right-side dropdown box.
The next method to share is by creating a link. It is effortless. You just have to right-click on the files and folder that you want to share. After that, select the 'Get Link' option. Your link will be generated, and then you can copy that link and then share it with your friends on any social media.
How to organize your files in google drive?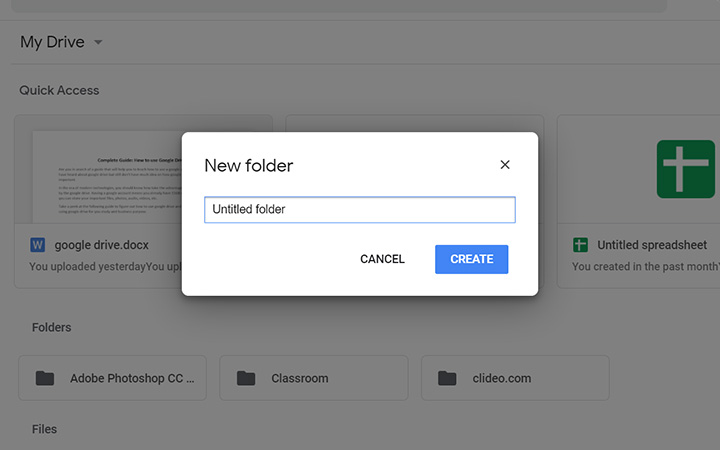 By default, google drive will put all your files in the same place. If you want to organize your files well, then you can create different folders in the drive. By creating different separate folders for different files, you can make your drive look less messy.
To create a new folder in the drive, just click on the '+ New' button that is located on the left-hand side of your screen. After clicking select the 'New Folder' option, give your folder a nice name, and click on the 'Create' button.
You can also create a folder just by having a right-click anywhere in the drive dashboard, just like you would have done on your PC for creating a new folder.
The Takeaway
Google Drive is a popular tool to store all your files and folder with proper google security. It does not require much knowledge to use google drive. With few minutes of learning, you can easily learn how to use google drive?
If you have any questions regarding google drive, then feel free to leave us your query in the comment section. We will try to answer all your queries as soon as possible.