Chromebooks are my favorite portable computing devices I've come across after Microsoft Surfaces. If you've never used one before or are planning to get one, this article should help you make that decision. The first question majority of users have when using the Chromebook for the first time is, is Chromebook Linux, Android, or Windows?
Is Chromebook Linux, Android, Windows?
Chromebook is built on Linux, but the UI, UX, and design represent that of an android tablet. I would say that it's safe to say that it's a hybrid of Linux and android which google calls the Chrome OS. No, you don't need to learn Linux commands to make the most of Chromebooks unless you choose to. Chromebooks also support android apps and have a built-in play store for your to download android apps.
Unfortunately, you cannot install native windows applications straight out of the box on a Chromebook. For any advanced user, they can enable and run Linux and install Linux applications.
Chromebooks in the past were not able to do this, but the support for Linux apps has brought it a step closer to being a full-fledged laptop and not just a terminal to use your Google account or web apps.
So, the straight answer would be no, Chromebook is not Linux. Chrome OS that the Chromebooks run on, is built on Linux, utilizing all the best features Linux brings and combining them with the Google features.
If you have used the new Microsoft Edge, you will notice that it feels like using Google Chrome sometimes. That's because the new Microsoft Edge is built on Chromium.
Chromium is an open-source project from Google, allowing anyone to build on top of it or use it to develop other projects and applications of their own.
READ: Chromebook Powerwash complete guide to reset your device
Background on Chrome OS, Chromium OS and Chromebooks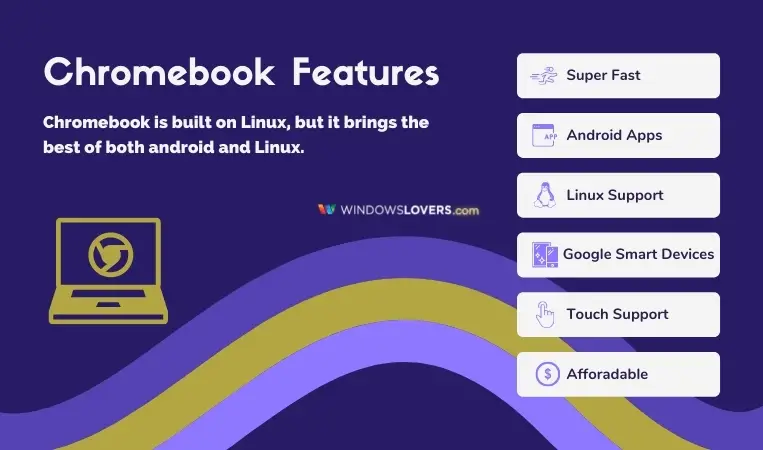 Chromium OS is open-source software, but Chrome OS is proprietary software that runs on all Chromebooks.
In July 2009, Google announced the Chrome OS project which was initially based on Ubuntu and later moved to Linux as its base.
As MKBHD explains in his video, it was way ahead of its time. Since not many users were working completely off the cloud-like we are doing these days.
There used to be times where you would go online only to attend Google meet meetings or Skype meetings. And when the Chromebooks came out for the first time, they were basically a terminal for users to use their web apps and services.
Android apps and the Play store were made available on certain Chromebooks from 2016 and took it a step further when they introduced support for the Linux terminal. You can still try out experimental functions on your Chromebook from the chrome://flags menu page.
Under the name Project Crostini, they made it possible to use the Linux terminal inside Chromebooks. You have to however enable this, but this got lots of users excited and minimized the reasons one would not get a Chromebook instead of a tablet.
It runs the terminal in a Virtual machine but works like a charm. So if you have used Linux before, you can install your favorite Linux apps on your Chromebook.
READ: How to delete apps from Chromebook easily
Chromebook, Chrome OS features that make it standout
Please note that these features are very subjective to your usage requirements. If you are looking for a full-fledged laptop with windows or mac applications and cannot get anything done without them, a Chromebook might not be for you.
But for someone that does most of their work online and wants an affordable, reliable and faster system Chromebook does not disappoint.
1. Chromebook Are Fast
Chromebook startup and shutdown in seconds. The fact that they are built on Linux, is one of the benefits. The OS is super light, does not take too much space unless you are not utilizing Google drive.
2. Android Apps & Play Store
The Chrome OS features a full-fledged Google Play store like on any other android phone. You can download, install and use any app and the Chromebook supports it quite seamlessly.
3. Linux Terminal & Apps
The fact that you can enable this in a few clicks and install Linux apps makes it convenient to use a Chromebook instead of other tablets. For any kind of windows or mac application, Linux usually has an alternative, you might just need to do a bit more digging.
4. Google Home & Smart Devices Support
You can cast directly to the Chromecast or Chromecast audio from your Chromebook. I have installed the Google Home app from the play store and use it to cast and control my smart devices. It works like a charm.
Frequently Asked Questions
If you have any other questions outside of these mentioned below, please reach out using the comments section below as this will be updated constantly.
Can you install linux on a chromebook?
You don't have to install Linux on Chromebook. You might need to enable the terminal in some old Chromebooks. But if your Chromebook has the latest version of Chrome OS, you should be able to access the Linux terminal without any issues.
What is the best chromebook for linux?
Well, that depends on your budget entirely. Since all Chromebooks will run Linux, and Linux is very lightweight any device will handle it without a doubt.
Google keeps an updated list of all the Chromebooks available from different manufacturers. You can check that list to find one that your think is the best fit for you.
Are Chromebooks windows?
No, Chromebooks run on Chrome OS. Google built the Chrome OS on top of Linux, but also provides support for Android apps. There are ways you can virtualize Windows applications inside Linux using Wine though.
Using Linux on Chromebooks
Hopefully, your question is Chromebook Linux has been clarified after reading this article. If you would like to learn more or have any queries, regarding Chromebooks or Chrome OS please get in touch.