Smart phones have gotten so much better in past couple of years. So many features are packed inside a small body. Despite all these advancement, they have become more fragile and prone to major damage than before. If you are one of those clumsy smartphone users who drop their phones everywhere, this article will help you on how to protect your iPhone/ Android phone's screen from cracking when you drop it with/without your consent.
Let's face it, all those massive touch screen, tactile buttons or curved edge screen to make the overall feel better. All these features have made the phone much weaker in terms of overall build quality. Modern smartphone look and feel great, but a solution to those weak screen glass would be a bonus for everyone.
To protect your screen from cracking/damage from minor falls (sometimes major), we can suggest two solutions.
Adding an extra layer of glass on top of your screen i.e. tempered glass screen protector.
Putting your phone in a case.
Other (not mainstream) ways to protect your screen/phone.
How to Protect Your iPhone/Android Phone Screen from Cracking: Solution 1
Lets Get Into Some Of The Best Screen Protection Solution For Your Phone
Adding a Tempered Glass Screen Protector.
I know all of us are familiar with screen protectors. They normally are a layer of plastic that stick-on top of our phone's screen and protect it from dust dirt and scratches.
Tempered Glass Screen Protector take it to whole new level when it comes to protecting your screen. While other normal screen protectors only provide basic protection, tempered glass screen protector also protects your screen from cracking or other damage from major drops and falls.
The mechanism on which tempered glass works is that it is built with layers that absorb the shock and protect the actual screen from any physical damage.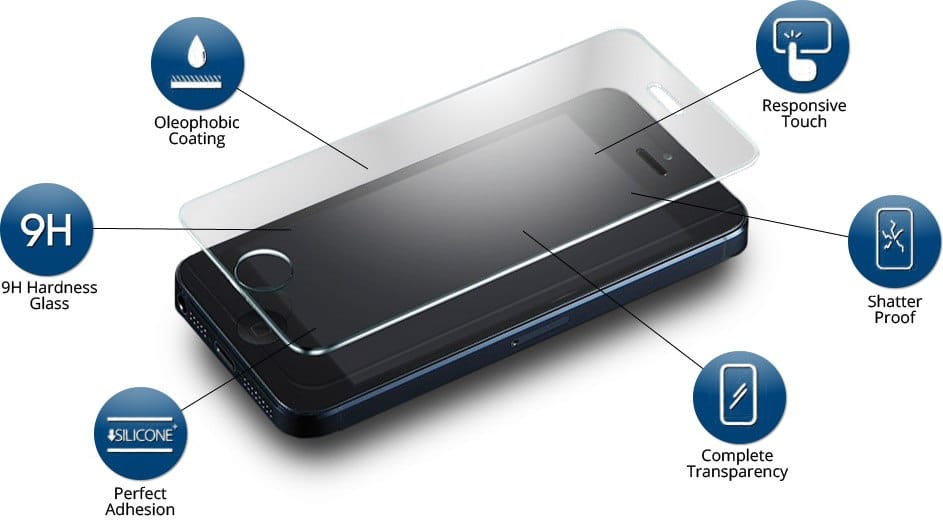 So, is tempered glass screen protector unbreakable?
The answer is no. Tempered glass protectors might crack or break but the screen will not crack or break. So, what are you waiting for, order one for your phone from the widget below and get delivered it straight to your home.


I have a Samsung S7 edge, or edge display. Is there a tempered glass screen protector for edge displays?
Yes, ZAGG has come up with a solution for the users who have a curved display phone and want to install a tempered glass screen protector on their phones. Get one from the link below.


PROS
Best protection for your screen
Does not look ugly or changes the feel of the phone.
Cheaper than the cases and easy to replace.
CONS
Tempered glass screen protectors are expensive than plastic glass protectors.
They add a layer of glass on top of your screen so you might get the feel of much thicker screen.
How to Protect Your Screen from Cracking: Add a Case
If you want to bump your screen protection game to another level, adding a good phone case is your go to. Adding a phone case is not everyone's cup of tea. But, if it is yours, go ahead and add a high standard phone case.
We would recommend you to get a silicon case for whatever phone you have. The reason behind choosing silicon cases is that they absorb shock better and protect it from physical damages.
Phone's screen can crack from hitting the sides of the phone or the other parts too. It is not necessary that the phones screen must hit the concrete. So, getting a case that absorbs those shocks can be handy.
Bumper cases are famous these days. The main reason behind them is that they don't add too much bulk to the phone and provide way better protection than most cases out there. Some of the best bumper cases on amazon are below.


Things to keep in mind while buying a case for your phone:
Don't buy hard cases without padding they do not serve well.
Buy phone cases with higher lip that will prevent your phone's screen from direct contact.
Make sure the cover adds grip to your phone.
Phone Screen Protection Tip 3: Nano Technology/Liquid Glass
This technology is not too main stream yet and may not sound too good to be true. But trust me, this works. Liquid glass/Nano technology adds an invisible layer of protection over any surface your put it on and protects it from scratches, external damage such as falls and drops.
You can use this to protect any surface/screen of any gadget that you have. This includes iPhone. IPad, laptops or even mobile phones.
As complicated it might sound, it easy to apply.
Buy a Nano technology Liquid glass protector. From here.
Spray the liquid on the provided micro fiber cloth, evenly in the same direction
Leave it overnight and you are all good to go.
Some of the best Liquid Glass Protectors are listed below.


Final Thoughts on Protecting Your iPhone / Android Phone's Screen
With thousands of products available to choose from, it's up to you who has to use the device. Always make sure that you choose the right solution and product for yourself and stick to it. I personally do not like a case on my phone and prefer not using a case on my phone. Instead, I use tempered glass screen protector and that just works fine. I currently own a Samsung Galaxy S6 and have changed the tempered glass on it just twice.