Smartphones are used for almost everything these days. Be it managing our account, schedule for the rest of the week or our health, smartphone does it all. Our phones can also come in handy in other places like navigating through dark using the flash light it has.
If your smartphone camera is equipped with a flash, it must by default have a torch app.
In this article we look into how to turn on flashlight on your iPhone or Android device.
Turn On Flashlight On iPhone
All the iPhone devices have an app to make full use of the torchlight.
Regardless of any where you are on the phone, swipe up from the bottom of the screen. This will bring up the action center.
On the bottom left of the action center, you should see a torch icon.
Tap on the icon, and this will turn the flashlight on.
Now you can go back to what you were doing and the flashlight will remain on.
You can also lock or turn the screen off, this will not toggle the flashlight off.
Turning The Flashlight Off
To turn the flashlight off, its as easy as it was to turn it on.
Just swipe up from the bottom of the screen and tap on the torch logo to toggle the switch off.
I personally don't see any need to install and use a third party app to use the torchlight on the iPhone, but if you want more control over the speed and brightness, there are thousands of apps on the app store that you can try.
Turn On Flashlight On Android Phone : Samsung Galaxy S6, S7, S7 edge
Lets see how you can turn on the flashlight on an android device. I'll be demonstrating this on a Samsung s6 , but as we all know the core of an android device is the same, it should not be much different for any other phones from other manufacturers.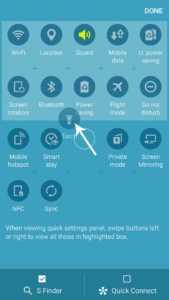 Regardless what you are doing on the phone, to turn on flashlight swipe down to bring the menu.
On the top menu, swipe left to get to the torch icon. If you cannot find the torch logo, tap on edit and you will be shown all the action buttons for the notifications panel.
From there hold on the torch logo and drag it into the top 5 buttons.
Now, next time you swipe down you will see the torch icon. Just tap on it once and the flashlight will turn on.
Again, you can carry on with what you are doing and also turn your screen off.
Talking about any third party app, I would recommend the flashlight app from the play store. It is free and the coolest feature is that you can control the speed of the flash light too.