Cursive fonts in Word are not that popular but are good to mix things up or if you are using it for some sort of art project. Let's look at some of the best cursive fonts in Word and if they are what you are looking for, how to get free cursive fonts and install them to use in Microsoft Word.
First, let's see some of the already available decent cursive fonts in Microsoft Word.
Free Best Cursive Fonts In Word
Please note this is a list curated by me personally and going through online portals and forums.
Among other below are my personal favorite cursive Fonts in Microsoft word :
Brock Script Font
Simplesnails
Edwardian Script
Bradley Hand
Brush Script
Palace Script
Freestyle Script
Monotype Corsiva
Viner Hand
Vivaldi
1. Brock Script Font

This font can be downloaded for free from 1001fonts.
2. Simplesnails

Simplesnails is available for free on dafont.com.
3. Edwardian Script

4. Bradley Hand

5. Brush Script

6. Palace Script

7. Freestyle Script

8. Monotype Corsiva

9. Viner Hand

10. Vivaldi
If none of these fit your taste or the project you are working on, you can download and install more free cursive fonts from the internet.
Dafont.com
Dafont is one of my favorite websites to go to whenever I am looking for a new font to use. It has more options to choose from as compared to Google fonts but you do have to make sure that you are not infringing anyone's copyright while using their fonts.
There are beautiful cursive fonts you can download and use from Dafont. You can enter the word that you will be using the cursive font for to quickly preview how the text will look like and download them on basis of that.
Go to Dafont.com and choose the category of font you are looking for. You probably won't find a specific section for cursive fonts but you can search for cursive in the search bar if you prefer.

I usually choose the Calligraphy section which has lots of cool cursive fonts.
Once a type is selected, enter a word to get a feel of how the font will look like once installed and used in your project in the "Preview" holder and click "Submit".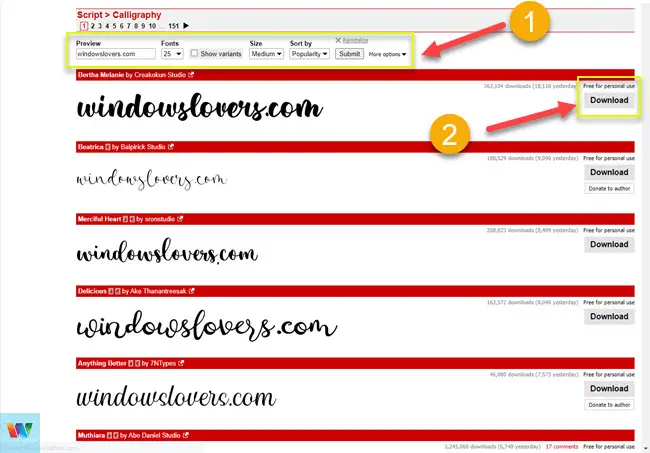 READ: Sign A Word File Electronically For Free
Go through the list and look for the font that you would like to download.
Please make sure you look at the license of usage on these fonts before downloading and using them.
To learn how to install them, please go to the installation section of this guide down below.
Google Fonts
Google Fonts is another go-to place to download free cursive fonts for word or any other apps.
Go to Fonts.google.com and select "handwriting" as this font type has the most cursive fonts available. You can also play around with other options available if you wish.
Enter the text you would like to see how the font will look and after that find that font you would like to download.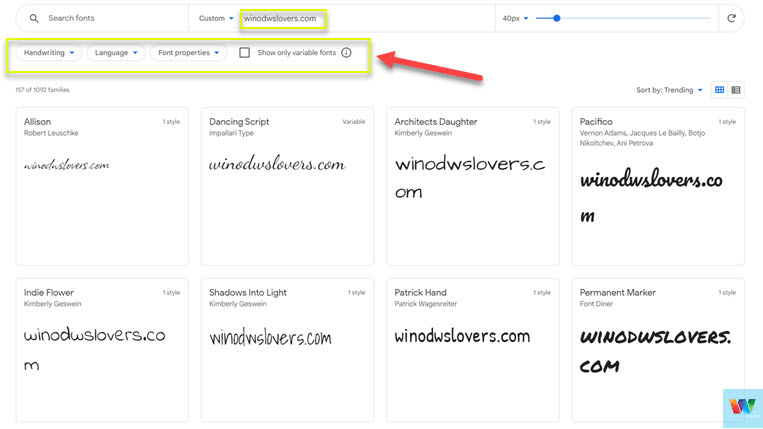 Click on the font that you are happy with and hit the "Download family" button on the top-right corner of the screen.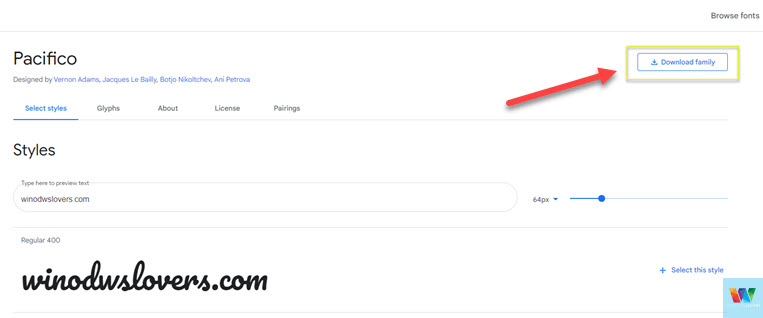 Save the font download file on a location that you can remember for ease while installing it later on.
How To Install These Cursive Fonts In Word
Once you have downloaded the font, unzip the files to a folder. IF you are on macOS you can extract them using Winrar for Mac OS if you would like.
Installing fonts on windows OS
Hit "Windows + r" together on the keyboard, this brings up the run.
Type "fonts" and hit the enter key.
Just drag and drop the fonts into the "Fonts folder" once done, the font will now be usable in word.
Alternatively, you can also double-click on the font file and install it.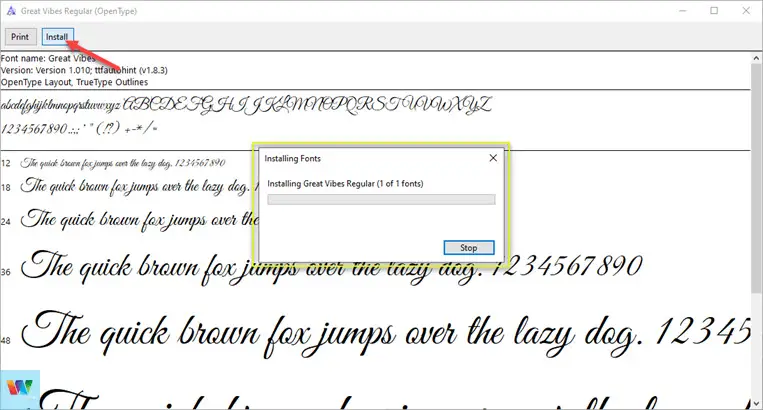 Installing Cursive Font On macOS
Go to the fond you've just downloaded and double-click on the font.
Click on "Install Font" on the bottom-right corner of the screen.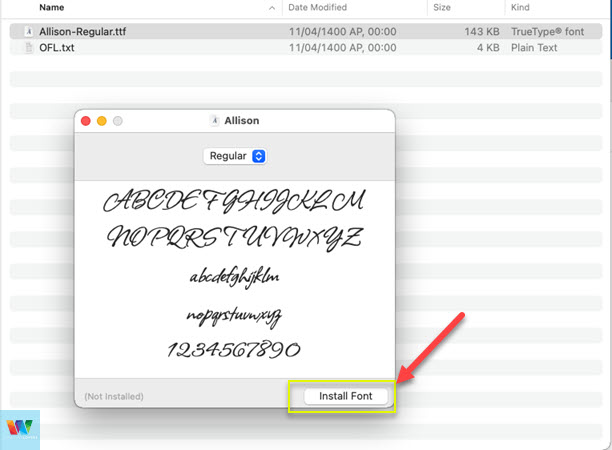 You can use that font in your projects moving forward.
Please let me know what are your favorite cursive fonts in Word except for the ones I've mentioned and should make the list. If you face any issues or have any queries regarding this, please reach out in the comments section below.