Sections breaks are great when you want more customization options for a particular part of your word document. Unless you have specific options enabled, you won't be able to see the section breaks in Word, so how to remove a section break in Word? This article guides you on exactly how to do this step-by-step.
Removing section break in a word document is a 2 step process where you simply select the section break element and hit the delete button on your keyboard. But you should be aware of all the alterations it might do to your document and how to revert it if the changes are unacceptable.
How To Remove A Section Break In Word
I would suggest you make a copy of this current document you are trying to remove a section break from. This will be majorly helpful if the document was not created by you and just in case you cannot revert any changes to it. Having a duplicate copy of the file lets you start fresh and not waste time fixing a document you have no idea of how was formatted.
This guide applies to Microsoft Word 2019, Office 365, 2010, and all other versions of Word.
READ: Crop A Photo In A Circle Quickly With Microsoft Word
Open the word document and on the top toolbars make sure you are on "Home". This is where you change your font, font size, and other basic word functions.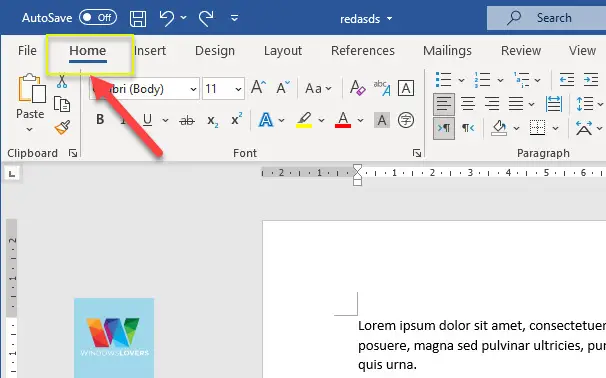 Click on the special character icon that shows paragraph marks and other hidden formatting symbols. Please see the image below for reference.

Alternatively just hit ( Ctrl + "*" ) keys together on your keyboard that activates this option with this keyboard shortcut.
Find the section break that you are trying to remove from the word document. In the screenshot below, you see how two sections have different margins, I am trying to remove the section break and have identical margins on both.
Depending on the type of section break that has been applied to your document, use your mouse to select the section break.
Click, hold and drag from start to finish to make sure you don't leave any open ends. Please watch the video below for reference.
Once you are happy with your selection, hit the delete key on your keyboard. Please make sure you do not use the backspace to delete this. We don't want any discrepancies to the rest of the formatting, so hitting the delete key is your safest bet.
Alternatively, if you cannot find the delete button on the keyboard or the key is not working, right-click on the selection and "Cut". I know this is not as safe and recommendable as the delete option but if that' the only choice you have, that's fine.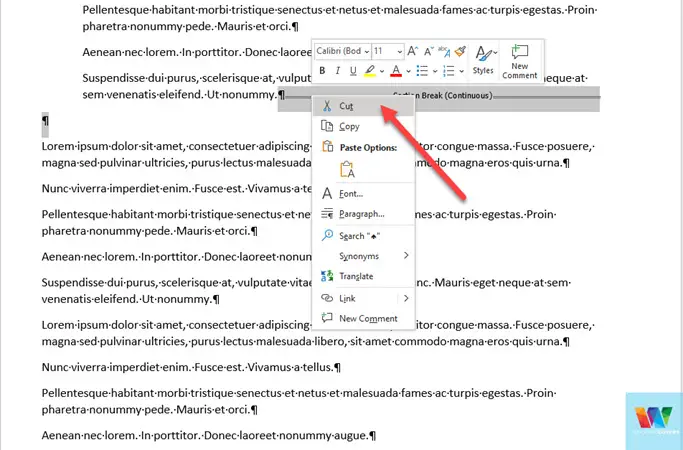 Your section break should now be deleted.
READ: How To Add A Signature In A Word Document
How To Delete Multiple Section Breaks From A Document
If you have more multiple section breaks to be removed from a document you can use the "Find & Replace" feature in Microsoft Word.

On the "Home" tab, under the "Editing" section, you will find the "replace" option. To activate this using a shortcut hit the "Ctrl" + "H" key together on your keyboard.
Make sure you are on the "Replace" tab, click on the "More>>" button. Click on the "Special" button on the bottom left of the window.
Make sure you don't enter anything on the "Replace with" textbox. Now either you can "Replace All" or if you want to go through each section break one by one, click on "Find Next".
That's how you can access and delete multiple sections from a Word document.
FAQs- Deleting Section Breaks From A Word Document
I've tried to answer some of the FAQs and issues some users might have or face during this tutorial. If you have any questions that you would like me to look into, please leave a comment and I'll try to help you out.
1. What's The Process To Delete Section Breaks On Mac?
The process of removing these section breaks on Mac OS is exactly the same. You need to enable the special characters/hidden elements icon, select the breaks you want to be deleted, and hit the delete key on the keyboard.
2. Can I Remove A Section Break Without Losing Formatting?
Unfortunately, the straightforward answer is no. There are some workarounds but it's a lot of hard work and I can only suggest you go through it if it's absolutely necessary.