Microsoft Teams users are facing another issue recently. Some users worldwide are not able to share their screens with other users. This is bizarre and it looks like a glitch that only occurs with some users. For e.g. Teams screen sharing not working with one user but might work for other users within the same organization. If you are facing issues sharing your system audio in teams meetings, it can be tricky sometimes.
Microsoft has not yet publicly acknowledged this issue yet, but I hope this issue is resolved in the future builds of the Teams applications. Like the issue where users see a white screen when logging into Microsoft teams.
MS Teams screen sharing not working on mac seems to be predominant as compared to Windows users. So below are some of the ways I have been able to fix this issue on mac OS systems.
Also included in this guide is how to tackle this issue and MS Teams screen sharing on Windows 10 or Windows 11 down below.
Microsoft Teams Screen Sharing Not Working on MAC OS [FIX]
One of the main reasons you are not able to initiate Teams screen sharing on mac is the application's inability to request permission to share the screen.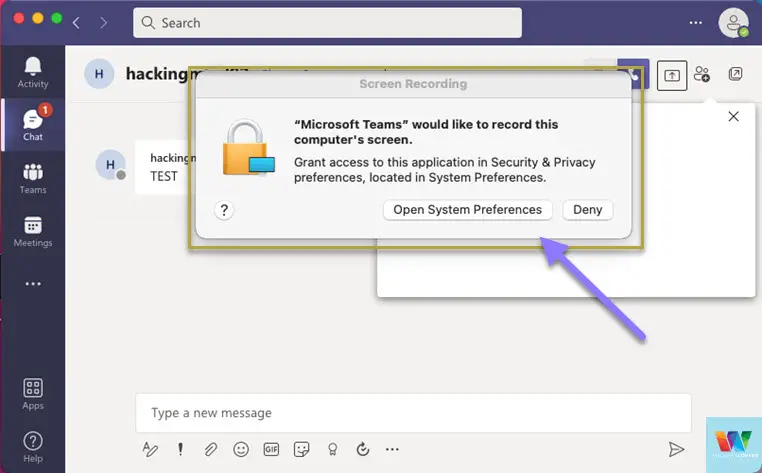 The Teams application is not capable of triggering permission requests sometimes. Usually, macOS access to screen recording and other capabilities is blocked.
Another scenario might be that the permission was denied the first time Teams was installed on the system like the screenshot below.
Giving Teams the required permissions can solve Teams screen not working mac OS problems.
To enable teams screen sharing on mac, do the following
Open macOS settings and click on "Security & Privacy".
Scroll towards the bottom of the page, and click on "Screen Recording". Click on the lock in the bottom-left corner of the window and enter your account password.

Enable the checkmark next to "Microsoft Teams" if you see it on the list. If requested "Quit & Reopen", which will restart Teams with the new permission.

Open Teams and see if the Screen Sharing is now enabled and working.
This should resolve Microsoft Teams screen sharing not working on mac systems as long as the only thing stopping it is the screen recording permissions.
For other ways to fix this, the guide continues below.
READ: Microsoft teams white screen solutions you should know
Other Fixes For Microsoft Teams Screen Sharing Not Working
I will also mention other workarounds that other users have claimed worked for them. Below is what worked for me (most of the time).
Below mentioned fixes can be applied on mac or Windows 10/11.
Yes, if you share your screen in a group call or group chat it just might work. It has worked for me. The only thing you might want to try if this does not work straight away is to find someone that screen share has worked before and add them to the group with the other user that you would want to share your screen with.
The practicality of this workaround might be very questionable, but at least it works. You can use another email address to join Microsoft teams meeting as a guest without an account.
Open Microsoft Teams.
Open the chat window of the person that you are trying to share the screen with.
Click on the add people option and add another user – if this does not work try adding the user that screen sharing has worked before – Might not be practical though.
Click on the screen sharing button and share your "Desktop" or the window you are trying to share
2. Use Microsoft Teams Web Version
Okay, this is another workaround that I have found. If you use the web version of Microsoft Teams, you will be able to see the content from the other user in the screen share session.
The only thing to remember is that whoever is sharing the screen can use the app, but the user viewing the content on the screen share will have to log in to the Teams web version. But please make sure you exit the desktop app completely before logging in to the Teams web app.
Click on the tiny arrow pointing upwards in the bottom right of the screen > Right-click on the Microsoft Teams icon > Quit.

Go to https://teams.microsoft.com/.
Login with your Microsoft Teams account.
Request the other person to start the screen share and see if this resolved the issue.
3. Change Your Display Resolution
Please make sure that Microsoft Teams is not working in the background before your try this fix.
Trying to change the resolution on your computer can help to resolve the screen sharing issue on MAC and Windows systems. Since the issue is mainly related to the graphics on your system, decreasing the resolution can make it easier for the system to process and might actually flick the switch on sharing screen possible.
READ: Share system audio in Teams on mac or Windows
On Windows, right-click on desktop > Display properties. Scroll to the "Scale and layout" and choose a lower resolution. You might have to try different resolutions to see if that resolved the issue.
On mac OS, open the settings > Displays. By default, it might be set to "Default for display".
Click on "Scaled" and choose a lower resolution.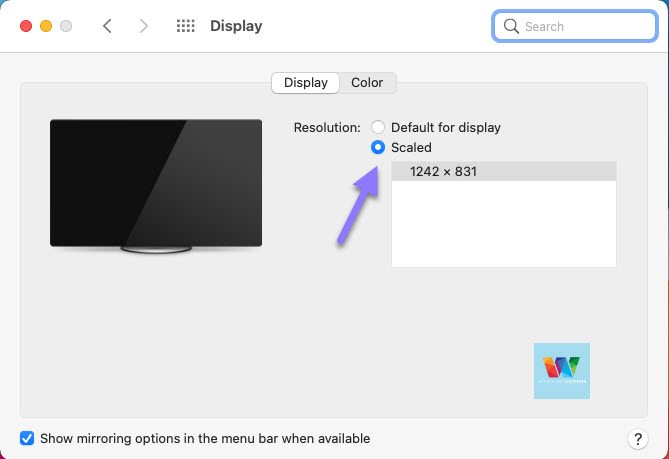 After the resolution change, try and see if the Microsoft Teams screen not working error is fixed.
4. Reinstall/Update Fixes MS Teams Screen Sharing Not Working
I am not quite confident how much of a help this would be in your case. Do a complete uninstall and reinstall a new version of Microsoft Teams from the official website.
Chances are that Microsoft might release a new update and a fix to this screen sharing bug.
READ: Microsoft Teams camera not working solutions
Other Possible Causes
Let's look at some other possibilities that are likely the cause for you not being able to use the screen sharing feature in Microsoft Teams.
If no one of these looks like the cause in your case, please reach out to your respective tech support.
Get your Teams policies checked
If you are using Teams in your organization, and that is where you are facing this issue, get in touch with your IT team. Request them to check if your account has the correct policy for you to be able to use the Screen sharing features during Teams meetings.
If the policies are correct, sometimes resetting your Teams policies and account can resolve your Teams screen sharing not working on Mac or Windows operating system.
The same Teams app version also faces issues
This does not seem to be an issue with the version of Microsoft Teams a user is using. Regardless of the version number, I have had issues sharing the screen with a user on the exact same version of Microsoft teams as mine. For another user with the same version as mine, Screen sharing seems to work without any issues at all.
Check your firewall restrictions
The next thing to check was the firewall restrictions that might be preventing the content to reach the other user. Nothing was found there, actually, teams did not have any firewall policies applied to it. One weird thing I found, was that I had three "Teams.exe" applications on the application list in the firewall.
Multiple screen and graphics issues
Lots of users on the "techcommunity" forums have claimed this to be an issue with the graphics driver or the resolution. This seems to be true to some extent. When connecting a tablet to the docking station with a dual monitor setup, screen sharing would not work. But if disconnected from the docking station, the screen sharing worked without any issue.
Read more: Microsoft's Techforum
Frequently Asked Questions
Why is Microsoft Teams not letting me share my screen?
You need to make sure Teams has been given proper privileges to access your screen first to be able to share it within a meeting or presentation. Mac and Windows have respective settings you should alter to fix this.
Why is share screen not working on Teams on Mac?
Teams is not able to trigger requests on mac for you to give it access to your mac's screen. If you do not manually allow Teams access to your Screen, screen sharing on Teams on Mac won't work.
How do I enable screen sharing in Teams on Mac?
To enable screen sharing in Teams on Mac, Go to mac settings > Security & Privacy > Enable Edit > Allow Teams To Screen Record.
If you have other suggestions to fix Microsoft Teams screen sharing not working, do leave a comment down below.