Microsoft Teams is the next step for Microsoft Skype for business. Teams have been finally rolled out to all the users that are currently using Skype for business as a part of the Office 365 applications. Teams users are facing the "Microsoft teams white screen" issue lately and there is no official news from Microsoft regarding this. It is as frustrating as when your Microsoft Teams does not detect your camera while in meetings.
This article helps you solve the "Microsoft Teams White Screen Issue" on Windows/MAC.
Being a relatively new application for an organization, it has a learning curve, and the app itself is far from perfect. The potential that the app has over its predecessor is insane. It brings social networking with your colleagues at work to another level, and the way you can keep track of all the files, conversations make it a better alternative to Skype for business for sure.
You might see a blank white screen on login, or if you are already signed it on Microsoft Teams, teams take a long time to load, and all you see is a blank white screen. You cannot close the window or click on anything on the window. Other issues such as Teams not detecting the camera, unable to share the system audio in teams meetings are also quite normal.
There are so many suggestions on how to solve the blank white screen issue on Microsoft Teams, but most of them did not work for me.
Let me show you what exactly worked for me first and then other things that you can try if this does not work for you to solve the "blank white screen on Teams" issue.
Microsoft Teams White Screen Issue: Solved
My Scenario
I am already logged in to Microsoft Teams, and auto-login was setup. So, every time I open the Teams application, it would automatically sign in.
I could call myself from someone else's account, I could see the call notification, but all I could see is a blank white screen when opening Teams application.
Alternatively, you can join a teams meeting from the browser and come back to the troubleshooting later.
Watch A Video Instead? 
Solution 1 : Signing Out Of Teams
Signing out of teams has solved the issues for lots of users. Every time your quit or exit the application, you are still logged in on the backend.
To completely sign out of teams, do the following.
Close the application. Right-click on the Teams icon on the taskbar > Quit
Click on the "Show hidden icons" and find the Teams icon
Right-click on the Teams icon > Sign out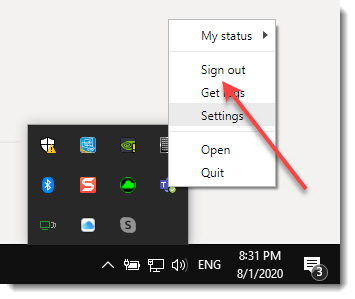 Sign out from the account
Sign back in and open the Teams application and the blank white screen should now be fixed
READ: Guide On Joining Teams Meeting As A Guest
Solution 2 : Run MS Teams In Compatibility Mode
Windows 7 was one of the most stable Windows operating systems in the past. Even though the support for it has ended, it does stay in the core of the current windows too. Sometimes apps run better on Windows 7 as opposed to their current updated windows 10.
You can run any application in Windows 7 environment even within Windows 10. This allows it to run more stably and eliminate some windows components that might be causing the "Microsoft teams white screen" error on windows 10.
To run Microsoft teams in Windows 7 Compatibility mode, do the following.
Open C: (Assuming this is the drive that has your windows installation. If not, find out the drive that your Windows 10 is installed on)
Click on the "View" button on the top toolbar and make sure the "Hidden Items" option is ticked. 

Navigate the the folder "C:\Users\username\AppData\Local\Microsoft\Teams\current", where username is your username/account name.

Find the file "Teams", make sure it is a .exe file. Right click > Properties > Click on the "Compatibility" tab.
Under comaptibility mode tick the "RUn this program in compatibility mode for:" and select "Windows 7 " from the drop down box.
Hit "Apply" , "OK" and restart your system.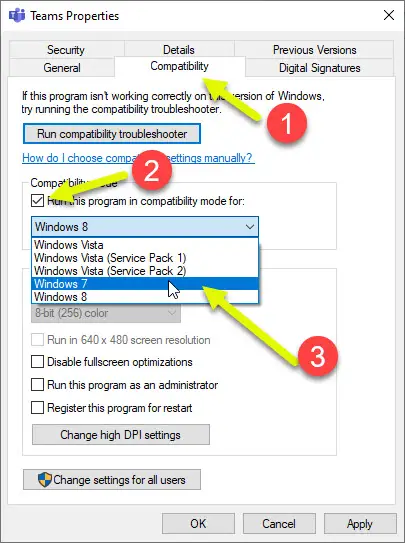 Try running Microsoft teams application and see if the "microsoft teams white screen" issue has been resolved.
Solution 3: GPU Hardware Acceleration
If your system has an external graphics card, you can try to disable it while running MS teams. Sometimes hardware drivers can create these discrepancies.
Open teams and open settings(If you can)

Tick on the "Disabled GPU hardware acceleration"
Quit microsoft teams from the bottom tray

Restart Microsoft teams and check if the white screen issue has been fixed.
Solution 3: Teams Updates Issue Causing Teams White Screen
Microsoft has faced lot of backlash for the Teams application not updating itself and in some cases not providing an update option even though there is one available.
There are lots of reasons behind this, but this can be the cause behind why you are seeing a white screen every time you start MS teams.
One thing you should remember is have you changed the default Microsoft Teams installation location? If you have, that is the reason why your teams is not up to date.
There is no way to revert this change, but you can force a new version download.
This is the final thing you can try before getting additional support.
Uninstall your current Teams installation from "Add or remove programs". You can just search that on the toolbar.
Go to https://www.microsoft.com/en-au/microsoft-teams/download-app and click "Download for desktop"
After the download is complete, install Microsoft teams with the default settings.
Try updating your Microsoft teams and it should if its not updated.
The final check you can do is check the build number of your Microsoft Teams installation with the current version according to Microsoft.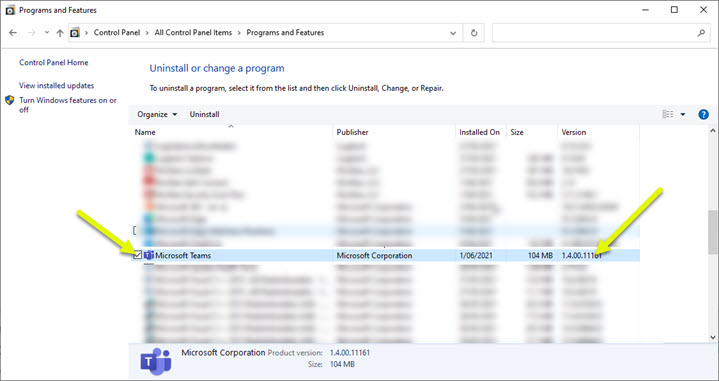 Click on start and search for "Control Panel"
Open "Program and Features
Find "Microsoft Teams" in the list and check the Version column at the end
Take a note of this version and do a google search or tally with a colleague that is not facing this white screen error.
Solution: On macOS
Right-click on the Teams icon on the dock and click on "Sign out"
Start Microsoft Teams, it will ask you to log in and the issue should be fixed

I hope this helped you solve the white screen issue on Microsoft Teams. I will be updating this article with other guides that people have mentioned that have helped them to solve this Microsoft Teams white screen issue.
If this did not work, please leave a comment and I will try to find a solution that might work for you.