I've had Audio Technica Ath-m50x for about 7 years now. I absolutely love them, even though I am not an audiophile, one can really feel the difference when using these headphones over other normal headphones. Audio-Technica really beats all other competitors in the same price range when it comes to the audio quality that you get from these headphones. 
I wanted to find the best Audio Technica ATH-m50x Bluetooth adapter and convert it into a wireless headphone without getting another pair. Another criteria was that it should be within my budget and with some compromises, I think Brooklyn labs audio Technica ath-m50 Bluetooth adapter is the best option out there.
Audio Technica ATH-m50x Bluetooth Adapter – East Brooklyn Labs
If you don't like to read a lot, at a glance it would give it a solid 3.5 start out of 5. It's the best you can get for the price you pay.
I was looking for other cables that would be of better quality and might last longer than these cables that were not lasting longer than a few months. That's when I came across Unbox Therapy's YouTube video where he turns his Audio Technica wireless using an adapter from Brooklyn Labs.
I thought that was very cool and since I had been using my Samsung Galaxy buds for a while now, I was really drawn to the idea of having wireless everything.
Thus, began the lookout for the best wireless Bluetooth adapter for Audio Technica Ath-m50x. After looking around for a long time the best one I could find was the Brooklyn labs – looking at the reviews of this adapter and lack of any more information on other off-brand adapters.
So, I pulled the trigger and ordered the Bluetooth adapter for my Audio Technica ath-m50x from Brooklyn labs. Here is my review of the East Brooklyn Labs audio Technica Bluetooth adapter after using it for a few months.
If you want to know why, read along.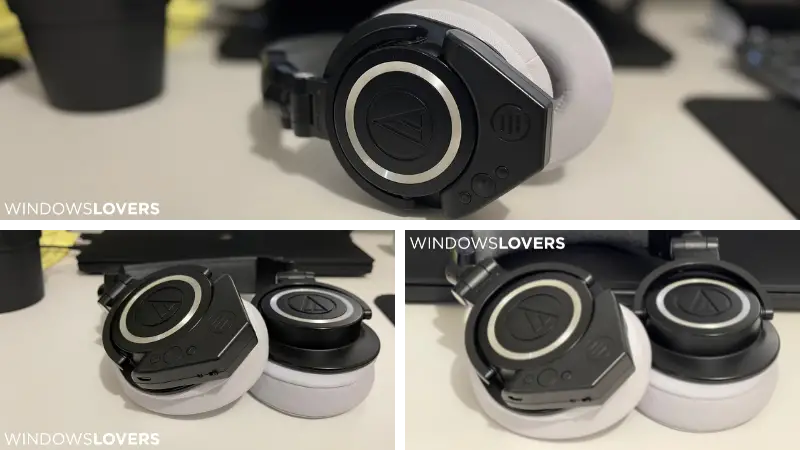 Only Available On Amazon
Check it out on amazon
I'll be evaluating the adapter based on the following:
Build Quality
Sound Quality
Battery Life
Connectivity / Strength
Build Quality (3/5)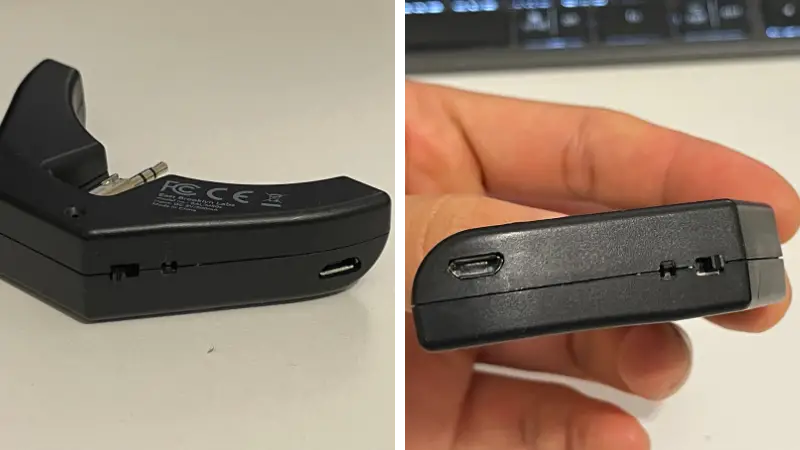 It's straight-up just plastic. It does feel very cheap and feels like if you drop it, it might suffer some physical damage. The adapter is super light and just when you clip it into the headphone and try to disconnect it, you will find that the adapter is not that sturdy at all.
The on/off button does not feel of very high quality at all either, you remember those cheap toys with an on/off button? That's exactly what the button on this adapter feels like. I am always very careful when I turn it on/off. The buttons have a good clickiness to them but that's it. I usually don't use them too much but they are there if you need them.
Audio Technica M50x Bluetooth Adapter Sound Quality (3.8/5) –
Let me save you some time on this one. If you are looking for a decent quality sound, please buy a cable instead. I don't know if it's just my unit but I am not impressed with the quality of the sound especially listening to music. They definitely have better sound quality and volume when the unit is fully charged (I don't know why) but otherwise, you will not be impressed. They still sound better than other cheap headphones out there, but nothing compared to the audio quality you get when using a cable instead.
The sound quality is okay for listening to a podcast or just watching videos on YouTube. But if you are looking to edit videos or listen to music most of the time, this will let you down.  
Battery Life (3/5) –
They claim to have 5-6 hours but the only way you are going to get this is by not using the headphones a lot. Does not make sense, right? If you are planning to get a full day or even half a day out of the battery life, you are in bad luck, my friend. It charges via the micro USB port and takes a couple of hours to charge- even though there is no way to know the accurate battery left on the unit.
If the battery life was decent, I would be using it much more than what I am using currently. And be careful when you charge the unit because the charging port does not feel very sturdy either.
Connectivity / Strength (2.5/5) –
They have no official specifications regarding the connectivity strength or coverage. I was not expecting much out of the technical specifications that they have on amazon was most likely skimmed from the official audio Technica headphones specifications.
All I can say about the connectivity and seamlessness about them is that if you have them paired to multiple devices, you will run into issues. What I mean by that is, that I have them paired with my iPad and my phone. If Bluetooth on both the devices are turned on, it will try to connect to the recent device it was connected to. The only you can stop them is to turn Bluetooth off on the other device. It can be a hassle sometimes. I want my headphones to connect to whichever device that I am trying to connect from.
Off-brand 3.5M cable for Audio Technica ATH-m50X – My experience
After having them for about three years, I accidentally broke one of the cables. I was on the market to find replacement audio Technica M50X cables but all of them didn't quite appeal to me. The official ones were more than $40AUD, but I was not convinced that they were the real deal. So, I just got an off-brand 3.5m Cable for the Audio Technica M50X and it came in a pack of two. That meant if I required, I could always have a replacement cable ready for my headphones.
I think I paid around $21 AUD for a pack of two and they were not bad. How much did the sound quality was compromised? Well, not much I guess since I could not really feel much difference. The main issue I had with these cables is that they were very short. I was used to the long cable Audio Technica ships their headphones with, but these cables were about 1M long and if you have the audio port at a distance, forget about it.
Build quality also was not that great in terms of durability. The first cable lasted a few months and stopped working and the other one gave up in a few weeks. I use the headphones with my phone a lot, and the audio jack on the phone is at the bottom of the phone. That means the cable was bent most of the time I was using my phone with it because I rarely use my phone in landscape mode. That caused the cables to break easily and was not reliable at all.
Final Verdict
Hopefully, this Audio Technica ATH m50x Bluetooth adapter was helpful in clearing any confusion you might have as there are not many reviews online.
If you have any questions about this adapter, please leave them in the comments section below. Also if you have other better options, let me know that as well.
The adapter is okay if you just want to convert your current Audio Technica wireless for a fraction of the cost and are okay with charging it every day. Look, as long as you are not editing videos or are producing music, this will do the job. For someone who does not use it too much, you will not even feel the difference.