After I bought my Samsung Galaxy Buds, I was more than excited to take it with me everywhere I go. But the first day I took it to work, I was very disappointed. Even though the media volume on my phone was full, the volume on Galaxy Buds was too low.
I thought the Galaxy Buds' ear tips were not the right fit for my ear. So I swapped them too much bigger ear tips that came with the Samsung Galaxy Earbuds. Galaxy buds volume control options were missing in the app and the phone itself.
To be honest, this did improve the sound quality as this increased the sound isolation with outside background noise. So, I looked around the web and found the solutions to Galaxy bud's low volume issue even though the volume on your phone is at max. You know you can pair and use your galaxy buds on a Laptop.
All these tips imply Galaxy Buds and Galaxy buds plus. If you have any other suggestions, please leave a comment so that someone else might find them useful.
Galaxy Buds Low Volume – Galaxy Buds Volume Control
I constantly update this article on how to fix this issue, depending on the scenario different things might work to get your quiet galaxy buds a bit louder.
Why Are My Galaxy Buds So Quiet: 2021 UPDATES
Update: 31st July 2021 – If you've tried everything and are still wondering "why are my galaxy buds so quiet", I might have some answers for you. This only applies to used earbuds, if the volume is low on one ear or if your buds seem to get quieter as you use it.
I assume you've tried everything I have mentioned in this article or if you have a new set of earbuds, this is not for you.
The problem is the way the earbuds are built or more specifically how to speakers on the buds have been put together. After digging deep through Reddit, this seems to be the case for most of the users.
The space between the metal grill and the filter gets gunk deposited over time, and this muffles the audio and makes your earbuds quieter. I am not suggesting you open them up and clean them, as this will void your warranty and also might damage your earbuds if you don't know what you are doing.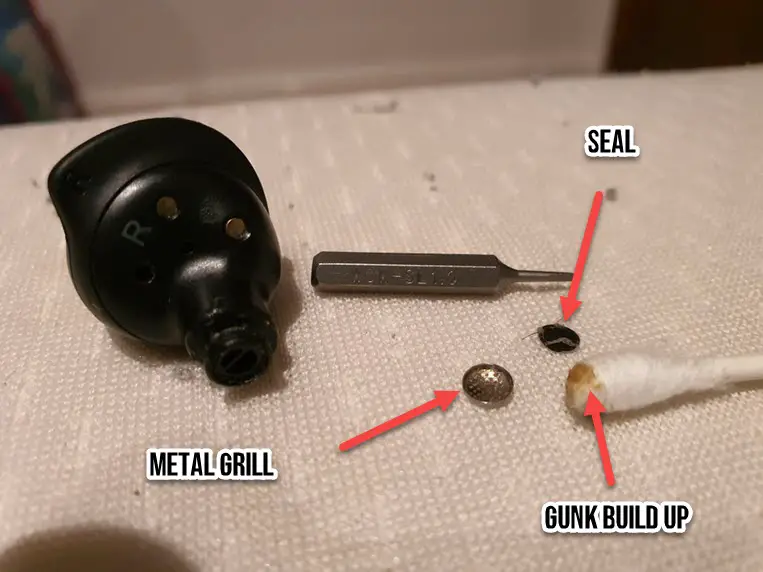 What I can suggest though is :
– Use an alcohol wipe a give them a good clean once in a while, don't do it very often. Make sure they are dry before using them
– Regularly clean your ears as cleaner your ears are, less gunk will be accumulated in the buds
– Never soak them in any kind of solution, as it might dissolve any gunk accumulated inside the grill and making the situation worse.
READ: How to pair Samsung Earbuds To iPhone or iPad
Update: 5th October 2020 – After millions of updates, Samsung has finally done a very good job with the Samsung earbuds firmware. I forget that these are the Samsung earbuds that I had a while back. Some of the things that have been improved significantly and have actually made me think if I should upgrade to Samsung Galaxy Buds.
Connectivity – Keeping the occasional battle to get them to connect aside, it only takes a few seconds for the buds to automatically connect to my phone. The difference is significant. Before it could take 5-10 seconds to connect the buds to the phone. Now if it is already paired, they automatically connect in a couple of seconds.
Both the earbuds work all the time – A weird issue me and some other users were facing previously. Even when I charged the buds while they were in the case, one of the buds would not work sometimes.
Please update your Samsung earbuds and your phone's Software – This should solve your issue
If that does not help, try the following before looking for other solutions.
Use Bigger Eartips – Using a bigger(tighter) Eartips will guarantee, increase the volume
Clean the tips regularly
More battery > Better audio quality and volume
Update the firmware – you will be surprised how much this can help you
Update: 7th May 2020 – The "Media Volume Sync" option has been removed
Samsung has removed this option under Bluetooth > Advanced
Seems like Samsung has removed the Media volume sync options in their recent android software update for most smartphones. So if you are not able to find the "media volume sync" options under advanced settings for your Bluetooth, it's a lot easier to get galaxy buds volume control on your device.
READ: How To Connect Samsung Earbuds To Chromebook
The option to control the volume on the galaxy buds from the galaxy bud's touch control is still there. So if you would like to control the buds' volume from the bud's touch controls, you can find those steps below.
For everyone else who is looking to control galaxy buds volume from their phone, I would suggest you do as follows:-
Go to "Settings" > "Software update" and see if there is a software update available for your Samsung device
Download and install the software update and restart the phone
Open the Samsung wearable app and reset you Samsung earbuds
Pair your earbuds again with the phone after the software update
Once connected the volume keys will control the overall volume of the phone including the Galaxy earbuds
If your phone does not have an update or there is a Media Volume Sync option even after the update, you can control the volume on your buds by following the steps I've mentioned below.
Please leave a comment if this update did not help you in controlling the volume on your earbuds.
Solution 1: Get Volume Control on Galaxy Buds Plus Touchpad
If you wish to use the Dual Audio and keep the volume levels on the galaxy buds, you can enable the Galaxy buds volume control that is on the buds touchpad.
Open Galaxy Wearable app.

Select Galaxy Buds from the list if you have other devices connected too.
Scroll down and open "Touchpad."

Under "Touch and hold touchpad," tap on either one of the options and set it to Volume Up/Down.

Now to increase the volume, long press on the right earbud and you will hear a beep. To max out the volume, long press until you start hearing double beeps. To decrease the volume, long tap on the left earbud and this will increase the volume
3. Other Solutions For Quiet Galaxy Buds
Samsung earbuds are not the best built and since they are the first generation to its predecessor, Samsung earbuds plus there are lots of issues with the hardware itself.
So if nothing has helped, make sure you return them and get a replacement. I have got feedback from some of my friends that after the buds were replaced, they do not have any issue at all with their Galaxy Buds.
You will see in the comments down below, lots of users have mentioned that even after following all these tips they are still facing one of the below-mentioned issues:
Volume low on left earbuds
Right Galaxy Bud Quiter
One earbud quieter than other
Galaxy buds now loud enough
Other things that might help increase volume on your galaxy buds.
3.1 Get them replaced
If your galaxy buds are still under warranty, I would say that you should get them replaced
3.2 Try bigger ear tips
This is something that I have experienced myself and always suggest to any user that has a low volume issue on their earbuds. Using bigger ear tips gives you better isolation from the outside noise and will definitely improve the volume on your Galaxy earbuds
Why is this?
Unlike other Bluetooth headphones, Galaxy earbuds have their own volume control system. So, regardless of you increasing the volume on your phone to the max, this does not sync with the galaxy buds.
By turning the Media volume sync, we force the galaxy earbuds to sync with the phone's volume rocker and give maximum volume when the phone's media volume is also at a maximum.
But we turned the "Dual audio off." What if I want to use it and listen at max volume.
This allows you to use the "Dual Audio" feature and also listen to audio on Earbuds at max volume.
The only downside was that when the earbuds are put on "Media volume sync" volume change is very smooth while as when it's off, it does not feel quite smooth.
Regardless of which option you choose, this is the way to increase volume on Samsung galaxy buds.
If you have more queries, please leave a comment below on galaxy earbuds volume issues and your personal experience using galaxy earbuds.