I recently purchased the Gigabyte AORUS 15P XD with the latest intel 11 Gen i7 processor and an Nvidia RTX 3070P version. This was a much-awaited upgrade since my last purchase, which was an Acer Nitro v-15, which was upgraded to its fullest potential. To be honest I have not been out laptop shopping for a long time and since I don't review a lot of gadgets, I was overwhelmed by the options available these days. I purchased it in Melbourne, Australia so depending upon your location, you might have a different experience or configuration.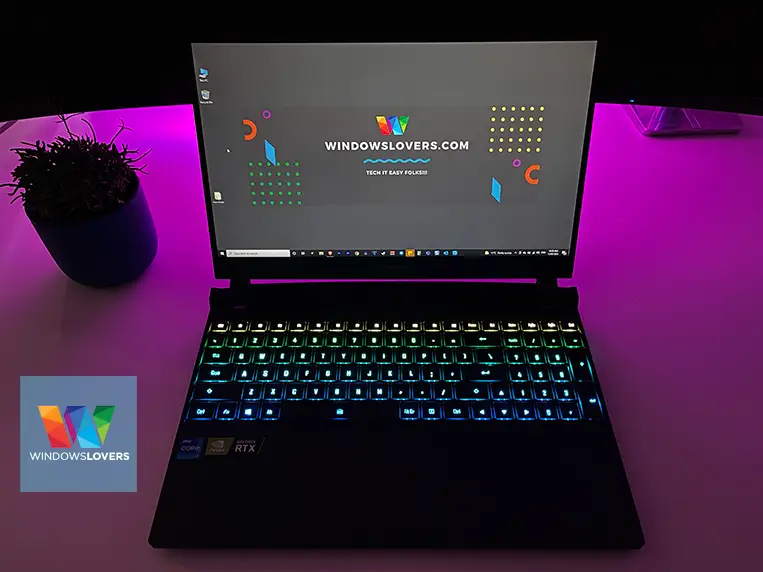 After week-long research, I decided to go with the Gigabyte AORUS 15P XD 2021 version, and here are the five things I absolutely love about this laptop.
I was kinda hesitant between Gigabyte AORUS 15P XD and the ASUS ROS Strix Scar 15, and I have a reason why I choose the AORUS 15P XD instead. More on that later.
AORUS 15P XD 2021 Review – Five Killer Features I Love
Alright, all the features mentioned below are in random order. All these features collectively make it the best gaming laptop of 2021 for me.
AORUS 15P XD Unboxing & First Impressions
I have been using this laptop for about 3 weeks now and these are 5 things I love about my Gigabyte AORUS 15P XD intel 11 Gen i7, running an Nvidia 3070P graphics card.
1. Its Built Like A Tank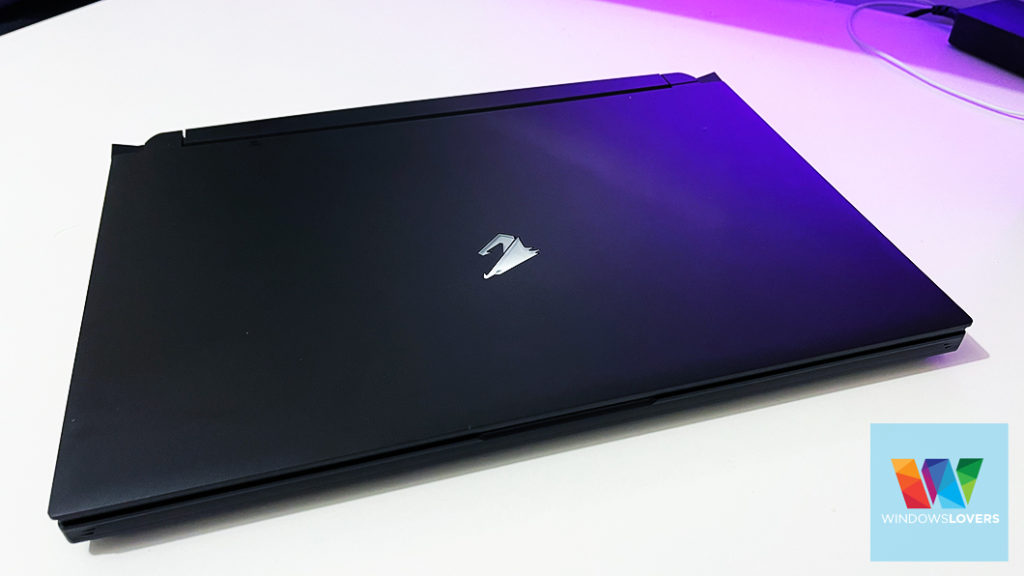 The first impressions from this laptop were quite impressive. Not from the unboxing experience point of view but seeing and holding the laptop for the first time. I absolutely love the stealth, spaceship vibe it gives. The material I believe is plastic(good quality) with some sort of aluminum plate on top of it.
I know, you must be thinking that since it's plastic, it will feel cheap. That's exactly what I thought the first time, but it is very close to using a unibody chassis laptop. The vents look absolutely well crafted, and the laptop feels very rigid and compact. It does not give off a gaming laptop vibe unless you open the lid and turn on the laptop.
I always get suspicious about fingerprints whenever I see a matte black device. The previous Acer laptop I had was also a matte black device and boy it would attract fingerprints even with slight usage. The material on the AORUS however does not seem to be very similar and does not act as much of a fingerprint magnet as it should form the initial looks.
2. Those Vents & Fans Mean Business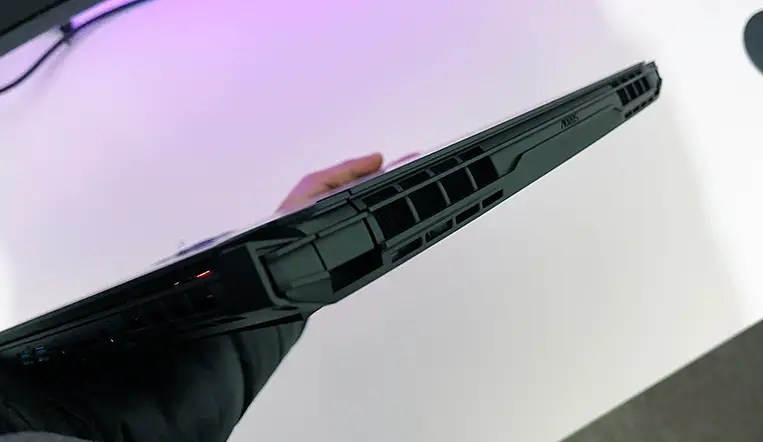 When you see the vents for the first time, they do look like a spaceship's exhaust. Well, it does perform very similarly especially when the laptop is really pushing those cores and the graphics card.
There are vents on the side, back, and underneath the laptop. Gigabyte claims to have packed 5 Heatpipes, 4 sets of vents, and two 12V 83 Blades power fans to properly manage heat flow in this laptop internally. Even after a whole day of heavy usage, the laptop was barely warm to touch.
As you can see in the image below, the laptop has a lot of open vents for airflow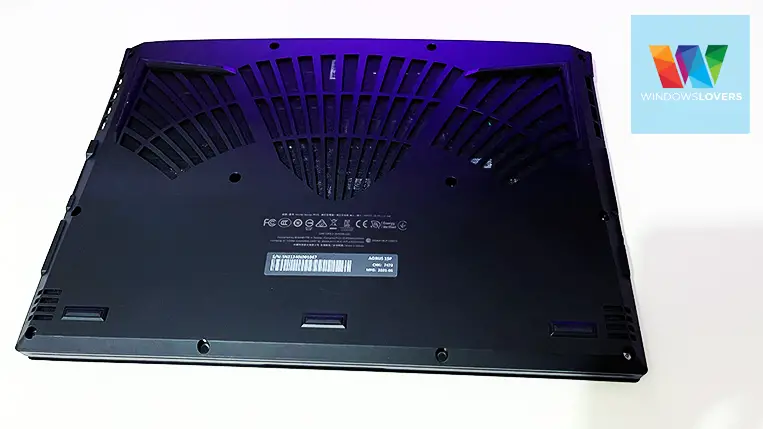 3. World's First Azure AI-Enabled Laptop

I am not gonna get into the nitty-gritty on what this feature is or how this works. If you would like me to write a dedicated post for this, please leave a comment and I should do one in the future. basically, this feature has been built into the laptop and it utilizes Microsoft's azure to actively determine (Based on the application you run) to allocate more GPU or more CPU for it to perform at its best.
As you know some applications are GPU heavy and some CPU heavy. If it was a full-blown system, it would be possible to run both components at it's fullest without a problem. But since this is a laptop, different constraints such as power management, heat flow, etc come into place. So Azure AI constantly runs in the background and switches between different modes depending on the active application and makes sure your laptop utilizes the resources in an efficient way while not affecting the performance of the application.
You can read more about it on Gigabyte's website.
3.1 Does the Microsoft Azure AI really work?
I was very suspicious of this feature that Gigabyte has been claiming to be the first AI-enabled laptop etc. etc. But yes, Microsoft Azure AI features do work as they have advertised it.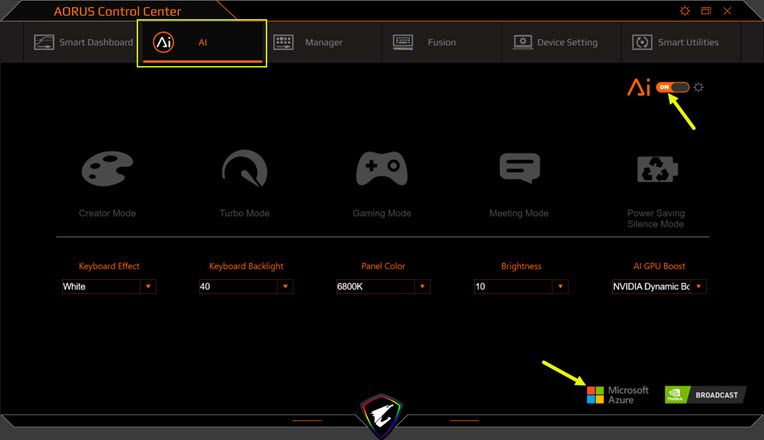 A lot of new laptops with Nvidia GPU have been facing throttling issues and one of the major issues is with the Optimus feature. This feature creates a bottleneck for the GPU causing it to not perform how it should. Previously laptop manufactures used to have a built-in "Mux switch" in their laptops but for some strange reason, they have stopped.
Initially, when used to play a youtube video, the video would stutter or lag. I was very frustrated with what I was seeing. I paid a premium price for the laptop and if I could barely play a YouTube video in it, then what's the point right?
I tried everything, every setting I could change, update the graphics driver, Disable GPU in chrome/brave nothing helped. The way I fixed this YouTube video stuttering issue is by enabling the AI mode, which is done from the control center.
There are 5 main profiles you can manually choose from in the AORUS control center and you can enable AI from a slider on the top right corner of the control center.
4. A RGB Lover's Dream Keyboard
The keyboard uses a technology Gigabyte like to call "Island-style AORUS Fusion Keyboard with per-key backlit control". I personally like a mechanical keyboard, but once I started using the Logitech MX keys, I find those kinds of keyboards a lot easier to type for a longer period. AORUS 15P XD's keyboard hits the right spot for me, it's not very loud yet it has enough key travel for typing faster and is easier on the fingers.
But if you are specifically looking for a mechanical keyboard on your gaming laptop, this one's not for you. I am not trying to undermine the keyboard here, as 8/10 times if someone tries this keyboard they will like it. It's really good. Oh, and it has a full number pad as well, which for me a make or break kind of feature as I frequently use it.
The keys have individual RGB, meaning this gives you ultimate control to choose what and how each and every individual key should light. The RGB lights on the keyboard feel very powerful and are a really nice touch. I usually set it to white and sometimes while gaming alters between different lighting which you can easily control and set using the AORUS control center.
5. Compact, Powerful, Reasonable Weight
AORUS 15P weights around 2.2 KG and even though that does not sound very light. For the amount of power this machine packs and the build material, it's quite reasonable. Even though the screen is not the best I have seen in laptops for using outside(Inside is good especially with that refresh rate, but more on that in the future articles).
When you lift the laptop, it might feel slightly heavy but once you open it and start using it you will forget about the weight. And to be honest, a laptop that is packing all these features and costs more than your average laptop will have to be a desktop replacement. I use it hooked up to a Samsung 5K Monitor and I cannot be more thrilled.
I have used it outside as well but like I said the screen is a big issue especially if you are not under a shade, it gets very difficult to see the screen clearly.
Finally,
These are 5 of the features that I think makes Gigabyte AORUS 15P XD 2021 one of the best portable gaming laptop of 2021.
I am working on the review, if you would like me to check some applications or things you would like me to check out.