Earlier Samsung galaxy phones were easy to turn off and restart. The case is not the same with Samsung Galaxy s20. If you've never used the phone, you might be wondering how to turn off Samsung S20, right? It's easy to do it, but not the same as on other traditional android phones.
There are three main ways to turn off Samsung S20. The button coordination is different but you can also turn off Samsung Galaxy S20 from the UI. Please refer to the screenshots below and the step-by-step guide. You can turn off and restart any galaxy phone with the latest android OS following these steps.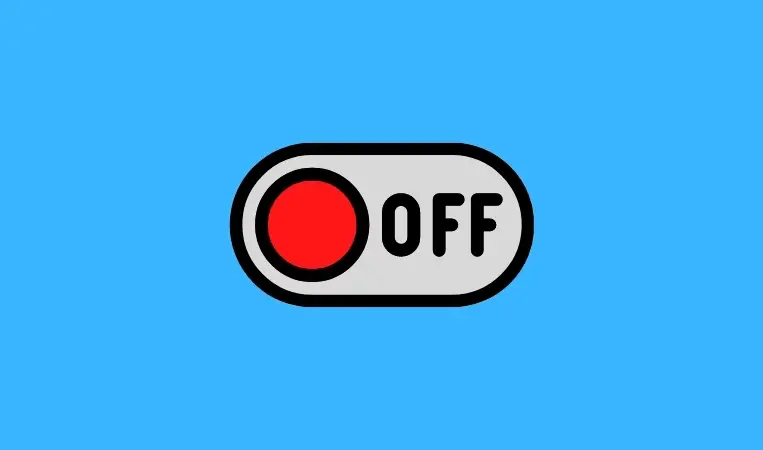 READ: Awesome Free Android Photo Editing Apps You Should Try
How To Turn Off Samsung S20 : 4 Easy Ways
I felt like a dummy when I first tried to turn off the phone after using it. Well hopefully, this article will protect you from feeling the same.
Long Press Side Buttons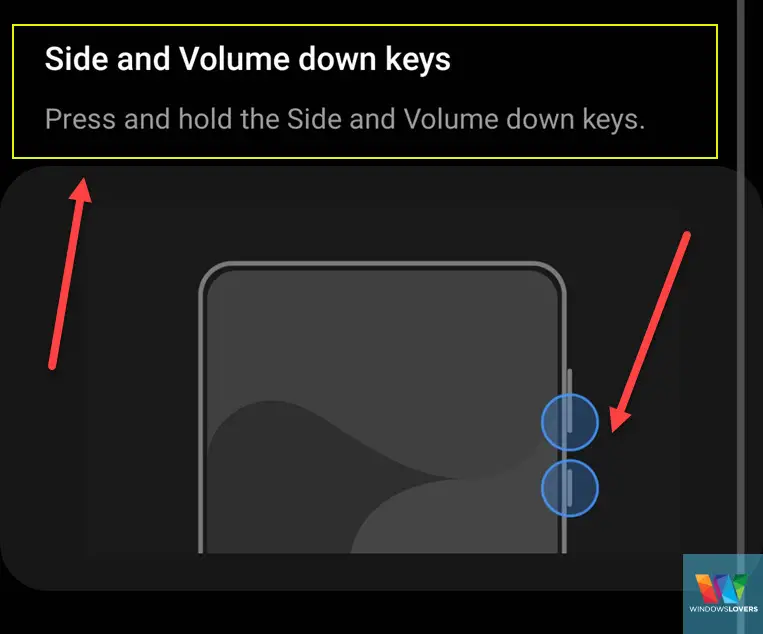 The easiest way to turnoff Samsung S20 or quickly restart it, press the "Volume down" and "button under the volume rocker". Press and hold these buttons for few seconds and you will see a screen similar to the image below.
Tap on the "Power off" button to turn off your Samsung S20 and tap on the "Restart" if you would like to restart the phone.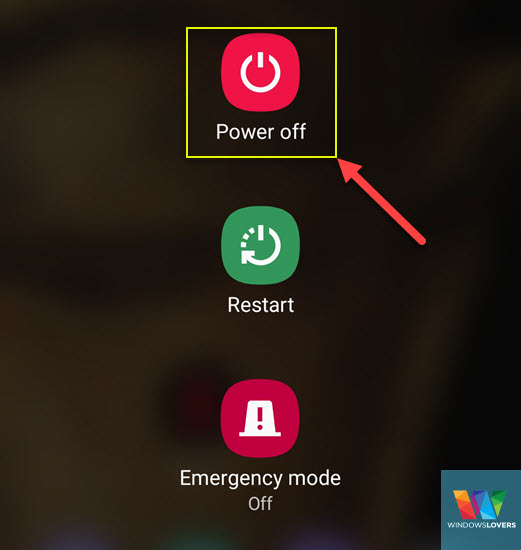 You can program the side key that's located under the volume rockers on your Samsung Galaxy phone to open any app or do a certain task. Samsung allows you to program this to open up the Power off menu on a long press if you would like that.
Go to settings and on the top search for "Side key" or go to Settings > Advanced features > Side key.
READ: Download and Google Maps Offline- GUIDE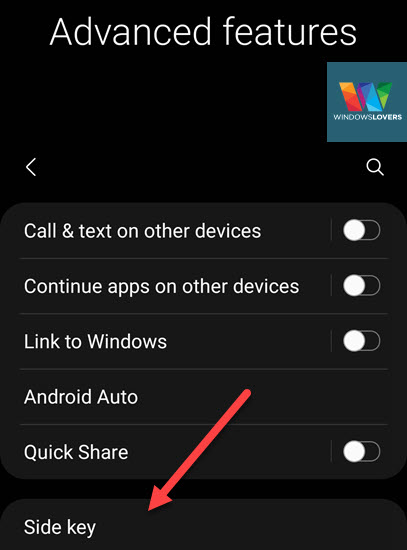 Under the "Press and hold" option, set it to "Power off-menu" instead of "Wake Bixby".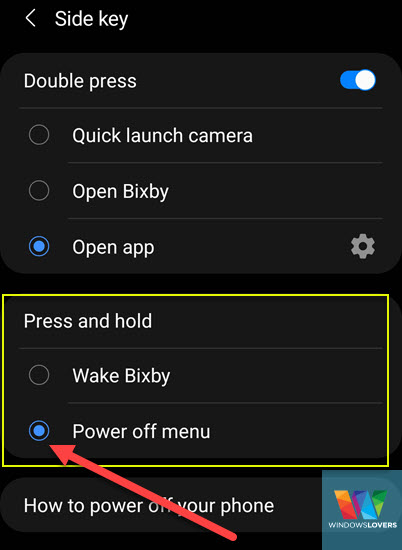 Close the settings and try long-pressing the button and see if it gives you the Power options.
READ: How To Mirror Your Android Phone's Screen To A PC
Quick Panel
Samsung has added a new option to access the power options from the UI itself. This option is available for all the new Galaxy phones running the latest version of Android and Samsung's UI.
It's very easy to access, so if you are not able to get to this page by long-pressing the button, you can try this.
Unlock your phone and using two fingers swipe down from the top. This opens a fuller version of the Quick settings panel.
On the top right corner, you should see a power button.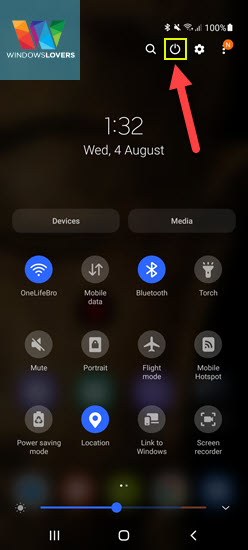 If you don't see it, it's not the full version of the quick settings panel. You might need to swipe down furthermore to access it.
It takes you to the power options page, and turn off Your Samsung Galaxy S20 by tapping on the "Power off" option and restart tapping on the "Restart" button.
READ: Get Rid Of The Google Voice Assistant From Your Android Phone
Ask Bixby To Do It For You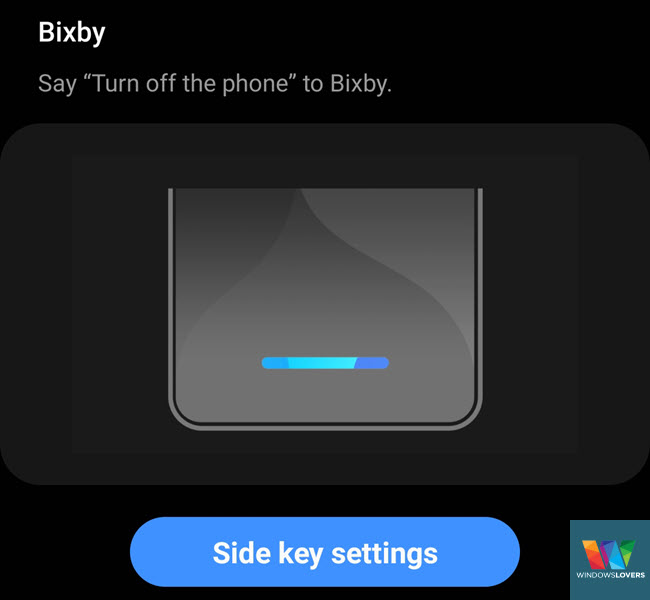 This option is a bit more work, but after you set it up once, in the future you can just ask Bixby to restart or turn off your Samsung S20 for you.
Open the Bixby app and if you have never logged into the app with your Samsung account, do so.
Setup the Bixby app for voice recognition and once that's done you can initiate Bixby by saying "Hi Bixby".
It works even while the phone is locked and sitting on a table away from you.
Say "Hi Bixby" and ask it to turn off your Samsung phone.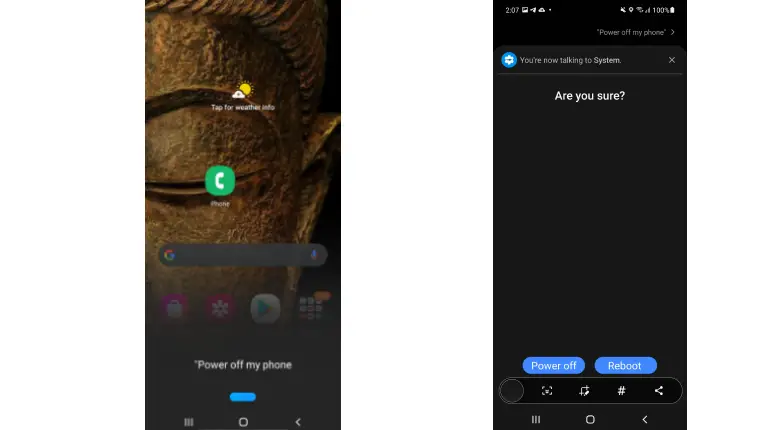 It will ask for confirmation, once confirmed from your end, the phone will be turned off.
That's how to turn off Samsung S20 and any Samsung Galaxy phone for that matter.
If you are still facing any issues, please let me know in the comment sections below.