Instagram has over 400 million active everyday users. Around 90 million photos and videos are shared over the platform every single day. Keeping those facts aside, Instagram direct is also the major means of social communications these days. As we all know Instagram is known for its minimalist look and UI contrary to its big brother(Facebook). When it comes to Instagram direct messages, the case is quite similar.
Instagram's direct messages are easy to use but I must admit the functionality and the features that the directs messages pack are not too promising.
If you must sit on your computer all day and use Instagram direct messages often, would not it be convenient to use Instagram direct messages on PC/Mac. Well, in this tutorial I go over few different ways you can get Instagram direct message on PC / MAC. If you want to post stories to instagram from camera roll after 24 hours you should read this.
Instagram's Direct messages can be accessed and used from following devices and the procedures will differ.
Instagram Direct Message for PC(Windows 10, this is free).
Direct Message For Instagram On The MAC ($2.99).
Instagram Direct Messages On PC(Windows 7, this is free).
I've tried to cramp in as much screenshots as I can for you guys to get through as easy as possible. Any confusions, shoot me a message on Facebook or leave a feedback in the comments section below.
Instagram Direct Message For Windows 10 PC
Windows 10 brought along, a revamped windows 10 App store. I personally was not quite a fan of the old windows 10 app store, but the updated store is dope.
Happy new for all the windows 10 users out there, as Instagram has developed an official Instagram app for its windows 10 users. No, it's not the unofficial, half life app that does nothing but just loads your news feed.
Instagram app for windows 10 brings Instagram Direct Messages To PC. Let's see how you can get it installed and start direct messaging your Instagram friends from the app.
i)Hit the windows key on your keyboard or open "Start" from the bottom left corner of your screen.

ii) Open windows store "STORE".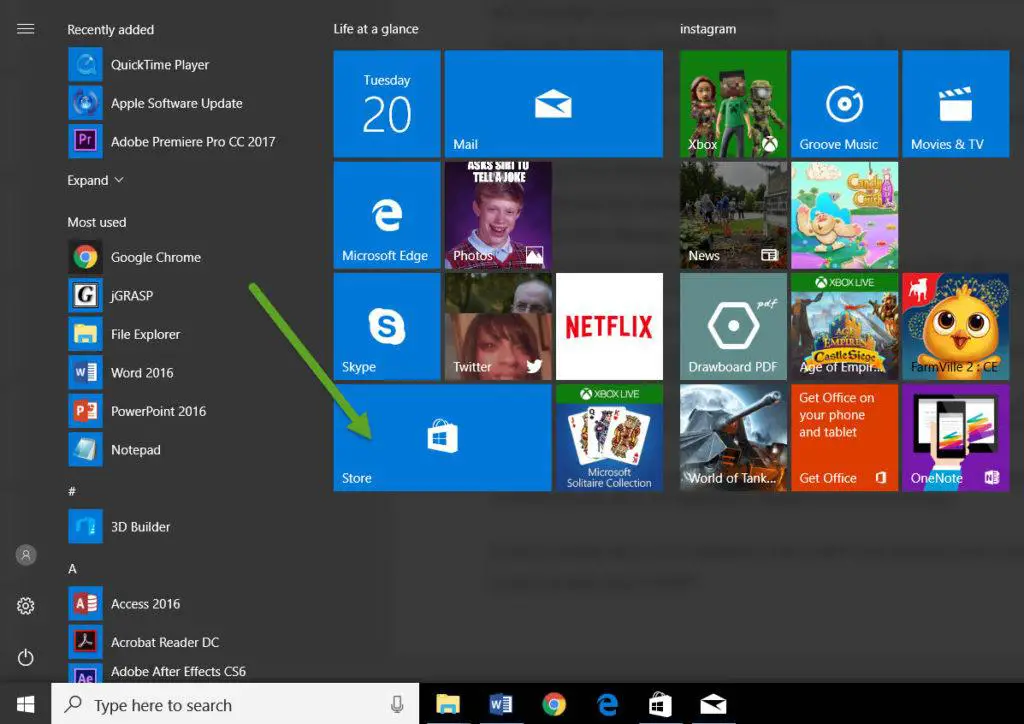 iii) Search for "Instagram" and click on the first result that pops up. If that's not the case, scroll and find the app that looks like the one we have in the screenshot below.
iv) When the app's description page loads up, click on the install button.
[the_ad id="2446″]
v) The app will now start downloading. Depending on your internet connection the download and installation of the application might vary.
vi) After the installation is complete, open the application by clicking on the "Launch" button.
vii) Log in into your Instagram account and you will see an exact UI that you would normally see on your phones.
viii) To direct message someone or access your messages click on the direct message icon on top right corner of the screen.
Direct Message For Instagram For MAC ($AU4.49)
Direct message for Instagram for mac is a paid application and can be downloaded off the app store. Though you must pay the $4.49 price tag, I would say it is worth it. I could not find any other ways you could get direct message on mac OS. Even though I have not used the application myself to be honest, the app has some good reviews online with a solid 4-star rating from staggering 11 Customer reviews.
The UI of the app almost matches Instagram's basic DM's interface. You can start new conversations, continue the ongoing conversation and open all the videos and photos shared between your friends.
The only con with the application that might bother you is that whenever you open a photo/video it opens the official Instagram app. This must not be much of an issue for anyone trying to use Instagram direct on MAC.
Get Direct Message For Instagram For MAC From Here.
Use Instagram Direct Messages On Windows 7,8,8.1 PC
Unfortunately, Instagram has not released an official app for windows users prior windows 10 i.e windows 7, windows 8, windows 8.1 users. But, one does not have to be disappointed because there is a way you can use Instagram DMs on your windows PC.
Note: This process involves using an android emulator. So, if you are one of the users like me who do not prefer using emulators, SORRY!
Andyroid is the android emulator we will be using in this tutorial. There are plenty of tutorials out there that guide you to install Instagram on PC and use Instagram DM using android emulator. Most of the users use Bluestacks and few other applications.
[the_ad id="2447″]
The main reason behind using Andyroid is its performance. Other android emulators tend to lag and perform quite slow even under over decent configurations. Andyroid android emulator performs faster and is not as laggy as compared to other android emulators.
First things first, please go ahead and download Andyroid emulator from the links below. I've provided direct download links to "Full version Andyroid offline installer". This should provide you faster download and reliable installation process all together.
Things to remember before you install and use ANDY
I . You should have a decent system to install and run Andyroid emulator. Please go through the minimum requirements here.
ii . Virtualization should be enabled on your computer. Not all systems support virtualization, so please confirm that first.
Now let's get in to the installation and how to use Instagram on PC using andyroid.
i) After the download and installation has been completed, run the application.
ii) Next you will be asked to create an account. Create a free account.
iii) After logging in, get into the play store.
iv) Install Instagram and you should be all good to use Instagram DMs on your PC.
That's it folks,hope this helped you to use Instagram Direct Message on PC or Mac OS. Any confusions, let me know below! Peace!