If you are planning for an online event or just a quick catch-up with friends, sending invites and getting the guest list ready can be a lot of hassle. Thankfully, there are a lot of evite websites that allow you to send an evite and prepare a guest list for your next event. And if you've never sent out an Evite before, this is a guide on how to send an evite online for free.
Among thousands of websites and evite services, we've compiled a list of best evite websites before. If you are looking for one that fits your purpose, please go through that and find one that you would like to prepare and send an evite from.
For the purpose of this guide, I will be using Evite.com. This is one of the widely used website and is fairly simple to use as well. But if you are looking for more exciting and premium features, this might not be the one for you.
How To Send and Evite Using Evite.com
Evite.com offers free and premium invitation templates, you can get so much done just with the free templates on the site. If it's a special event or a corporate event, you might want to look into the premium templates too.
Signing Up For Evite.com
The first process is to sign up for a free account on Evite.com. You can also sign in with you Google account, apple account, or Facebook.
I've chosen to log in with my Google account which only takes a couple of steps to setup.
 Once you are logged in, click on the "Create Invitation" button to create your first evite.
You can select any of the available templates, you can also only list free templates to use. Click on the "Free" checkbox on the top to only see the free templates.
Open the template you think best suits your event.
Customizing Your Evite Template
On the next page, you can edit and customize the template furthermore to your liking.
At the bottom of the page will be the message one will receive when they receive the evite. Make sure to use some cool text abbreviations to add some character to your evite if that's necessary.
You can click on the devices icon to see how your template will appear on different devices.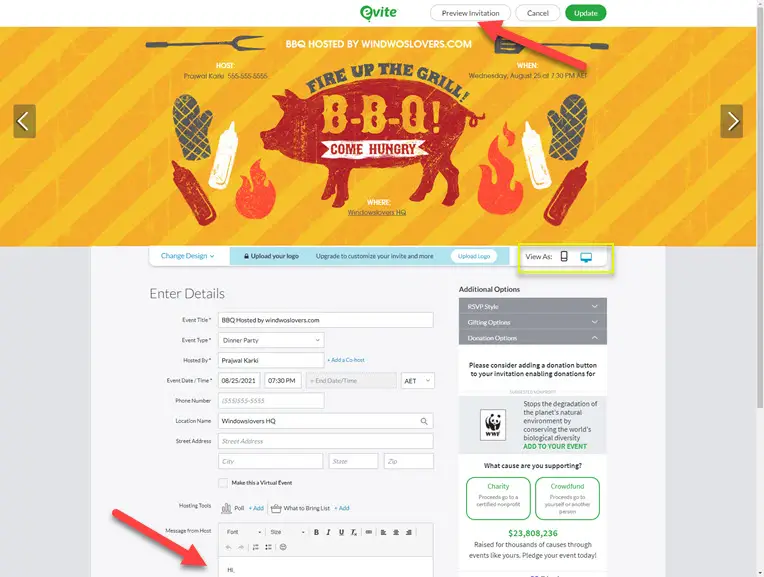 Amidst customizing the template, you can also click on "Preview Invitation" to view how your final invitation will look like on the browser.
Once you are happy with the evite you've created, the next step is to send out the people you are looking to invite.
Sending The Evite and Keeping Track Of Your Guests
You can either upload a file with all the contact details if you have a huge list. Alternatively, you can enter them in the text box, just make sure you separate them with a semicolon ( ; ).
Once the guest's email address or phone number has been added, click on "Add Guest".
You can modify your guest list after they've been added to the list from the list underneath the textbox. Like alternative names, wrong email addresses, etc.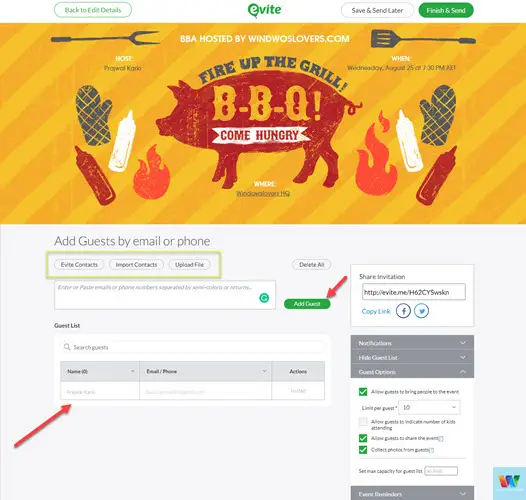 Click on the "Finish & Send" button on the top right corner of the Evite.com window.
After the invitations are sent out, your guests will receive an email that looks similar to the one below.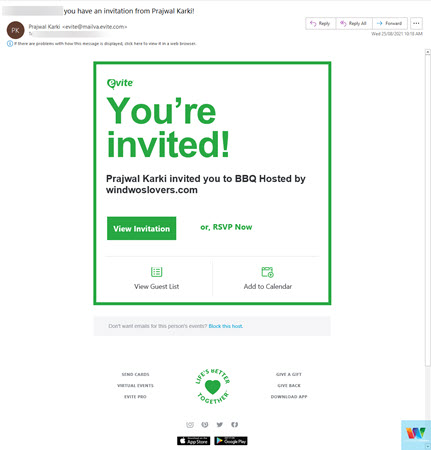 They can add the event to their calendar, view the guest lists, and also RSVP directly from the email. How cool is that right?
After clicking on the link in the email, they will be taken to the RSVP page. They will see the welcome message that you type earlier while customizing your evite.
They can see any messages you might have posted for the event, but they need to RSVP first if they are trying to see the photos for the event.
Keeping Track Of The Guests
Evite.com makes it easy to send an evite and even easier to manage and interact with them all from a single place.
From your dashboard, click on the event that you are trying to manage and monitor.
To see who has RSVPed and who has opened the invitation but not given any response yet, click on "Manage Invitation".
This opens up the guest list and other options such as adding new guests, sending messages to all the people in the lost, and much more.
On the Guestlist you can see the status of all the email addresses or phone numbers that the evite has been sent out to.
You can go through the list and note down people that might not open the invitation or have not responded to it yet.
Send An Evite Like A Pro
If you are using free templates, your guests and you might see few ads in the process. They are not annoying popup ads or such but just Evite.com trying to upsell other products and services. No need to worry as they don't look that bad and might be a product that your guests might be actually interested in.
Evite also allows your guests to directly purchase a gift from Amazon from within the invitation, so I would give this experience a solid 8/10.
If you use or have used other websites to send online invitations, please let me know in the comments section below.