NEAL.FUN Spend bill gates money game, the title explains itself what it actually is. It's a simple mobile game that allows you to spend money like bill gates as you own it. I played it too and here's what I think about it.
A web app/game developed by Neal Agarwal that lets you spend 100 Billion dollars on a bunch of items that are available in the game. And no, I did not find a shipping section. All you can do is buy as much stuff as you want, which ranges from an NBA Team, Cruise Ship, Skyscrapper, or a Big Mac. As you continue to purchase more items, the total sum of the amount decreases gradually.
For someone looking to add some color to their desktop, check out some cool trippy wallpaper collections and provide suggestions if you have more.
Neal.fun Spend Bill Gates Money Game: What?
Nothing fancy when it comes to the UI or the overall experience. The UI for the web app and the phone is pretty much the same. However, on the mobile app, you only have 60 seconds to spend all that money. There is nothing to win, no records to smash except for your previous best record of spending 100 Billion.
It lets you have a taste of what it feels like to have billions of dollars to spend. Well, it's not quite easy unless you just want to buy a few NBA teams and nothing else. You can see in the screenshot below, by spending 100 Billion dollars I get to keep all the following stuff.
Anyone hosting an online event can use this game to have a little break and maybe include a link while sending free online invitations with rsvp for your next upcoming online event.
Neal has added new items that users can choose from for the NEAL.FUN spend bill gates money players.
Netflix, Auto Rickshaw, Formula 1 car, Elon's Tesla, Lobster Dinner to name a few.
If you would like to try it out yourself, head over to neal.fun and spend that bill gates money on products that have always dreamt of purchasing. Yes, you only own it virtually until you refresh the page.
READ: Some Cool Text Abbreviations You Should Know
How To Play Neal.fun Spend Bill Gates Money Game?
It's as simple as it sounds, follow the following steps to play neal.fun's money spender game.
Go to https://neal.fun/spend/ , this takes you to the game's page.
You start with 100 Billion to spend with. There are items ranging from a Macdonald's Big Mac to a MacDonald's Franchise, Yacht, Cruiseship, Skyscrapper, or even make a movie.
As you add items to your cart, the balance you started with decreases.

Enter the quantity you want to purchase or sell.
Click on "Buy" and add it to your purchase list and to remove them from the list, click on "Sell".
If you run out of budget to purchase a Mona Lisa painting, just sell some Boeing 747 or an NBA Team. LOL.
This game gives you an idea of what and how much 100 Billion can get you and how hard it can be to spend.
That's all there is on how to play neal.fun Spend Bill Gates Money.
READ: Should You Get A Gaming Laptop For Everyday Use
Other Neal.Fun Games I Love
Like the website's name suggests neal.fun, there are other games and apps that you can play and use on the website. I've listed some of my favorites below.
I keep an eye on any new releases by Neal and update the following list with the most interesting and fun neal fun games from his website.
Neal.fun Absurd Trolly Problems
"Absurd trolly problems" is the latest game by neal that has made a lot of noise online and on Reddit especially. A lot of gaming channels and online personalities have talked about this game or played the game on their channel.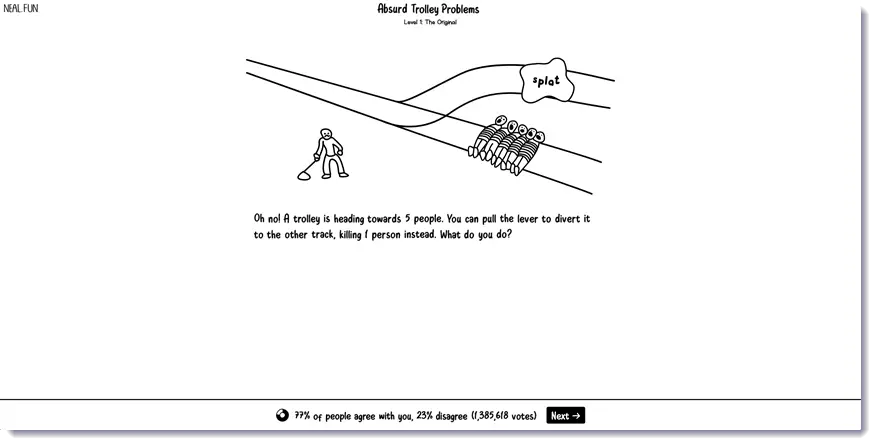 It is based on the experiment widely popular among philosophers and ethicists where a situation is put forward and based on the choices you made in that experiment they would draw different conclusions.
Neal's "absurd trolly problems" has 28 levels. Upon completion of all the 28 levels, you are informed about your kill count and that you have solved the philosophy or whatever that means.
This is one of the most fun "neal.fun" game among others. Feel free to play and let me know your absurd trolly problem's highest kill count in the comments section down below.
Draw Logos From Memory Game
The "Draw Logos From Memory" game tests your memory on the logo of a few of the popular brands we currently have.
At the time of me writing this article, there are 11 logos in the game.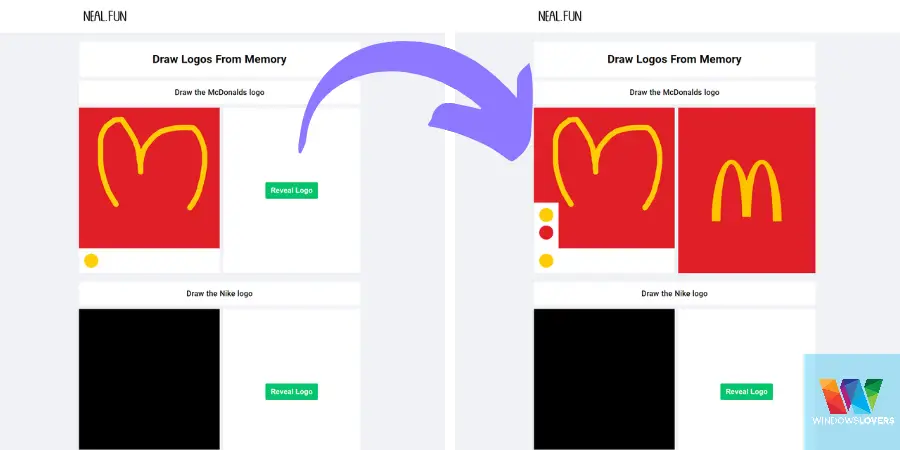 There are logos from companies listed below in the game:
McDonalds
Nike
Apple
Starbucks
Amazon
Pepsi
Twitter
Snapchat
NASA
Google
Android
Spotify
Once you are on the game's page, you are given a box within which you draw the logo as you can imagine. One can also choose different colors that are used in the original logo from the selector right under the drawing box.
When you are ready, you click on the "Reveal Logo" button right next to the logo you just drew and compare the results.
Life Checklist
Life checklist has to be my favorite among other cool apps at 'neal.fun'. Have you ever wanted to have a checklist for life with all the major milestones and events you would want to see, do, or experience? You have to check out Life Checklist.
Go to Life Checklist and see how many life events you've had among 66 listed on the site. It has some interesting events, make sure you share your score in the comment section below.
Life Stats
Life stats give you a report of a bunch of different things that have happened since you were born. You simply enter your birth date, and the app tells you how many days have you been alive, how many RBC has your body produced since then, or how much has the CO2 percentage increased since your birth. It's quite cool, you have to try it.
Neal.fun Spend – Printing Money App
Not actually a game but it shows how much money is being made by different groups of people. For e.g. someone with a minimum wage, Walmart, Twitter, and much more.
You can also enter your wage and see how fast or slow is money being printed and coming your way.
So, head over to neal.fun, and start playing the spend bill gates money and other cool apps on the website that you can use for free.
Is there an official app for Phones?
No, there is no official neal.fun app at all. Please be careful downloading any apps that might pretend to be an official app from Neal.
Let me know your favorites in the comment section below.