Windows 10 is jam-packed with lots of features and tools to make sure you get the best when it comes to productivity or getting things done. Even though Windows 11 does look like a major change, it's mostly the UI and the UX, the core components are still almost the same until now. One of the most underrated tools is the Windows Snipping tool. This article aims to help you learn how to make the best use of this free tool and other cool windows snipping tool shortcut and much more.
Windows 10 is moving away from the default Snipping Tool and merging into Snip & Sketch. The Windows snipping tool shortcut is "Windows" + "Shift" + "S", pressing this together will trigger the Windows Snip & Sketch tool. There are lots of modes and extra tools you can use to make your screenshots on windows 10 more meaningful and well elaborated.
Windows Snipping Tool Shortcut & Guide
To quickly open the snipping tool, press the "Windows" + "Shift" + "S" key together on the keyboard. Even though this only opens up the Snip and Sketch screen capture bar, it should be enough for you to take your screenshot.
Once you press the keyboard shortcut, your computer directly goes into screenshotting mode. By default, you can select a rectangular area on the screen and capture it as a screenshot or further edit it.
As seen in the example below, once the windows snipping tool shortcut is pressed, I can select anything on the screen and after selecting, the screenshot is saved in the clipboard. If you need to edit it, you can press on the screenshot notification you receive on the bottom right corner of the screen.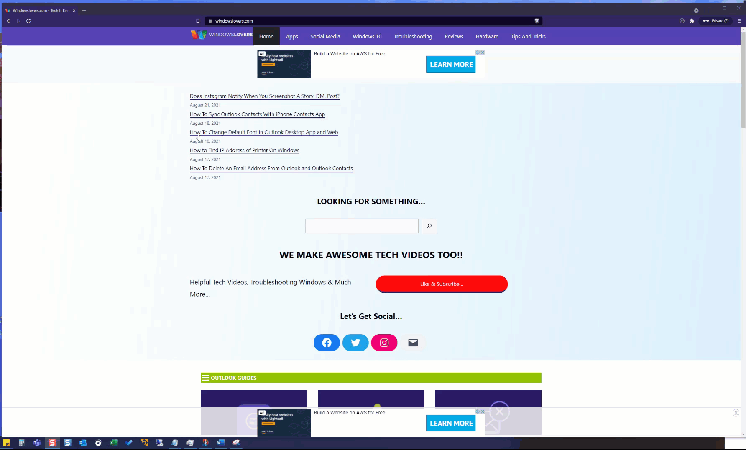 If you simply need to send screenshots in email, add them to the word document or quickly attach to online messages you are sending, you can directly paste it from the clipboard.
For e.g., if you quickly need to screenshot a part of a page and attached it to the email or insert it in a word document, you can directly do it by screenshotting and hitting "Ctrl" + "v" which is a shortcut to paste.
You don't even have to save the file, that makes it super simple and easy to use the Windows Snipping tool shortcut.
Windows Snipping Tool – Tips & Tricks
I don't rely on the default snipping tool as I use Snagit as I have other requirements that the default Windows snipping tool does not fulfill.
But I'll go over some of the best tips and tricks when it comes to using Windows snipping tool shortcuts.
By default windows 10 have some screen capture shortcuts and each serves a different function.
"Windows Key" + "Print Screen"
Pressing the "Windows" + "Print Screen" will directly take the screenshot of the whole screen and save it in a "Screenshots" folder in your "Pictures" folder.
"Alt Key" + "Print Screen"
For capturing the currently active windows you are in, you can hit the "Alt" + "Printscreen" key on your keyboard which screenshots the currently active window and saves it on your clipboard. This does not automatically save the screenshot as an image as the earlier step does.
Creating Custom Snipping Tool Shortcut Keys On Windows
You cannot create custom shortcut keys to screenshot a certain section or a custom snip. But you can trigger the Windows snipping tool with a keyboard shortcut and use the keyboard to continue using the tool to create screenshots on Windows.
Please keep in mind that not to user default shortcuts that might be assigned to some other apps, such as a shortcut to search for a word on a page or webpage.
First, let's see how you can open Windows Snipping Tool with a keyboard shortcut.
Go to Start and search for "Snipping Tool", right-click on it, and click "Open file location".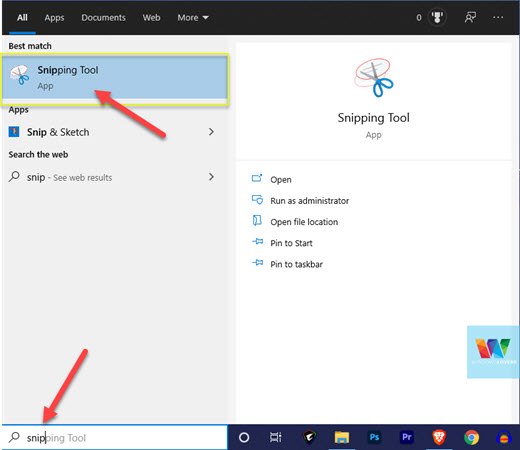 Once a new window opens up locating the "Snipping Tool" app, right-click > Properties.
Go to the "Shortcut" tab and click on "Shortcut Key:" and enter any key combinations you want to trigger the Snipping Tool. Once set, click on "Apply" and "OK".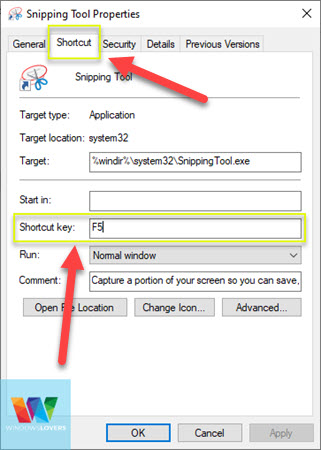 If you press the shortcut key, it opens the Windows Snipping Tool, and you can use the additional shortcut keys for the Windows snipping tool.
Summing Up,
I use these keyboard shortcuts all the time for writing articles for this blog. Especially while writing emails and sending screenshots on any messaging app, I use the Windows + Shift + S keyboard snipping tool shortcut as this saves so much time and since it saves it in the clipboard it does not take too much space.