TalkBack is a feature introduced by Google back in 2009 as a part of their android OS. TalkBack allows people with low visibility or blindness to use their phones with voice feedback using the talkback feature. If you have accidentally enabled this feature on your Samsung phone or any android phone and wondering how to turn off talkback on Samsung android phone, follow the guide below.
If you have enabled TalkBack feature on your phone accidentally, you can turn it off by using a shortcut if that is enabled. If you have a Samsung phone and know how to turn off a Samsung phone, the shortcut is quite similar.
If you are trying to disable it on a phone that is not yours, please be mind full and confirm if you should not turn off talkback on that phone in the first place. The main reason is that the phone manufacturer might have added extra features or process on top of the default android OS to accustom to their needs.
How did I accidentally turn on TalkBack?
The default shortcut key for turning on the TalkBack feature on Samsung android phones is long pressing both volume keys and holding them for a few seconds. You might have accidentally turned on TalkBack by somehow pressing this shortcut while using your phone or while it was in your pocket.
This talkback shortcut is disabled by default on most Samsung android phones these days. I have tested this on two of my Samsung phones and the default TalkBack shortcut was disabled on both.
On some android phones, you might want to turn off google assistant as well and see if that is triggering the TalkBack feature.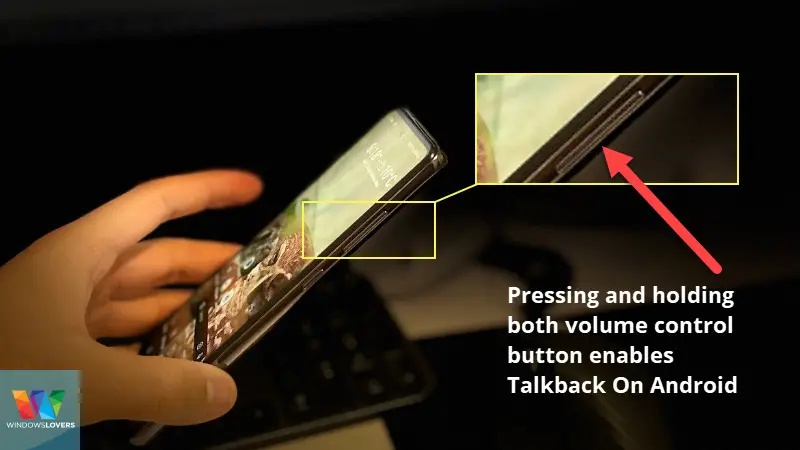 Now let me guide you on how to turn off talkback on Android phones.
How To Turn Off TalkBack on Android Phones?
You can turn off Talkback on Android or Samsung phones by swiping up with two fingers > Double Tap Settings > Accessibility > TalkBalk "OFF".
Let me elaborate on the process and guide you step by step on how it's done.
To turn off the Talkback feature on your Android phone, do the following:
Swipe up with two fingers to bring up the menu options.
Use two fingers to scroll through the menu list and open "Settings".
You need to double-tap on the icon to open it, this remains true until you turn off TalkBack on your phone.
Find and open "Accessibility".

Open "Talkback" or "Screen reader" and turn that off using the button next to it.
That's how to turn off talkback on Samsung android phones.
As I mentioned earlier, you can follow this guide to disable or turn this feature off on any Android phone since it's an android feature.
How To Enable/Disable The TalkBalk Shortcut on Android?
If you are annoyed that you are accidentally triggering or enabling talkback on your android phone, you should check and turn off the shortcut for TalkBack on your phone.
Yes, the shortcut for this feature is turned off by default on the latest Android versions. However, if you have an older Samsung phone running an older One UI or Android version, you should disable the shortcut.
To disable the shortcut on a phone running the latest android software, do the following:
First, disable talkback since it will make it easier.
Go to your phone's settings page and open "Accessibility".
Open "Talkback" and look for the "TalkBack shortcut" option. See the screenshot below for reference.
Tap on the slider next to the option to turn the shortcut off.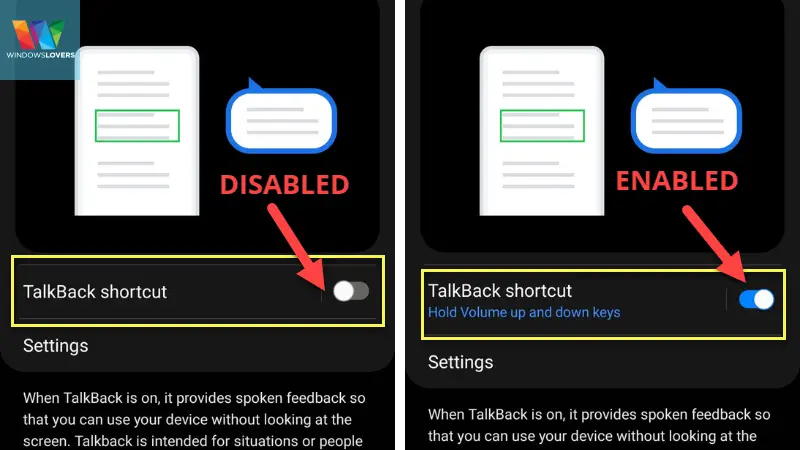 To do this on an older Samsung phone or older Android builds, do the following:
While talkback is disabled, open settings and go to "Accessibility".
Find advanced settings > Direct access
Tap on the "Volume up and down keys" option if your phone has one.
You can either turn it off or select a different service from the option underneath.
Finally, chose if you would like this shortcut to be available on the lock screen too.
The above mentioned settings will differ depending on your android phone manufacturer and the Android version that phone is using.
If you are in desperate need of help, leave a comment and I'll try to provide as much help as I can.
How To Disable Talkback on Android Without Settings?
There are two main ways one can enable or disable the talkback feature on an android phone. One is from the settings page and the other, using the default shortcut – long press both volume buttons for a few seconds.
But is it possible to enable/disable it without getting to the settings page? Technically yes, but for the talkback shortcut to work, it has to be deliberately enabled from the settings page in the first place.
Given the shortcut is enabled, do the following to disable talkback without settings
Press and hold the volume up and the volume down buttons for a few seconds.
If pressed correctly, you will see a notification badge stating that the feature has been disabled.
Let go of the buttons once the feature is turned off.
It can be tricky at times on some phones to trigger the feature using the volume keys.
Does It Trigger Phone Volume Levels Instead?
If it's triggering the accessibility or music volume levels and you are using a much latest version of Android, it usually indicates that the TalkBack shortcut has not been enabled in the first place.
You won't be able to turn off talkback on android phone with the shortcut settings off without accessing the settings page.
Is Talkback Feature Enabled While Setting Up A New Android Phone?
If you have accidentally enabled this feature while trying to setup a new phone, it can be quite frustrating. You cannot do much, as you are not usually able to use the shortcut to turn it off or get to the settings page.
What you should do in this case is :
Use two fingers to scroll if needed.
Swipe right to get to the next menu icon and left for the previous one.
Tap on an option to select and double tap on it to select that option.
Using these tips, setup your phone and turn off Talkback following the above mentioned process.
Frequently Asked Questions
Why is my phone talking to me?
You might have accidentally enabled the screen reader or the talkback feature on your phone. Disable that feature to stop your phone from talking to you.
How do I turn off voice assistant on Samsung?
To turn off voice assistant, go to Settings > Accessibility > Screen reader and turn that feature off.
Why does TalkBack automatically start?
Either you might have pressed the shortcut that enabled it or some application on your phone might be triggering TalkBack as a result of some bug.