Samsung Galaxy buds are fantastic wireless Bluetooth headsets. I would not say the same when they first came out, but now after years of software updates, My Samsung Galaxy Earbuds work really well. I connect my galaxy buds to the laptop and it works and pairs without any issue. This guide is a step-by-step guide on how to connect galaxy buds to Chromebook.
Pairing galaxy buds to Chromebook is very easy and the process is identical to connecting buds to your iPhone or Galaxy phones. The UI is a bit different and there might be some issues you might need to troubleshoot to get your Chromebook to detect your Galaxy Buds.
How To Connect Galaxy Buds To Chromebook
If you are facing any issues while connecting Galaxy Buds to Chromebook, please refer to the FAQ section. In case you are facing any other issues, please leave them in the comments and I will try to find a fix for that issue.
Put the buds back in the case and close the lid. If you have any other devices that might be paired to the buds previously, make sure Bluetooth is disabled on them. Galaxy buds has this weird issue where if you have another paired device, your Chromebook won't detect it.
On your Chromebook, open the settings page. Either you can click on the time on the bottom right corner of the screen and click on settings or press "Alt" + "Shift" + "S" together on the keyboard.
If the Bluetooth is turned off, click on the slider to turn it on. Once Bluetooth is enabled on the Chromebook, click on it to open the list of Bluetooth devices.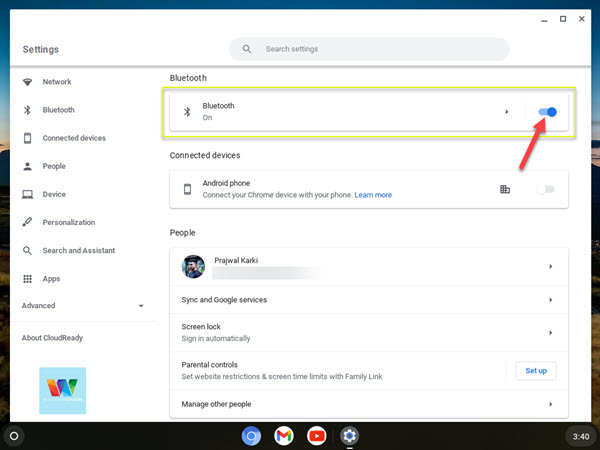 Open the lid of the Galaxy Buds case but leave the buds in the case.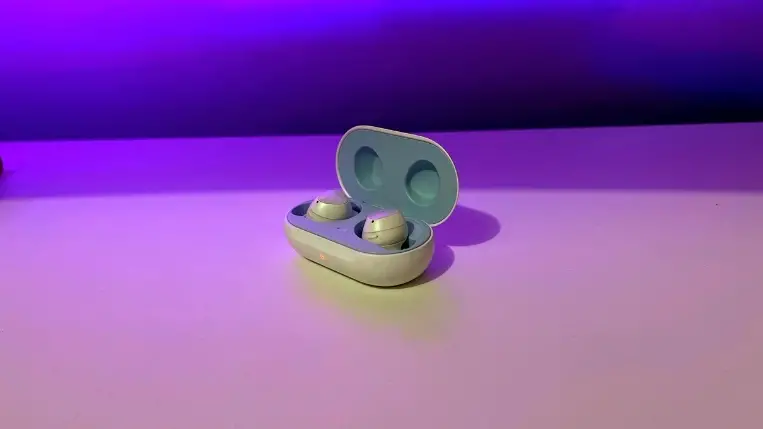 Now, wait for the Buds to appear under "Unpaired devices". The name might be different on your end, click on "Galaxy Buds(773A)" and wait for the pairing process to be completed.
Note: If there are more than one devices listed that looks like the Galaxy Buds, always connect to the device named as "Galaxy Buds(***)" and not "Buds***".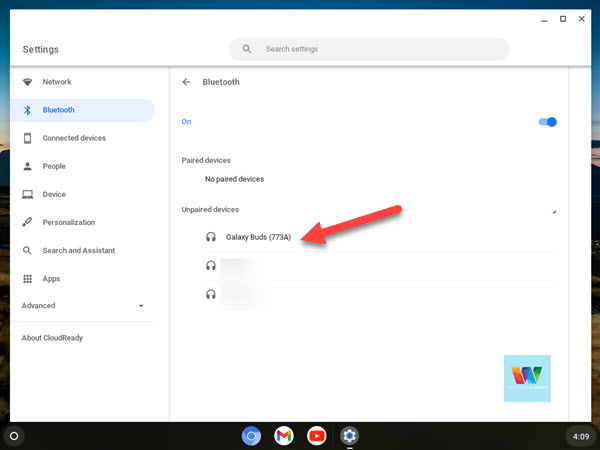 Once the pairing is completed, the Chromebook audio should start playing from the GalaxyBuds.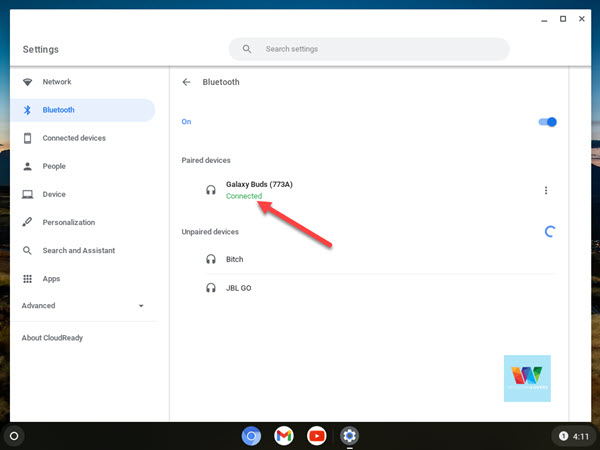 That's how to connect galaxy buds to Chromebook.
Now let's look into some issues you might run into while pairing Buds to your Chromebook. Like mentioned earlier, any issues except the ones listed in the list, please leave in the comments so I can look into the possible solutions for them.
If volume levels are too low on your buds, you can read our guide to fix low volume on your Galaxy Buds.
FAQS – Pairing Galaxy Buds To Chromebook
1. Chromebook is not detecting Samsung Galaxy Buds
Assuming there is no issue with Bluetooth on the Chromebook, Samsung buds sometimes won't be able to communicate with other devices.
One of the main reasons is that you probably have another device that the buds have been paired to and used. Even though the buds are not connected to that device, if that device has Bluetooth turned on, the Buds will constantly look for and try to connect to the recent devices it was connected to.
The solution is to just not have any devices that have Bluetooth features on them and if there are, you need to make sure that the Bluetooth has been turned off on that. This can be another iPad, phone, laptop any device with Bluetooth functionality.
2. Why won't my Bluetooth headphones connect to my Chromebook?
If you have previously connected your earbuds to the Chromebook before but now it won't reconnect, you can reset galaxy buds completely.
Open settings and toggle Bluetooth "On" and "Off" and try and see if the headphones connect.
Worst case, you will have to repair the headphones to your Chromebook. This applies to any wireless headphones and not just Galaxy Buds.
If you want to repair or rest galaxy buds, put them in your ears and press on both of them with your fingers. Press and hold for at least 10 seconds until you hear a constant chime.
On the Chromebook, remove the Galaxy Buds previously paired and look for the new Buds that appear on the unpaired list.