Snapchat has been around for more than 10 years now. No one had ever thought that such an informal idea of social networking would do wonders. Here we are, 10 years later where Snapchat is one of the fastest and widely used social networking sites along with Facebook and Instagram.
What makes Snapchat so unique is the way of storytelling features that it provides to its users. Storytelling is the major focus of any user using the applications. The distinctive features range from a wide variety of filters, stories, lenses. You can also share images and videos that will automatically be deleted within 24 hours. But what about the images that are saved in your phone gallery? Can you Snapchat upload from gallery photos?
After the latest update from Snapchat in 2021, there is still a workaround to post a picture on Snapchat without it saying from camera roll. You will need to use a third-party filter that is easy to access and does not violate any terms with Snapchat. Please read below for a step-by-step guide on how to do this.
[Update 2021]
How To Upload Pictures To Snapchat Story Without It Saying From Camera Roll In 2021
If you are just learning that you can upload old photos from your photo gallery to your Snapchat story and would like to learn how to do so, please read below.
Let's see how to upload pictures to Snapchat stories from the phone's gallery without saying it's from the camera roll.
READ: You Can Minimize YouTube On iPhone Without Premium
With the recent changes Snapchat has made, it displays a "From Camera Roll" to your snap you uploaded using a previously taken photo from the gallery. There used to be numerous workaround that doesn't work anymore. Use the below-mentioned trick to fake live snaps in 2021.
But I've found a way that works, at least as of the time I am writing this article. I aim to update this article accordingly as new updates come out. If this trick was helpful, please make sure you share this with your friends and family members that might find it useful.
To upload photos from the camera roll without it saying from camera roll, do the following:
Open snapchat and tap on the "Camera" where take a snap and share it to your story.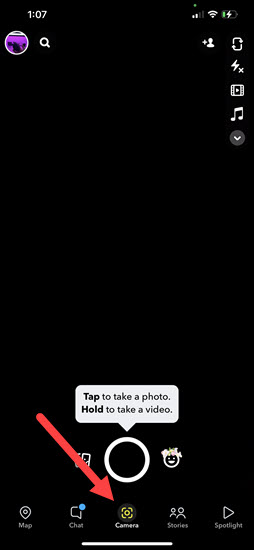 On the top left corner, tap on the search button.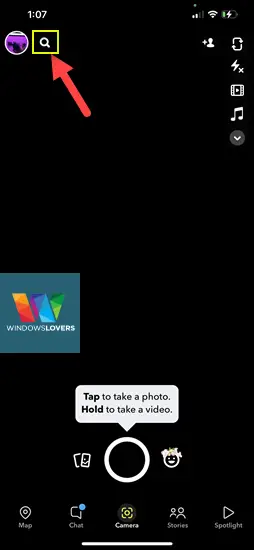 Search for "Camera Roll", it will display a bunch of different lenses. Most of them do the same thing, I tried the Camera roll by mirov_bun and it worked fine for me.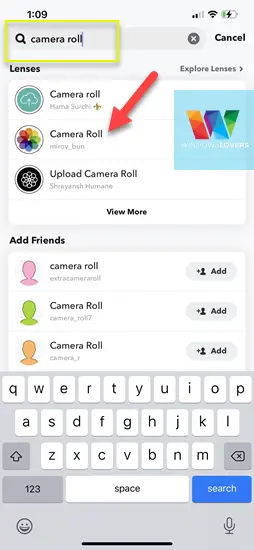 It might as your for permissions to access your photo gallery. Allow the lens to do so.
It will now list all the recently taken photos from the camera in your gallery.
Choose the photo that you would like to add to the snap and tap on the icon on the bottom center of the screen.
Make any changes to the snap as you prefer and tap on "Send To".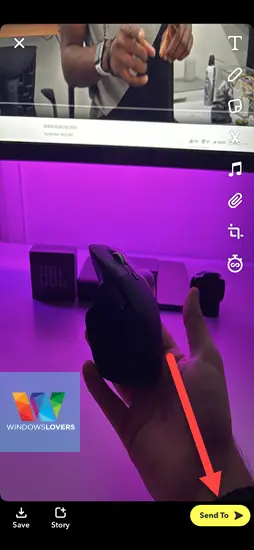 Tap on "My Story" and the send arrow on the bottom right corner of the screen.
Now go back and check the story you just uploaded, the story is uploaded without the from camera roll text on it.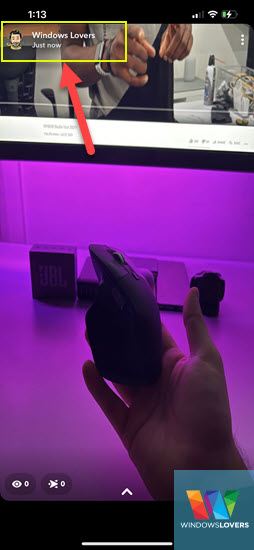 That's how to post a picture on Snapchat without it saying from camera roll in 2021
Watch Video On Removing "From Camera Roll" On Snapchat Story
Before there was no option to upload pictures to Snapchat from phone gallery/ camera roll. With regular updates from Snapchat, you can now upload pictures to Snapchat stories from your phone gallery/camera roll.
Note: All the instructions should comply with the android / iOS version of Snapchat. Therefore, take this guide regardless of what kind of device you might be using.
READ: You can spend money like Bill Gates with this game
Snapchat's latest features that include the ability to upload photos from camera roll to Snapchat's story are only available in the latest updated Snapchat version. Meaning, you must have the latest phone with minimum requirements to upload pictures to the Snapchat story without an app.
But, if you have an old phone or are not being able to update the Snapchat application, we've got you covered.
How to Upload Pictures to Snapchat Story from Phone's Gallery / Camera Roll
Assuming that you have successfully updated your Snapchat to the latest version, follow the instructions as mentioned.

Open snapchat on your phone/device.
Login into your snapchat account or continue if you are already logged in.
On the home screen, you should see a small circle right under the camera snap button. It should look something like in the screenshot below.
Tap that button and this should now open your snapchat memories.
If you carefully look at the tabs on the screen, you should see "Camera roll"
Open camera roll and select the photo/video you want to upload to snapchat story.
When you tap on the photo/video that you want to upload to snapchat story, it opens that image/video. You will also see an "Edit & Send" option under the image.
Tap on "Edit & Send" this will take you to the edit section.
If you wish to add text, doodle, adjust the time limit or more, tap on the small pencil icon at the bottom of the screen.
Do all the required edits and then press the blue send button.
On the next screen depending upon your requirement, either publish it to your "My story" or send it to any of your friends that you want to.
READ: How to check if someone blocked me on Instagram
Things to Remember while uploading pictures to snapchat from camera roll / picture gallery
Even though you will be able to upload pictures to Snapchat from the camera roll, there are some features that you will be left out on or it will not be exactly the same. Let me explain.

The geo location filers will only work on snaps you've taken after enabling memories.
When you share previously snapped photo / video it will have a border around it and says how long before was that snap taken.
If you want to post a video to snapchat story from the camera roll, it will be chopped into 10 second snaps each. So, if you have a minute-long video, you will have 6 snaps of the video that run for 10 seconds each.
Well, that's pretty much it. Hope you are now able to upload pictures to Snapchat story from gallery/camera roll. Any confusion, let me know in the comment below.
Using A Third Part App Instead
Snapchat's latest releases require you to have updated operating systems on your phone for all its features to work. If you are one of those unlucky users who could not update your Snapchat applications, we are here to help.
Note: Using Any Third-Party Applications to access Snapchat is against its terms of use. There have been multiple reports of user accounts getting banned because of the use of third-party applications. So please, proceed at your own risk.
For Android Phones
If you are an android user and run an older version of an android phone, you can use an app called Casper.
This will allow you to upload pictures to Snapchat from the phone gallery.
Note: This application is not available on the app store so you must download the Casper.apk file and install the app yourself.
Using Casper For Snapchat
First download the Casper.apk file from here and install it.
You might be prompted that you might be downloading a potentially harmful software for your phone, just ignore that. To install the Casper.apk, make sure you go to settings and turn the "unknown sources" on. This is the only possible way to get Casper installed on your android phone.

Before you open casper, make sure you log out from the official snapchat application.
Now open casper and login into your snapchat account.
I agree that casper's home screen is not too appealing, but hey this gets you to upload pictures to snapchat story from your phone's gallery!!
On the home screen, you will see a "+" icon.

Tapping on that icon will bring up different options to upload photo to your snapchat story.
Select "Choose from gallery" and select either it's a photo or a video.
Select the photo your want to upload and do the required edits and customization.
On the bottom-right you will see a send icon, tap that and select if you want that picture to be your story or just send it to your friends.
Note: while selecting "My story" option you might struggle, the UI is not perfectly designed. You will get there though!!
That's how you can upload pictures to Snapchat stories from your android phone gallery.
READ: Play a YouTube video in a loop on a PC or your phone
For IOS Phones/Devices
If you are an iOS user there is an app called Upload & Roll (Camera pic and save for Snapchat). You can download it from the apple store.
Using this iOS app, you can easily upload pictures/videos to Snapchat story from your camera roll.
I hope this article helped you to upload pictures to Snapchat story from your phone gallery.
Any queries, let me know in the comments below.
CHEERS!!!!