Laptop batteries are capable of providing juice to our laptop for an average of 2-3 hrs on normal usage. Though a recently bought laptop provide much better and extended laptop battery life, after certain time period they usually drain out faster. So, one should always look into 

h to

 increase laptop battery life or extend battery life of your laptop.
Today at EIT, we discuss some of the proven methods to increase laptop battery life.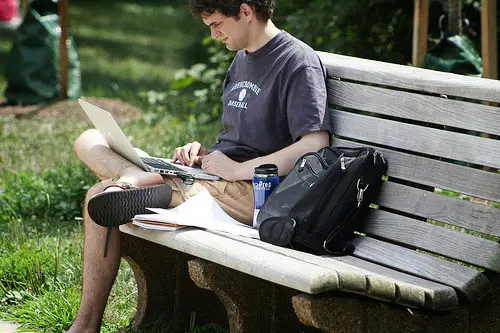 Recommended: 

Connect PC To Internet Via USB Cable Or Bluetooth
Protect Your Laptop Battery Life : While Plugged In
Every laptop users are fond of multimedia. While your laptop is plugged in, just try to maintain balance between your CPU usage and RAM usage. Though this does quite help you with your battery performance, it's always good to be on the safer side.
1. Disconnect the charger after charging completes:
While using the laptop with the charger plugged in, always keep an eye on the battery indicator. Plug the charger out as soon as it indicates that your battery is fully charged. It's true, many of us including the laptop vendors ignore the fact that plugging in the charger after your laptop has been completely charged, slowly destroys your laptop battery life.
2. 

Pop out the battery after charging completes: 
Another way to keep your battery safe from this degradation is to just pop out your battery after it has been completely charged. If you face unknown power cuts at your place and you pop out your battery and suddenly electricity is cut off, you might lose data and also might degrade the health of your laptop. So, just disconnect your charger after it has been completely charged.
3.

 Use Apps like Quickset for dell to stop charging of your battery with charger plugged in

 :
You can prevent or stop your laptop from charging after a certain point using various applications that come with your laptop. Most of us don't know about this feature, to use this feature right click on the battery meter icon on the bottom right on your desktop and select advanced battery option. We've demonstrated a picture of preventing charging on Dell Inspiron laptops using the dell Quickset app.
Protect Your Laptop Battery Life : While On The Go
So, laptops have been made for making computing even more portable and available wherever we go. Though not every laptops can provide enough juice to last all day long or carry on heavy tasks. Still, we can extend our battery life and use them for some more minutes while on the go. All these tips can enhance your laptop's battery performance and last much longer than before.
Enhance Battery Performance On The Go
3. 

Minimize the load ( Apps, Games, Music) while on batteries:
This is the best way for extending laptop battery life. When you are not near the power outlet and are on your laptop batteries just try to minimize the use of apps. Just try to operate a single app at a time. Though music might be an inseparable part of your ;), stop playing music in the background. There's no way they help you get more battery life. 
4. 

Stop unnecessary apps & explorer from the task manager 

: 
Task manager can come in handy when it comes to increasing laptop battery life. I personally use this method and trust me you'll get about 1-15 hrs of more battery life with this tip.
What we gonna do is end all the unnecessary apps from the background including the explorer. They take extra memory and battery. (Remember quit only unnecessary apps, "Not The System Tasks".) Doing so might make your PC unstable.
Open the Task manager. ( Right click on the start menu taskbar or press Ctrl + ALT + Delete at once)

Click on the username tab, which will arrange all the process according to user accounts and will be easier to stop unnecessary tasks. Remember, the tasks under username "SYSTEM" are critical and you should not end such processes.

Now find programs that you know and do not need like, I do not need DAP right now so I end the DAP process.
Also end the "Explorer". Do not panic because your desktop disappears after ending the explorer but this does really save a lot of power. To run any program or open up any file, do as following.

Click on the applications tab and File > New Task. 
This will open up the run. Just click on "Browse" and select the app or file you want to use. (Use file types as : All File Types)
5. 

Use a headphone for audio: 
Using the laptop speaker does eat up a tremendous amount of power as compared to headphones or headsets. It will gradually help to extend battery life your laptop. While watching movies or listening to your favorite songs, it's always best to use a normal external headset. 
7. 

Turn off all the wireless devices: 
Mostly all the laptops have a hardware switch to turn off the wireless connectivity or the Bluetooth devices. Just turn of the devices when not in use. Bluetooth and Wi-Fi devices can eat a lot of battery because the continuing search for devices or access points so turn them off and extend battery life of your laptop.
8. 

USB drives, portable devices and CD/DVD drives:
USB Drives and other removable devices should be disconnected after their use. It's better to avoid these devices unless it's really important.  
One of the most important tip has been to never ever insert or use any kinds of CD/DVD while using your laptop on batteries. These media are the ones which consume the most power as compared to other devices, so avoid any CD/DVD. Using these media to copy a file or installing any applications degrades the laptop battery life the most than any other devices.
9.

 Strictly avoid use of your graphics card (if any) : 
Graphics cards are the beast when it comes to battery draining. They also drain your laptop battery in no time and simultaneously affects the battery life of laptop. So, use your PC for normal use and do not run heavy games and apps  that require  GPU processing.
10. 

Prevent Battery Draining:
Last but not the least, battery draining is one of the biggest reasons behind shorter life span of your laptop's battery. Never completely drain out the battery, stop the use of your PC when it reached to the alert level ( usually 10%-15%). 
Enable hibernation and never let your laptop sleep on itself because you might loose huge amount of data and information. 
Up to You
If followed regularly, in coming days you'll experience an increase in laptop battery life. Your battery life will be extended for sure as we have been able to increase laptop battery life by an hour and now we enjoy a 3 HRS continuous battery backup for our movies. Any other techniques you follow to increase laptop battery life? Share with us in the comments below.
Image Credits: Flickr, Sxc.Hu