What is an Android File Transfer? Some of the best methods to transfer files from Android to other devices and vice-versa.
Android File Transfer is the transfer of files from one android to another or from an android to Desktop or Laptop or MAC or iPhone or vice-versa. Either via Wi-Fi or OTG Connector or USB Cable or Bluetooth with or without using downloaded software like an app either in android or Mac or PC or both. Files can be seamlessly transferred between the android devices using these applications and Softwares as a platform.
Android File Transfer: Between Android Devices
The quickest methods of transferring files from one Android to another have been listed below and are 40% faster than Bluetooth.
1. Using Wi-Fi and Apps
In this method, you have to use the same Wi-Fi and install an app from the Google Play Store like File Transfer Android to Android App, which is a keyword that you have to type in the search bar. You will find many such Android File Transfer Apps in Google Play Store, some of them are fast in comparison to others, and some of our favorite apps are:
Samsung Smart Switch
SHAREit
Xender
Portal Push Bullet
Handshaker
Before proceeding further, we would like to tell you that you can also use the above apps to send files from an Android to PC, Laptop, Mac, and iPhone.
Each of these apps has a different interface, but they all serve the same purpose. That is, to transfer files.
Transfering Files Using Samsung Smart Switch
Let us begin by giving you an example of how to use the Samsung Smart Switch app to transfer files from your android device.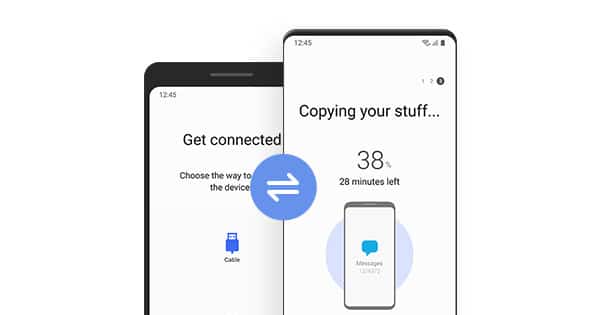 This Android file transfer app is very useful especially if you are switching phones and need a hassle-free method to transfer files from your old android phone to your brand new phone.
After installation of the Samsung Smart Switch App from Google Play Store on your Android, follow the steps you see right below:
Open the apps in both androids by tapping.
Tap on the Wireless Features on both androids to get access to Wireless Internet.
Then tap on Receive Files on an android that wants to get connected.
Another interface pops up with options like android, iPhone, blackberry, and so on.
Hit on android with a finger.
A question message will pop up on android that wants to send files, and you have to accept the invitation written on this message.
Select the files and hit the send button.
Hit the receive button on another android.
Above is generalized information on how you operate the Samsung Smart Switch App to transfer files from one android to another. We have given you this information in order to warm you up so that you can be ready for how to install any apps and how to operate it in order to get the desired result.
You are free to install any File Transferring Android to Android Apps from Google Play Store. Since there are so many File Transferring Apps, it is time-consuming to go through all each one of them for you if we were to try all of them. But the Samsung Smart Switch app does the job if you were to transfer files from an old phone to a new one.
What you have noticed above is while using the Samsung Smart Switch App, you did not turn on Bluetooth. The main reason is that the Samsung Smart switch uses WiFi to transfer the files. That's why it is super fast and very reliable.
Other File Android File Transfer Apps
But when you use the SHAREit App, you have to turn on Bluetooth as SHAREit uses the Bluetooth technology to transfer files.
If English is not your first language or are looking for apps in other languages, you can install Xender App on your android because it is available in different languages like English, Arabic, Bengali, Chinese, Greek, Hungarian, Indonesian, Italian, Japanese, Korean, Malay, Thai, Turkish, Hindi, German, Polish, Portuguese, Spanish, French, Vietnamese
2. Android File Transfer : Using NFC
NFC stands for Near Field Communicator, it's a chip that is attached to the back of your phone internally. You can use this feature to do a bunch of different things, but the main usage can be to transfer files between your phones. You can also use this to transfer files as long as all of your devices have NFC enabled.
The only problem with NFC is that it only transmits data at 412 kbits/s and that is even slower compared to bluetooth.
You have to make sure that both of the devices have NFC and is enabled. If you are not sure if your phone has an NFC chip., check out this list of devices from NFCW.com that have NFC installed on them.
How To Transfer Files Between Two Android Devices Using NFC
Turn on NFC on both the devices by swiping down and enabling the NFC
Open the file that you would like to send via the NFC
Tap on the share option and look for "Android Beam" option
It will say " Bring the other device clost to share the content"
Now bring the other phone and put the back to back so that they are touching the back of each other
The content sharing should start
"For context, it took me 12 minutes to transfer a 16 MB file using NFC."
As you do this, an interface pops up this is easy to understand and follow. Some androids have NFC features on their batteries, and some have in the forms of antennas that are different from what you can call traditional antennas.
3. Transfering Files Using a OTG Connector
OTG stands for on the go connector. This connector allows you to conenct a USB flash drive to your device or also a USB cable that is connected to another android device.
We can use a OTG connector to easily trasnfer files between your android devices.
a) In this method, all you need is
Connect the USB cable and OTG Connector to both ends of the androids to transfer files. The interfaces that come after the connections are easier to understand. You can also connect a pen drive to an OTG Connector.
Read to guide from samsung here.
Transferring of files from one android to another with an inbuilt Bluetooth
The good thing about this method is everybody knows it because it is in our androids for many years, isn't it?
Android File Transfer: Android Phones To PC [Windows/MAC]
Now, let's look into how to transfer data from your android phone to your PC. We will cover how to transfer files from android phones to your windows or a MAC PC.
How To Transfer Files From Android To Windows & MAC
While there are millions of other applications that allow you to transfer files between your mobile device and your computer, Samsung has its own app. Its called Samsung SideSync and if you are using a Samsung Galaxy S9 or S9+, you have Samsung Flow.
It's actually more than just a file sharing app, it allows you to do bunch of other stuff such as.
Mirroring your screen
Send / Receive text messages and take calls from your computer
Data Transfer from android phone to your windows/mac os pc