macOS Big Sur was not developed to run on systems that were made for and run Windows or other operating systems except macOS. In the guide to use macOS Big Sur in windows 10 virtually, I've clearly warned you that unless you are running a high-performance PC, you will have a laggy system. There are ways you can improve VMware macOS performance. For eg., VMware tools download and installation, Beamoff for Big Sur(Not required/Available) are two things I'll guide you in this guide.
If you are familiar with our previous guides to install macOS Mojave or Catalina virtually, Beamoff was one of the loved applications for these guides. Installing Beamoff would smooth your mouse movement and graphics giving you the illusion that the system is performing better.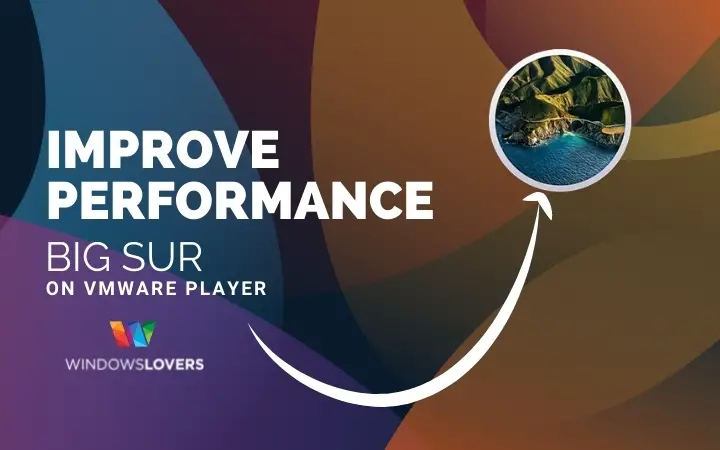 Well, it's actually is performing at its best depending upon the number of resources you have provided to it. But the display and the mouse lag would make things worse. Installing VMware tools and Beamoff for macOS Big Sur does improve that a lot.
VMware Tools Download & Beamoff For macOS Big Sur
First, let's download and install VMware tools for macOS Big Sur.
1. VMware Tools Download For macOS Big Sur
Once downloaded, extract the file. You will need WinRAR for extracting the RAR file.
After extracting the file, you should have the "VM Tools By Windowslovers.com.iso" file.
If the macOS Big Sur virtual machine is still running, power it off. Open VMware player once again and this time click on the VM and "Edit virtual machine settings"
Select "CD/DVD (SATA)" and on the right-hand side under "use ISO image file:", click on "Browse" and select the "VM Tools By Windowslovers.com.iso" file. Click on OK and finally power on the VM.
After you log in to your account, on the desktop, you should see the VMware Tools icon on the desktop. Double-click it to start the installation.
After the installer loads, Double-click on "Install VMware Tools".
Click on "Continue" and "Install".
Enter your login password for the installation procedure to continue.
It will throw a "System Extension Blocked" prompt that an extension signed by "VMware, Inc" was blocked and you need to get into system preferences to enable it if you wish to do so.
Click on "Open System Preferences" and in the "Security & Privacy" window, click on the tiny lock on the bottom left corner of the screen. Enter your login password once again and click on "Unlock".
Click on Allow button on the bottom right corner of the screen.
It will prompt you to restart your system, click on "Restart" to restart the system.
After clicking on the restart, it will give you a prompt stating that the installation was aborted. Just click on ok and finally restart from the VMware tools installation window.
Wait for the Virtual machine to restart. Log in to the system after the virtual machine restarts.
Log back into the system, it might give you another prompt again saying "System Extension Blocked" but you can just ignore and close that prompt.
Now if you go fullscreen, the macOS Big Sur will automatically resize and take over the fullscreen. Initially, when you install Big Sur, the graphics memory is only 3 MB. After installing VMware tools in macOS Big Sur, you will notice that the graphics memory size is now 128 MB.
Unfortunately, there is no way to increase this display memory. So, even though you have a 16 GB graphics card, you will not be able to use that for macOS. It's the only thing that has limited me to use it as my daily driver, to be honest. I mean it is still usable, but 128 MB graphics memory only allows you so much.
There are articles explaining how you can edit the.VMX files and the VMware configurations file to increase VRAM or enable graphics card, but I have tried that and they don't work either. If you know how to use your graphics card with macOS Big Sur on a virtual machine, please reach out to me and I will provide the required credits accordingly.
2. Beamoff For macOS Big Sur
Beamoff eliminates the choppiness and lags you are facing on the VM even further. The good news is that VMware tools incorporate this and there are no Beamoff tools for macOS Big Sur, and installing VMware tools improves performance tools and screen lag.
Finally,
That's a guide on VMware tools download and installation to improve macOS Big Sur performance and Screen lag in VMware. If you have other ways to do so, please let me know in the comments below.