Instagram stories have been a massive success. Yeah the idea is not original, Snapchat did it before any other social media platforms showed any interest in this feature. Instagram had always been minimalist and clean when it comes to media consumption. With the release of Instagram stories, this gives users the opportunity to share their everyday life as an story without a hassle.
Instagram only used to support square images in the past. Meaning, your photo had to be a perfect square in dimension. If you wish to upload a photo that you've taken before or downloaded from the internet, that too used to be cropped to a perfect square i.e. 640 x 640.
Then Instagram brought along the support for horizontal and vertical image. Now users were allowed to upload photos in horizontal and vertical orientation without being cropped.
But, still using those orientations on the Instagram stories can be a bit of a pain. Unless you take and edit pictures to the dimensions suggested by Instagram, your photos are zoomed in. We're here to help you fix that.
How To Upload Full Size Image To Instagram Stories(Landscape/Horizontal)
You can see the image that I will be using for this tutorial down below :

As you can see the image is pretty wide, just to show you how it looks if I try to upload it to my instagram story.
Pretty zoomed in right ?
There are two ways you can upload full size photo/ image to instagram stories. It's very simple though.
You can either upload this photo as a horizontal orientation, or vertical orientation.
The process behind both is same though.
Read : Post Instagram Stories By Passing 24 Hours Restriction
So, how its really done :
Open the photo on your phone. Gallery if you are an android user and camera if you are an iPhone /iOS user.
If you just want to upload full size image to Instagram story, with the same orientation. Just take a screenshot of your screen.


Taking a Screenshot on Android Phone:

Just hold the power button and home button at the same time. You should hear a camera sound.


Taking a Screenshot on iPhone / iOS : 

 Hold the sleep/wake button and the home button at the same time.
Go back to instagram and try posting a Story by swiping up and selecting the photo.
The photo is not zoomed in anymore.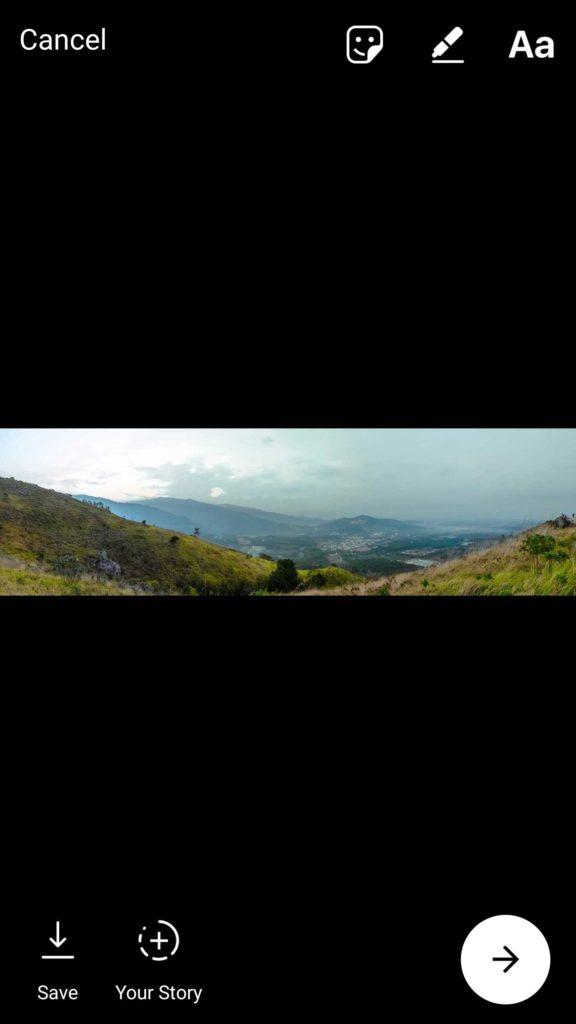 So,  that's how you can upload full size photo to Instagram Stories. If you have any issues let me know in the comments below.