iMessages are one of the main reasons that have got people hooked onto their iPhones and the whole Apple ecosystem.
I am not going to lie, I was a skeptic until recently before getting an iPhone myself. One of the main highlights for me is the Facetime quality and iMessages. One feature that iMessage lacked in the past was the ability to unsend iMessages or edit them after you've sent them.
There are ways you can try to unsend an iMessage once it's sent on older versions of iOS, but iOS 16 has completely changed the game.
Please note that iOS 16 is only available as a developer beta and it's not available for public testing yet. I will update this post accordingly once more information is on hand.
I predict that this feature will eventually roll out to devices running iOS 15, to say the least.
Regardless, it's helpful to learn how to unsend iMessage on iOS 16 beforehand since this will be rolling out to most iPhones later this year. I say most because there are phones that will never see this update. So if you are wondering if your iPhone will support iOS 16, please go through apple's compatibility list to find out more.
** Scroll towards the bottom of the page to see the full list of devices that will be supported by Apple for the iOS 16 update.
1. How To Unsend an iMessage on iOS 16
If you've used other messenger applications, this feature works exactly the same way. One main difference though is you have a 15 minutes window if you would like to unsend the iMessage that you just sent out.
The process to unsend an iMessage after you've sent it is quite simple :
After you send a message and if you would like to unsend it, tap and hold the message until the options card pops up.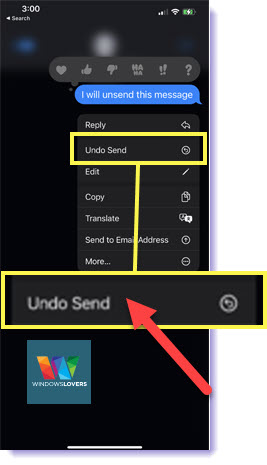 If you are on iOS 16, you will find an "Undo Send" option. Tap on it and the message disappears with an elegant animation.
That's so simple, right? Well, kind of. You have to be aware that this feature is only available and supports devices running iOS 16 (at least for now).
So, what if you are communicating with someone on an older version phone or iOS?
Let me answer some of these questions that I personally had myself.
1.1 Will they know if I do this?
If both of you are using iOS 16, you will be able unsend the message successfully but the receiver will be notified that you have unsent a message.
But the good news is that they will not find out what you sent unless they were on their phone and saw the notification come through.
On the other hand, if the receiver is on a device that is not supported or not updated to iOS 16, the message will disappear on your end but nothing will happen on the receiver's end.
As you see in the screenshot below, I've tried to unsend a message that was delivered to my old iPad. The message disappears on my end but there is no change on the iPad.
iOS 16 is still in its very early stage and once it's fully rolled out there might be some more changes that might make this feature even more fruitful. If you are on an older device, unfortunately, there is no straightforward way to do this currently.
Please let me know what you think about this new feature to unsend iMessage. I for sure think this is a much-needed update, would like to know your thoughts in the comments down below.