Video Display Units (VDUs), monitors earlier, carried out lights for computer engineers to keep a check of the power state of components and know if the device is working properly or not. We have come a long way now and so have monitors in form of what they can display and how they work. This article dives deep into the types of monitors that are available in the market right now and possibly helps you understand the differences between these monitors.
To put it easily, you buy a monitor based on what you will use your computer for. It can be broken down into some categories: business use, professional visuals, and gaming. If you ever find a monitor that's good for business work, it might not go well with gaming or some video editing software.
Monitors have their language and before you make any purchase you need to be aware of it.
Different Types of Monitors By Usage
Screen size seems to be the only difference between monitors, keeping aside the brands. Let's get into the different types, shapes, and various sizes the monitors come in.
Monitors For Business
Monitors are mostly used to run Microsoft applications, browsers, and software requiring less graphic processing. Because of such requirements, you can easily go for a monitor that is quite cheap and your PC won't need any upgrades and high-end specs for utilizing such monitors.
READ: How I connect two monitors to my laptop
Monitors For Professional Use (Photo/Video editing, Graphic Design)
If you are a content creator or a digital artist, you need software like Adobe Premiere Pro, Photoshop and you will need to work with some amazing visuals. In this case, you really can't take the display for granted.
If you decide to buy a low-priced monitor then the problem that you will be facing the most is that you might have some colors in mind but once you are done with the project, you will encounter some different colors you never actually imagined.
Monitors For Gaming
Gaming monitors need to be fast and "fast" in terms of display's refresh rate and response time. Currently, refresh rates are running up to 240hz, meaning images can be displayed at a rate of 240 frames per second. The fastest Response rate on a monitor is 1 millisecond.
Most of the gaming monitors use "Adaptive Syncing" technology and it will be discussed in detail in the coming segments.
Types Of Monitors Based On Hardware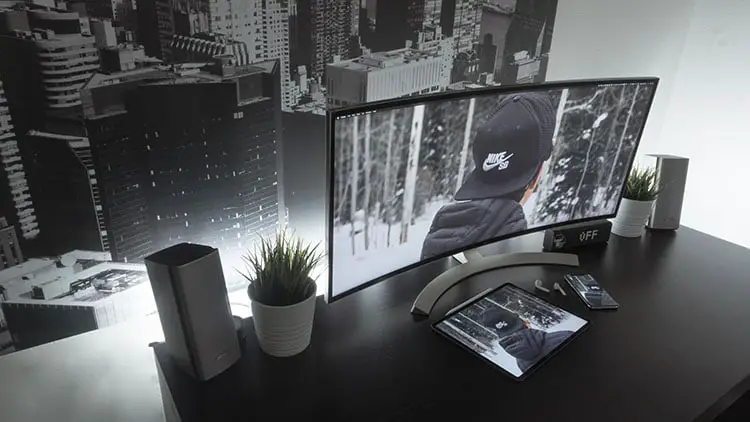 Curved Shaped Monitors
It's new to the consumer market and the craze started in 2014 with LG and Samsung TVs making their way to monitors. Curved monitors are my personal favorite among other types of monitors. With left and the right width extended, curving in towards the viewer. Curved-shaped monitors provide us with a higher depth sense which was not possible with the traditional flat-panel displays.
Ultrawide Shaped Monitors
As the name suggests, Ultrawide monitors stretch out left and right to provide you with some extra scream space and it feels like you are using two screens simultaneously. Screen size and aspect ratio are essential to understand the resolutions you get with Ultrawide monitors.
I personally use a curved ultra-wide monitor and split-screen using Powertoys and it's an absolute killer of a setup.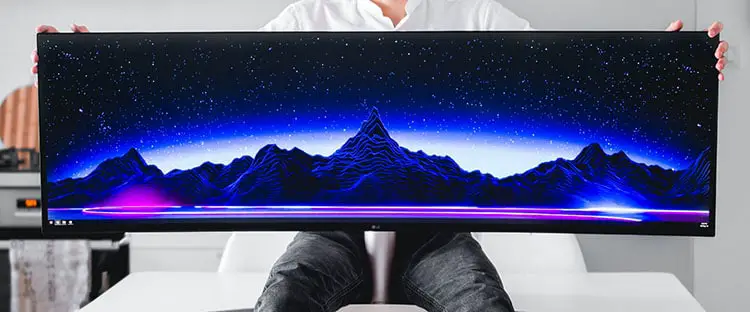 HDR Monitors
High Dynamic Range (HDR), uses the latest color technology to bring true life colors on screen. Used in photography, HDR improves contrast quality and producing darker blacks and purer whites.
Here's something very obvious, your device should be up to date and meet the latest requirements for the applications to be used. If you wish for high-speed gaming, prefer buying an HDR monitor with a low response time.
READ: Use iPad As Second Monitor On A Windows 10 PC For Free
Touchscreen
Most of the screens we encounter now comes with a touch functionality but it's quite rare among other types of monitors out there. All monitors come with physical controls like adjusting screen and picture settings. Some monitors do provide a touch overlay on-screen. These types of monitors usually have a higher price tag so if you are looking to get one I would suggest looking in better quality and not just pricetag.
Mostly touchscreen monitors are used for commercial purposes and educational applications for interacting with students.
Different Types of Monitors: Based on Technology
The monitor is just a screen providing you with some images. But it's not the only thing to be considered here, you need to go inside the monitor and consider many things like how the actual hardware works.
LCD – Liquid Crystal Display
Liquid-crystal display (LCD) technology first came for TV but then was used in monitors in the mid-90s. There are two glasses with liquid between them, that's how it gets the name. Further, it is divided into thousands of rows, which are better known as pixels.
The hardware because of which we can see those images on LCD is called cathode fluorescent lamps. These lamps give the monitor a lifespan of almost 32000 hours. This technology is a bit older that's why the products are a bit heavier and some of these do not support full HD and sometimes color contrast range is also limited.
There's a plus side to LCDs, it comes at a lower price and there is no negative impact if the screen is left ON.
READ: What is Ghosting on a monitor and its fixes
LED – Light Emitting Diode
These have the same liquid just like LCD but the difference lies in the hardware which is used to show images on a screen. LEDs are preferred over LCD because their lifespan is up to 50000 hours, they consume less power and the monitors are brighter.
LED monitors are lighter and portable for quick and easy installation. One thing to be kept in mind is that they have a higher risk of burn-in, so make sure you have a screensaver or something when the screen is not in use.
Difference Between Monitor Panel Types
We are pretty much aware of the liquid-crystal display, now we should get into the types of panels LCD monitors have and why is it necessary to know them. Regardless the shape, size or form of the types of monitors available in the market, the type of panel used on the monitor makes all the difference.
You just need to know which panel best suits your purpose and which is further dependent on response time and refresh rate, this will help you narrow down what type of monitor you should get.
TN – Twisted Nematic
Twisted nematic is going to be your very first choice only if you're a hardcore PC gamer. TN panel monitors offer the highest refresh rate and the fastest response time. These have poor color presentations and viewing angles because of the polarization effect occurring within the panel. Apart from this, these monitors are the most affordable ones.
TN panel monitors should only be considered if you're expecting some high performance for your gaming PC and these monitors have a response rate up to 240 Hz, creating the smoothest and fastest gaming experience.
IPS Panel
Unlike TN panel monitors, IPS offers us an accurate color presentation and viewing angles. The main goal for designing the IPS panel monitors was to overcome the limitations of TN panel monitors.
IPS panel monitors are not that perfect and the base models don't have the quick response rate as that of TN panel monitors. But with the right technology and computer specs, IPS panel monitors could be the best solution for the gaming and viewing experience.
VA Panel
VA panel monitors were also designed to provide an alternative for TN panel monitors. VA panel monitor comes with a decent response rate and better color contrast plus image depth. In terms of viewing angles, VA panel monitors are not better than IPS but a lot better than TN panel monitors. They are best suited for general use and office work applications.
OLED Panel
It consists of carbon-based material that emits power when powered with electricity. They are a great manufacturer because these are quite easy to make and exporting and delivery is not at all difficult. Each pixel has its light source to bring the true source of color into a display.
READ: Resolve windows 10 not detecting the second monitor
Screen Size and Aspect ratio
The first thing you will think of while buying any sort of monitor is the screen size. Usually, the screen size is measured from one corner to the opposite one or the other way round. The average screen size you should be considering should be between 18 inches and 42 inches. Cost varies with display angle and the other things mentioned earlier, cost also rises if you are looking for a monitor with a bigger screen.
Now is the best time to introduce the aspect ratio and what does it exactly mean. The aspect ratio is the screen's width taking into account the screen's height.
The world was first introduced with a 640*480 resolution in the 1990s. Many of the computer monitors use full HD resolutions, the most popular being the 1920*1080 pixels. By simply doubling the width and height within some aspect ratio, we get a sharper image as more and more pixels are being packed. Technology has evolved a lot in all these years, and we are moving into something much more advanced and never seen before.
Some aspect ratios and common relative resolutions
16:9 = 1280*720, 1920*1080, 5120*2889
21:9 = 2560*1080, 5120*1440
If your main purpose is gaming then you need to go for a monitor with higher resolution and better graphic processing power. Technology has also made 4k gaming possible and it's best to stick around 1920*1080 resolutions or higher but depending on the capabilities of PC components.
Which One To Buy, G-sync, or FreeSync monitor?
Gaming monitors usually have Nvidia G-sync or AMD FreeSync. Both help to reduce screen tearing but Nvidia G-sync is costlier than AMD FreeSync.
The main thing here to be kept in mind is, G-sync depends on the display port while FreeSync can work with both HDMI and display port. If your budget is from low to medium speed graphic card, here are some things to consider between G-sync and FreeSync:
 G-Sync or AMD FreeSync: If you have never tried any of these then there's no reason to be confused as both these offer comparable performance.
The Lowest supported refresh rate? G-Sync support from 30 Hz to monitor's maximum refresh rate but all the FreeSync ones don't do well. FreeSync usually supports the monitor's maximum refresh rate but you should always consider the lower limit. Screens are bottoming out as much as 60 Hz and it could be a problem for you if the graphic card can't keep the frame rates above that.
Now, let's have a look at the features that you need to look for in a monitor.
READ: How to setup dual monitors in Windows 10 properly
General use:
For image quality to be measured, contrast is the very first thing to be looked at then color saturation and resolutions. Display with a large dynamic range makes the image more realistic. VA panels offer 3 times the contrast than the other two, IPS and TN panel. If you play all three together in different monitors then VA will be the obvious winner in terms of image quality.
You need not go for a monitor with low blue light. Everyone is telling us that blue causes a lot of strain on our eyes and some monitors offer us different modes to reduce the blue light but the problem with that is it makes everything looks dull and is not good for gaming as all the colors are being affected. There's no need to prioritize monitor with low blue light but it's really difficult to find one with no blue light.  
Professional Monitors:
Different professionals have different needs. If you are a graphic designer, photographer, artist, game designer, or some other guy needing precise color control then this one is definitely for you.
You always want calibration options and there are two ways to achieve this: on-screen display and software itself.
There should be certain options in the calibration like temperature and gamma curves. There should be sRGB and Adobe RGB standard, color temperature from 5000 to 7000k.
Flicker-free PCs goes a long way. If you spend eight hours or more, flicker-free monitors are the solutions.
What Type Of Monitor To Go For?
Before going for any sort of monitor, it is advised to check for all the specs needed for the purpose it will be used for. Try comparing monitors to get a better idea. Always remember that going for the costlier one isn't going to solve all your problems, keep in mind the features and different things mentioned in the article before deciding among multiple types of monitors on the market.